If you are a real estate investor looking for help managing and growing your business, you aren't short on options. In a sea of software which one will actually solve all of your problems without creating new ones? Meet Invelo.
Invelo is the only all-in-one solution on the market to help investors manage and scale their businesses at any stage. Invelo is all about efficiency and simplicity, allowing you to build prospect lists, manage your sales pipeline, and create and send marketing campaigns all in the same place. No more hopping from platform to platform and wasting time manually updating or adding data because of cross-platform communication issues.

The Problem
A lot of software is available in the real estate investing space, but none offers a universal solution. For years investors have had to maintain multiple platforms with multiple subscriptions just to run their business. This fractured model is inefficient and time-consuming, making it nearly impossible to track KPIs accurately and keep all of your records up-to-date. Knowing where your deals are coming from and how well your marketing campaigns are performing is essential information! Without it, you can make the necessary changes to grow your business.
Additionally, many platforms available for investors are difficult to use, clunky, and lack the guidance to utilize them truly effectively. Many of these platforms were designed with minimal functionality, with more and more features added along the way, making them less than intuitive and prone to issues.

The Solution
Invelo was created in response to those outdated, clunky platforms on the market today. From inception, Invelo was designed to be an all-in-one solution so investors wouldn't have to manage multiple platforms.
Invelo was created by real estate investors for real estate investors and contains everything an investor would need and nothing they wouldn't. Incorporating best practices with an easy-to-use interface Invelo has made list building, managing records, and running real estate marketing campaigns easy and efficient.
Invest In Your Business: Give Invelo a try for free today!
In addition to being simple, Invelo is also intelligent. The platform features numerous automations that allow investors to set campaigns and search parameters and will enable them to run automatically in the background. This cuts down on the manual labor that often goes into maintaining records and segmenting prospect lists.
At its core, Invelo was made to make running a business easier for investors by providing everything they need and nothing they don't.

Find The Right Prospects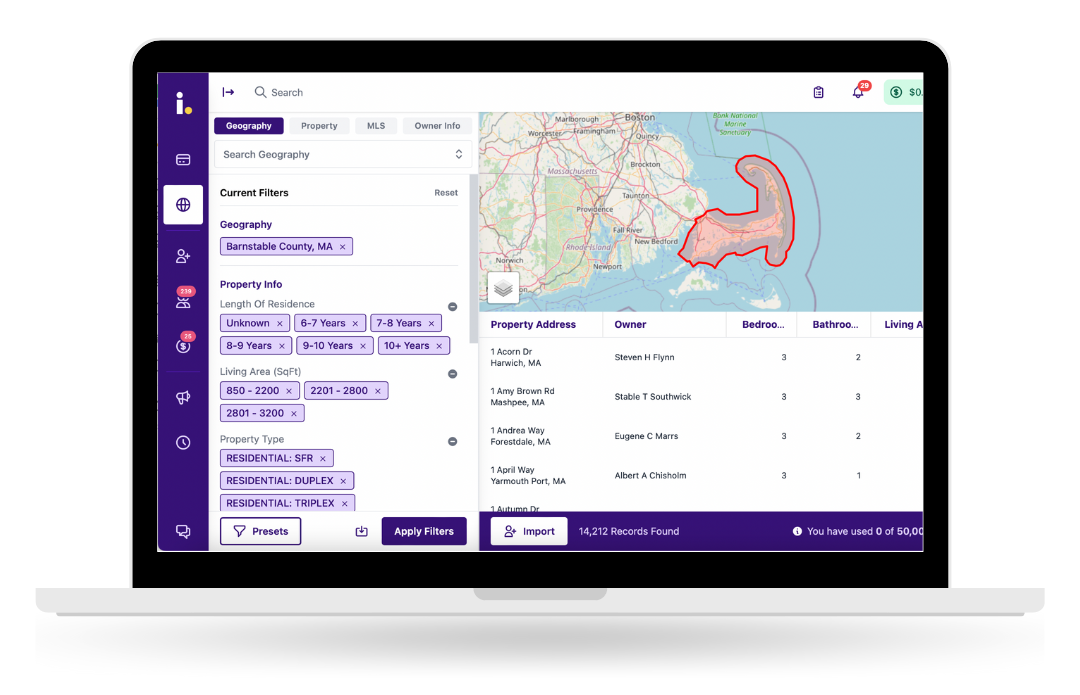 To close deals, you must first start by finding the right prospects. Invelo includes a complete List Builder tool that allows investors to search through more than 150 million property records and create lists they are interested in targeting. List Builder works for any kind of prospect list, including identifying those elusive off-market prospects.
Invelo's List Builder was created to make searching simple. The function includes several pre-set lists that only require geographic information. These lists are a shortcut to creating some of the most common prospect lists, including absentee owners, small houses, high-equity homes, and more.
One of the most exciting parts of the List Builder is the "auto add" automation that automatically adds new prospects once they meet your selected criteria. This makes it easy to keep your lists fresh with the latest listings and changes.

Manage Your Sales Pipeline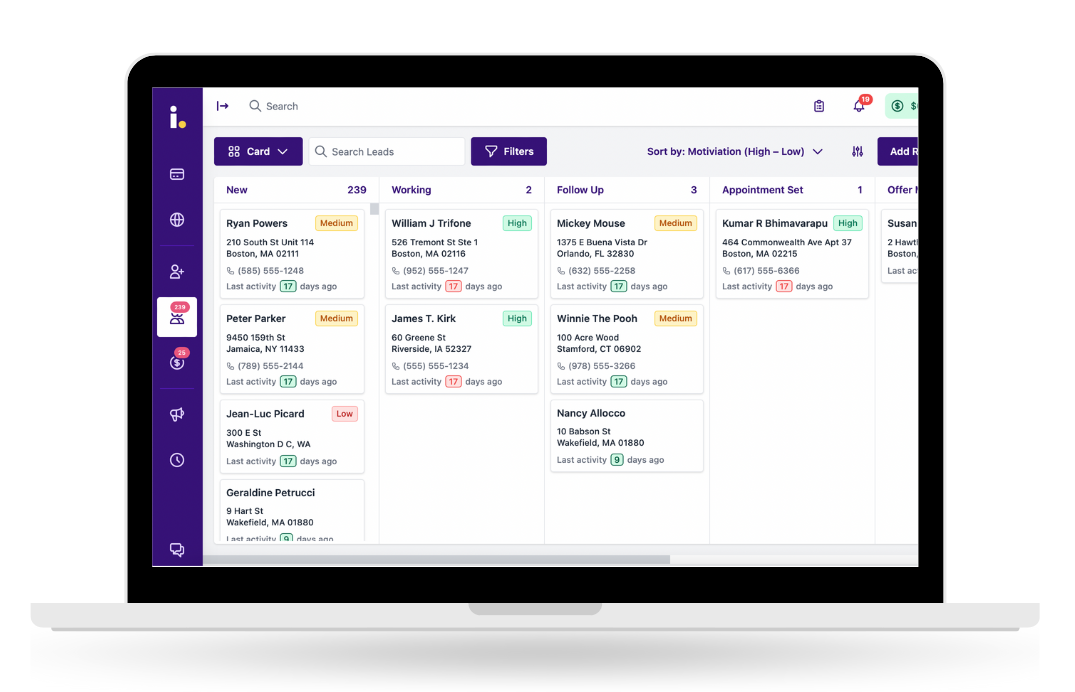 Managing records can be time-consuming and tedious if you use a basic CRM or, even worse, a spreadsheet. Invelo includes a fully built-out real estate CRM that allows you to track all of your prospects from the moment they enter your database until the moment they convert to a deal.
You can create detailed filters within records management to segment your prospects by their attributes to create more personalized marketing campaigns. This is crucial to maximizing the effectiveness of your marketing efforts.
On Invelo, you can see every recorded detail at a glance. This gives investors reliable data on where prospects are coming from, how they are being contacted, and how they are being converted. This information is crucial for tracking KPIs and optimizing your business.
Market To Prospects & Leads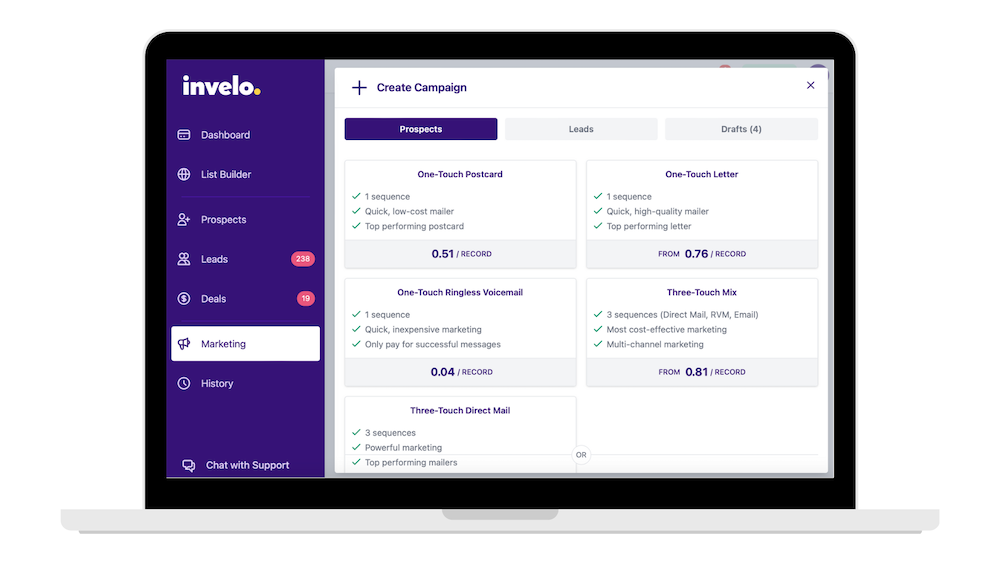 What if you could run marketing campaigns right in the same place where you built your lists and filterest your prospects? On Invelo, you can.
Invelo includes a full-fledged marketing dashboard allowing investors to create intelligent multi-touch campaigns for prospects and leads. Investors can communicate through direct mail marketing, email, and ringless voicemail.
Having marketing capabilities within the same platform makes running campaigns easy and learning from them even more straightforward—no need to import or export lists of records. In fact, you can set up automations that will continuously feed prospects that fit certain criteria into specific campaigns. This means you can set an automation and never have to look for new prospects that fit again – they will automatically be added to campaigns.
Your Business Deserves It: Give Invelo a try for free today!
Track Your Progress
To grow your real estate investing business, you need access to metrics to measure the health of your business. Within Invelo, you can find abundant information about who you need to follow up with, what campaigns are running, and what prospects have recently turned into leads. Additional dashboard insights include actionable metrics, real-time vacancy and sold property notifications, and performance reports.

Learn From Experts
Invelo was made to be a place where real estate investors could manage and grow their businesses, as well as a place where they could learn and hone their skills.
Investors using Invelo can access comprehensive REI training regardless of their subscription tier. Those on Individual or Professional plans can enjoy exclusive Masterclasses featuring some of the brightest minds in the industry. Learn from experts like Sir Brad Blazar, Ron LeGrand, Jason Lewis, Cody Hofhine, Andresa Guidelli & Liz Faircloth, and more.

Time To Invest
There is no better time to invest in the future of your business! Invelo has everything you need to maintain and grow your real estate investing business. Try Invelo with no commitment with a forever-free subscription plan.