Invelo's long-awaited integration with Zapier is now live for users on an Individual or Professional plan!
If you use other applications or platforms to gather prospects and leads, you can add or update records on Invelo without manually importing a file. This integration is a game changer for busy investors who use multiple apps, platforms, and documents to gather prospects.

What Is Zapier?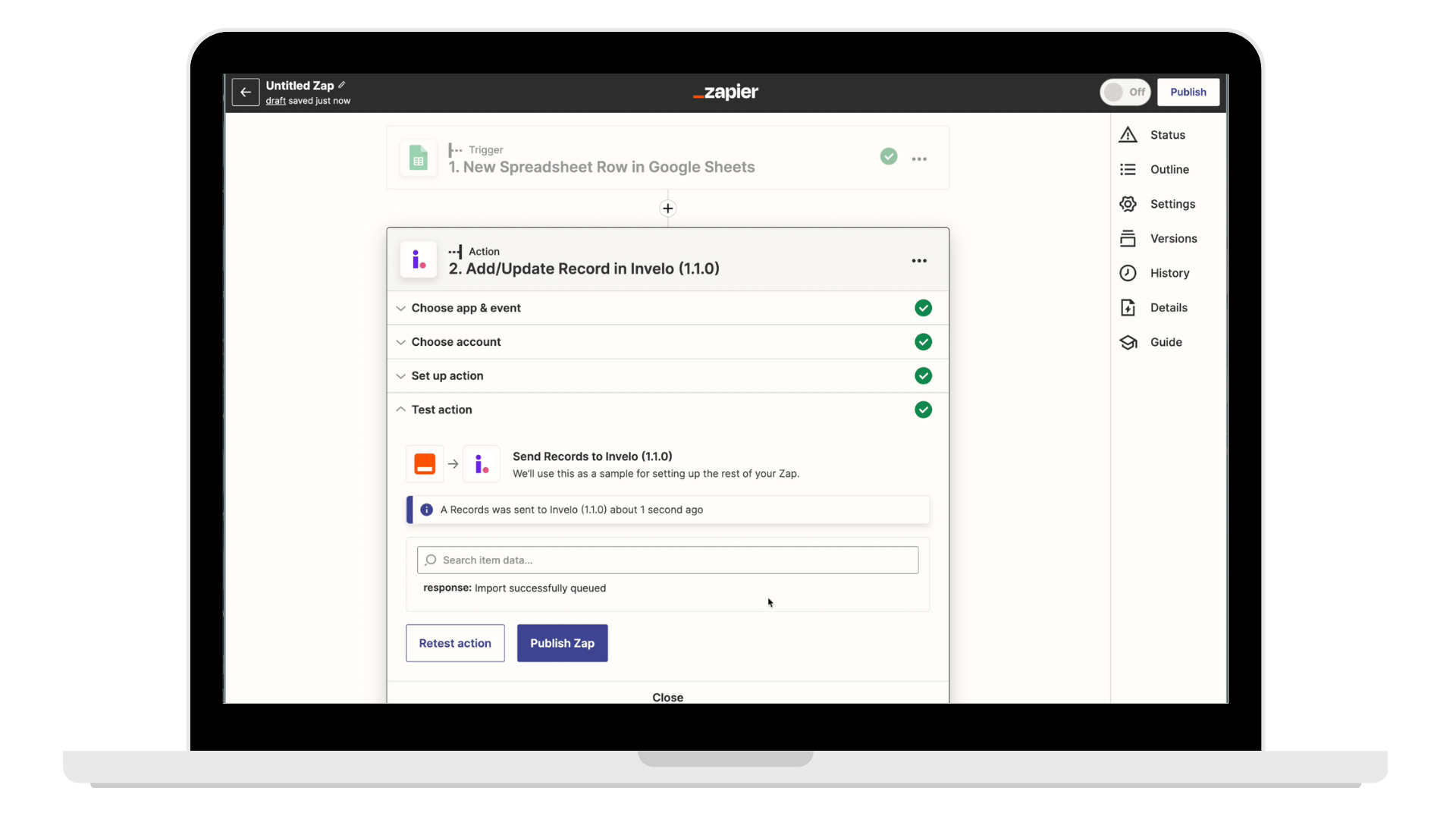 Zapier is a platform that creates automated workflows across apps and platforms. An automated workflow, or a zap, is a series of tasks that runs automatically, beginning with a trigger. As a result, Zapier can eliminate many time-consuming administrative tasks that slow a business down.
For example, you may want to get feedback using JotForm to gather data on how your customers view your business. You can set up an automation to collect that data without gathering it yourself. In that case, you would set up a zap with the trigger being the submission of a form and the action adding the response to a Google Sheet. If you want to add another action to the mix, you can also connect Gmail or Slack so you are notified every time a response is logged so you can promptly follow up.
There is no limit to the number of workflows you can create or their complexity. You can set up complex, multi-step zaps or a simple trigger and action. Zapier is currently connected to more than 5,000 different apps and platforms in various industries, including numerous widely-used applications and social media channels.
How Can A Real Estate Investor Use Zapier?
Zapier is a valuable tool for professionals in many industries, including real estate investors. Connecting Zapier with the tools you use every day can save you a ton of time and energy.
Driving For Dollars
When driving for dollars, you'll likely input information on promising properties into an app or spreadsheet. With the Invelo integration, you can now set up a zap that will take records you created somewhere else and automatically add them to Invelo. Then, you can use Zapier to tag those records.
Cold Calling and Door Knocking
Another way to utilize Zapier as an investor is by automating the maintenance of your records. Say you embark on a door-knocking or cold-calling campaign to contact prospects. The records are likely all already in Invelo, but you can automatically connect a Google Sheet to add information to specific records.
Anytime You Want To Add or Update Records
Real estate investors can use Zapier whenever they want to add or update records and use multiple tools to keep track of them. Invelo keeps track of record activity automatically within the app, but connecting to Zapier is an excellent idea if you run some kind of campaign outside of Invelo.
Pro Tip: Check out this video for how to set up a zap from Carrot to Invelo.
Setting Up A Zap
Setting up a zap is a one-time activity that can save you hours! For this walkthrough, we will use the example of an investor wanting to transfer records from a Driving For Dollars Google Sheet into Invelo.
After ensuring you are logged into Invelo and Google Sheets, create a zap on your Zapier homepage. From there, select a trigger. In this example, the investor would input property information into a Google Sheet while looking at properties or when they finish driving for dollars. After selecting Google Sheets, you would choose the event as "New Spreadsheet Row."
You will then select which spreadsheet you would like to work off. Once you choose your sheet, you must test your trigger to ensure it pulls the correct information. Make sure your spreadsheet is clearly labeled with clean, consistent data to avoid issues.
From there, you will select Invelo as your action and choose an event. Events you can choose from include "Add/Edit Record," "Update Phone Type/Status Based on Contact," or "Update Phone Type/Status." For this example, you will choose the first one, "Add/Edit Record."
Now you will set up the action by specifying your desired import stage and stage status and mapping the columns on your sheet with the record fields in Invelo. For example, you will want the property address column in your spreadsheet to match up with the property record field in Invelo—map as many fields as possible to have as much information on each property flowing into Inveo.
Once you have mapped your data, you want to test your connection. If you are satisfied with the action, you will publish it. If this is the first time the spreadsheet has been connected, you want to select "Transfer Existing Data" to make sure all of the information that is already on your sheet is transferred over.
Now you want to create a new transfer and move your data on a fixed schedule. Your Source App will be Google Sheets, and your Source Data will be "Spreadsheet Row." Your Destination App will be Invelo, and your Destination Action will be "Add/Edit Record."
Now indicate which data sets you to want to use, connect your Invelo account, and go through the data mapping you did when setting up your zap. Once added, you will select how often you want the data transferred between platforms. Zapier will automatically look for new data at whatever frequency you choose! Once completed, your transfer will be live, and your records will start moving!
Pro Tip: Check out this video for how to set up a zap from Invelo to Google Sheets.
Get Started Now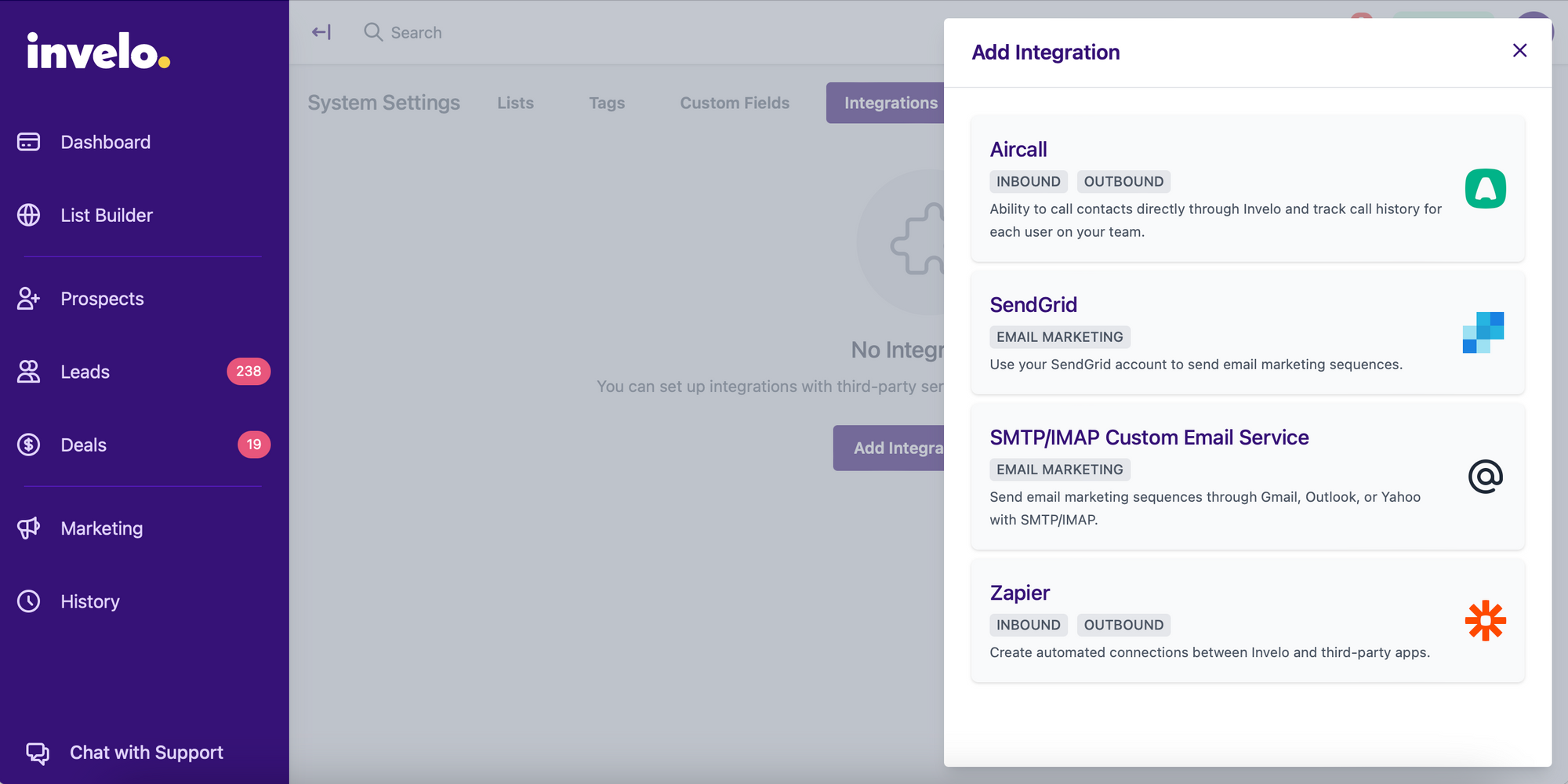 The Zapier integration with Invelo is now available for all users on an Individual or Professional subscription plan. Users at those levels can access the integration by going to "System Settings" and selecting "Integrations." Once on the screen select "Add Integration" from the button on the top righthand side. Select Zapier and follow the instructions to connect your accounts. Make sure you are logged into Zapier before you get started!
Don't have access? Upgrade your subscription or sign up to get started.
Pro Tip: Check out our help docs for a more in-depth breakdown of the Zapier integration and how it works.