We've added another way for investors to connect with sellers through Invelo! Now Invelo users can integrate their Aircall account within the Invelo platform.
Communication is an integral part of real estate investing. Communication happens at every stage of the deal process and needs to be optimized and tracked to be effective. This is why Invelo's integration with Aircall is a game changer for busy investors. By using Aircall with Invelo, investors can now seamlessly track calls and voicemails to ensure that cold calling is efficient and complete and leads are always followed up with.

What Is Aircall?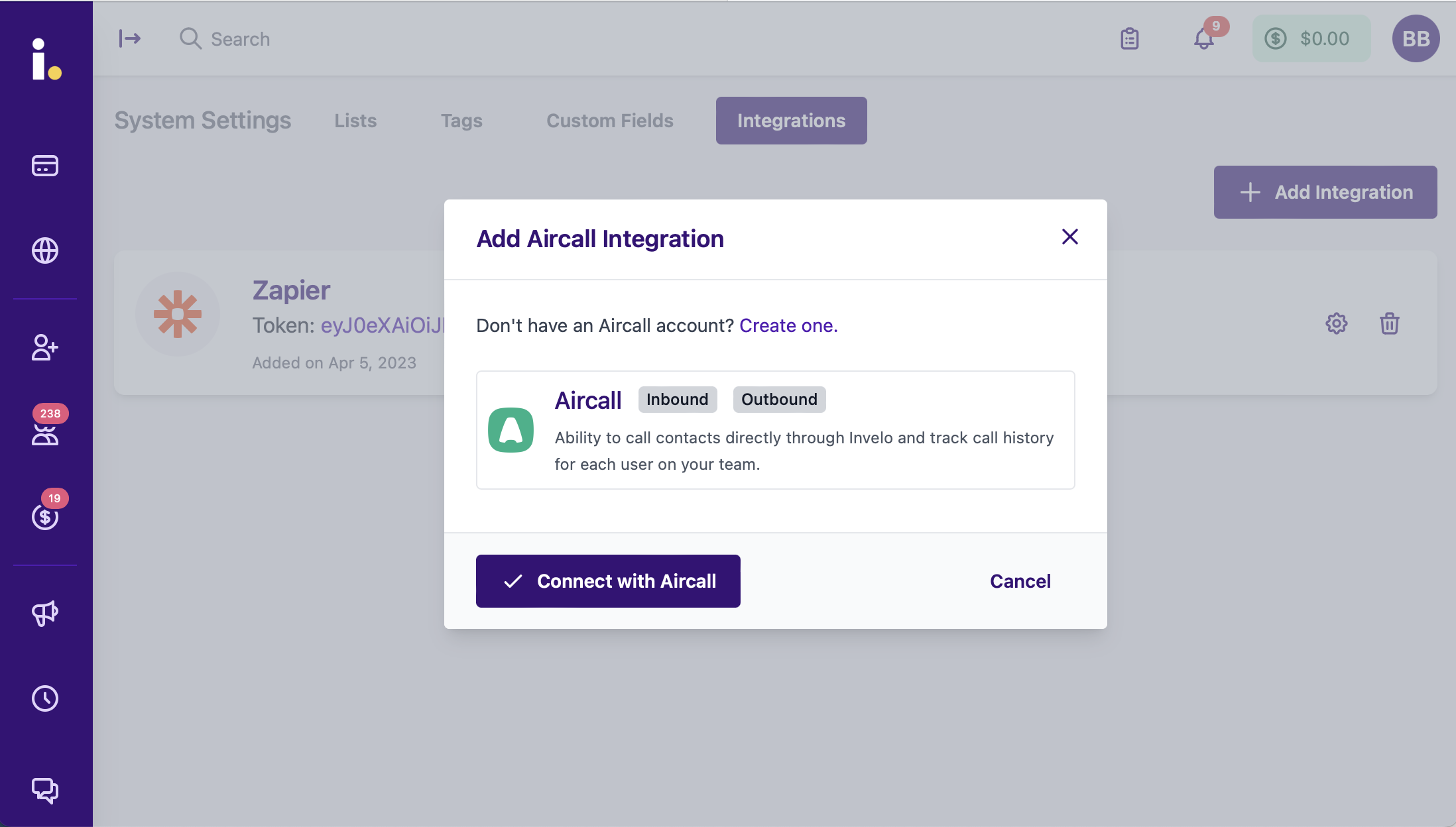 Aircall is a cloud-based voice and communication system created mainly for sales and support teams that have to connect with many people over the phone. Using Aircall, an investor can place all their calls to prospects and leads through the software and get valuable tracking and recordings for their records. Aircall is also easy to integrate into many different platforms to ensure your communication data is always up-to-date and correct across platforms.

Why Aircall?
When choosing what phone service to integrate with Invelo, we prioritized selecting the best quality service we could find. In comparison to its competitors Aircall, by far, has the best phone service.
Aircall is a robust and flexible service that integrates seamlessly with CRMs. It enables teams to listen in on each other's calls for coaching and records calls and voicemails to add to records. Once your Invelo account is connected to Aircall, you don't need to have Invelo open. Any call you make or receive using your Aircall account will be logged into Invelo automatically, and you can see caller insights right on the call screen that is fed in from your Invelo account.
Many investors already utilize CallRails because they can set up multiple phone numbers and assign them to individual lists or marketing channels to track everything. Still, the calling feature isn't particularly robust. Since we already have detailed tracking in Invelo, there is no need to utilize multiple phone numbers to keep track of campaigns. Invelo will manage and track all of your communications and campaigns automatically in-app.
CallTools, on the other hand, is mainly used by investors as a multi-line cold-calling dialer. While that functionality is helpful, it isn't a good choice for an everyday voice communication service. If you are an investor who needs a cold-calling dialer, you can find that functionality with the Aircall Chrome extension!

How To Add Your Aircall Account
To start using Aircall, you must change your default calling platform. Start by going to your account settings in the top right corner of the screen. Next, click on the icon and choose "System Settings, "Integrations," and "Add Integration." Next, select Aircall at the top of the right-hand pop-out, then click "Connect With Aircall."
From there, you will be brought to a different page where you will select "Authorize" on the bottom right to connect your two accounts. Once you authorize, you will be prompted to add your phone number – these will be all of the phone numbers in your Aircall account. Once selected, you will click "Add Numbers" and be brought back to Invelo. From here, you want to assign all your phone numbers in Aircall to your users within the Invelo platform. Once complete, you want to select "Save Changes." Your Aircall account is now fully integrated with Invelo.

Using Aircall In Invelo
Within each record, there are several ways to find a contact's phone number and dial out directly from the platform. The new "Communications" tab will give you access to all contacts within a record, and a "Call Now" button will automatically go to the primary contact.
Depending on your browser and computer, when you click on a phone number or "Call Now," a default calling function will pop up to allow you to call out.  If you have adjusted your default settings, the default calling function will be replaced with Aircall.
Once you place a call using Aircall, you will see several choices on the pop-up that allow you to see caller insights and add tags and notes. Whenever you make a call using Aircall, even if you are not calling from the Invelo platform directly, if the phone number is in your Invelo database, it will display your record information. This is important if you are placing or returning calls and don't have access to the contact's complete history.
Every call you place using Aircall will also be logged in the "Communications" tab within each record so you can easily track conversations and follow-up. If you authorize call recording within your Aircall account, you will also see recordings of voice messages and conversations within the "Communications" tab as well.

If you want even more options, you can download the Google Chrome Aircall extension to access the "Power Dialer." This extension allows you to call all the phone numbers on a filtered page, putting contacts in a queue one after the other. This is an excellent tool for cold-calling prospects or following up with leads.
The Aircall integration is available for users on Individual and Professional plans! Sign up or upgrade now to get access to this, and other exclusive integrations.