We are constantly working behind the scenes to make Invelo more effective and easier to use. Wondering what improvements, fixes and implementations have been made recently? You are in the right place.
To see what we are working on over the next few months check out our Product Roadmap for a list of improvements that are coming soon.
What's New As Of April 12
A lot has changed on the Invelo platform, with one of our biggest pushes to date! You will find many additions, updates, and improvements across the platform.
Updates
Lead Marketing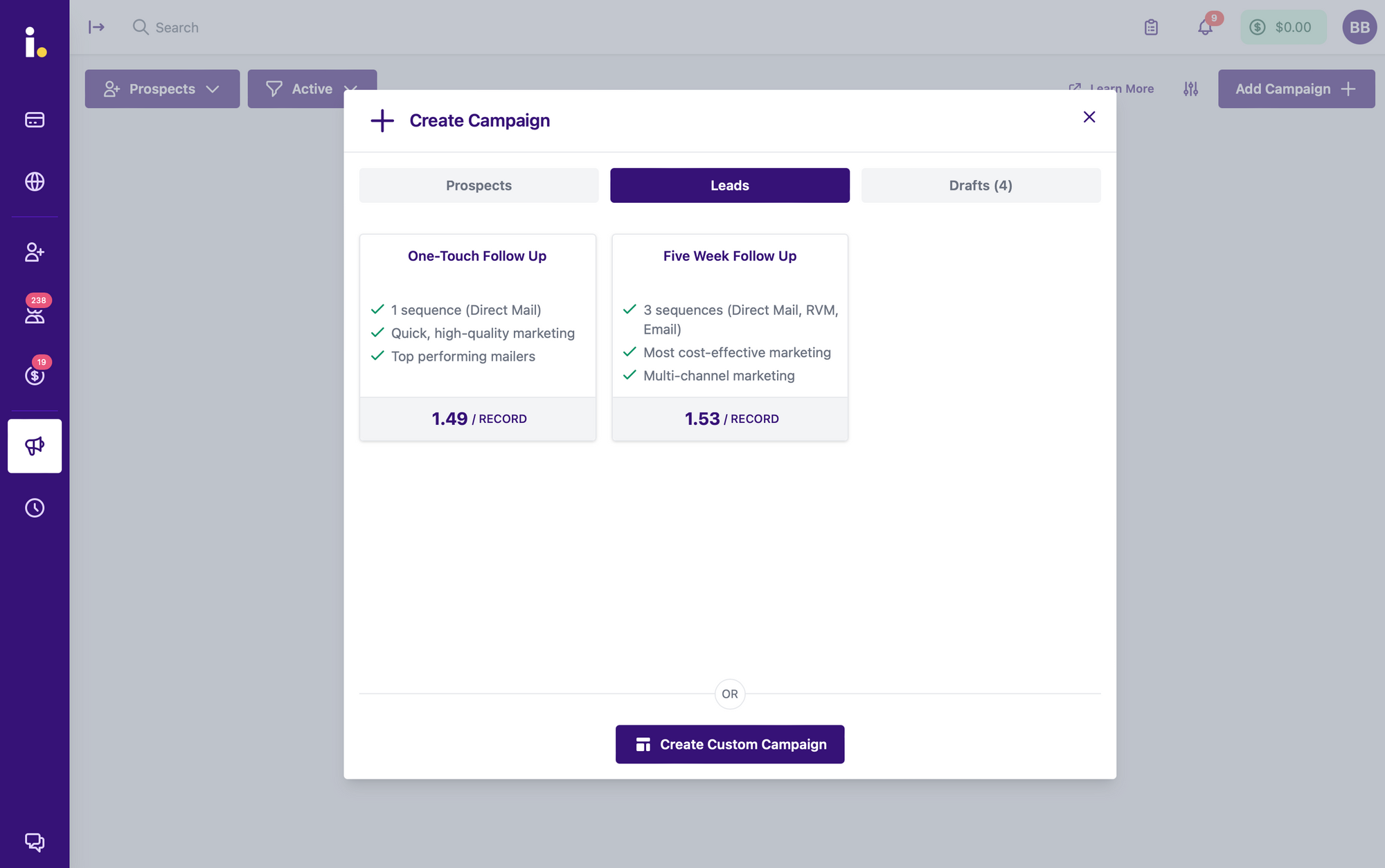 Our lead marketing capabilities have been completely revamped to allow users to create dynamic, automated lead marketing campaigns so you never miss a follow-up again! Users on a Starter plan have access to two preset campaigns, and users on Individual and Professional plans are able to create their own custom campaigns.
Lead marketing will now allow users to create campaigns without having a filter or list to send to upfront. Simply create the campaign and add records one by one as they become leads. This allows you to set up a send cadence that consistently sends communications regardless of when a record is enrolled in the campaign.
Records
Changes have been made to records showing only active campaigns in the "Current Campaign Filter" and all campaigns in the "Past Marketing Campaign Filter." This improvement will now show all campaigns to make it easier to see marketing activity.
Fixes
Fixed record cards from not moving status when dragged to a different column
Fixed the issue with status columns not saving in the correct order
Fixed issue with activity showing lead/deal activity under property filter
Improved performance of using list and tag filters
Fixed issue where bulk assigning list/tags were not assigning them all records when using list/tag filter
Fixed issue with syncing property data on users' records due to having too many changes and causing timeouts.
Fixed email subject preview not showing on the campaign page
Fixed issue found when completed records count showing 0 on the lead campaign when records completed all batches
Fixed issue where the last skip traced date was not updated when attaching a previous Invelo-defined contact to the record
What's New As Of March 15
We have just deployed several fixes to the platform that should make your experience on Invelo a lot smoother.
Fixes
Made changes to custom marketing sequence exports to no longer include removed or failed records. Now exports will only include records successful records.

Fixed the dashboard from showing only 3 random active campaigns, it will now show all active campaigns.

Fixed an issue in records where the "is not" operator was malfunctioning.

Fixed the current marketing campaign and past marketing campaign filter dropdown from showing a list of campaigns based on the applied filter on the marketing page.

Fixed exported records from not exporting all records based on the filter.
What's New As of February 27
We are thrilled to share even more updates and improvements to the Invelo platform! This update includes exciting features that will turbocharge your real estate investing business!
New Features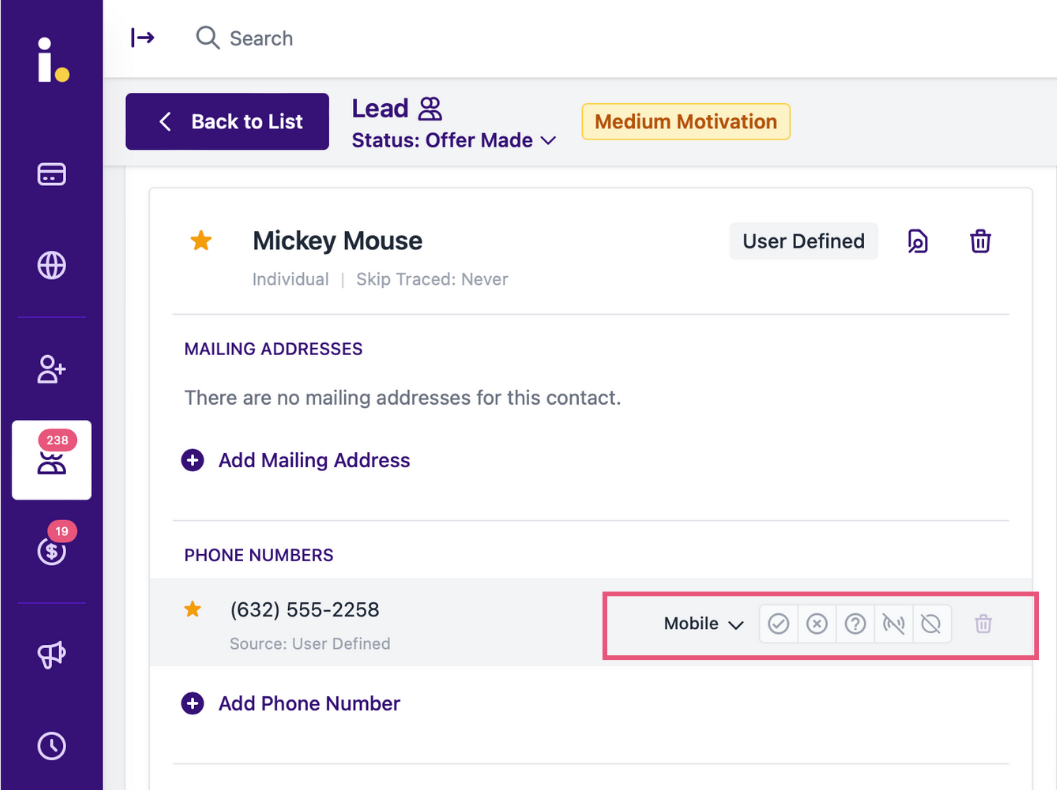 Phone, Email, and Address Statuses
We have added five statuses for each phone number, email address, and mailing address. Statuses include Correct, Wrong, No Answer, Returned/Disconnected, Don't Email/Don't Call/Don't Mail.
This will allow Invelo users to tag phone numbers, email addresses, and mailing addresses to identify the correct contact method, giving you more control over your communication and strategy.
Improvements
Marketing
Many improvements have been made to the marketing functionality of the platform. Updates include improving the campaign cancellation process so that the cancellation will go through immediately instead of taking time to process.
When a campaign batch fails to send, you will now be alerted to the reason why it failed so you can make changes. If a campaign fails to send because of insufficient funds, you will now be alerted to having insufficient funds so you can add money to your wallet and get the campaign back on track.
Records
There is now a hard limit of 50,000 records per upload. This update was added to ensure that records are imported quickly and correctly. Users with larger lists can upload them all in 50,000 record batches.
Fixes

Fixed an issue where direct mail campaign batches occasionally got stuck in processing.
Fixed a record sorting issue, which is now sorted by High, Medium, and Low in the correct order.
Fixed a few issues with record activity that was showing incorrect or duplicate information.
Fixed an issue where BiggerPockets users were not able to register.
What's New As Of February 7
It might be cold, but we have some of our hottest updates and improvements to date! Below are the latest platform updates, improvements, integrations, and fixes as of February 3, 2023.
New Features
Automatic Funding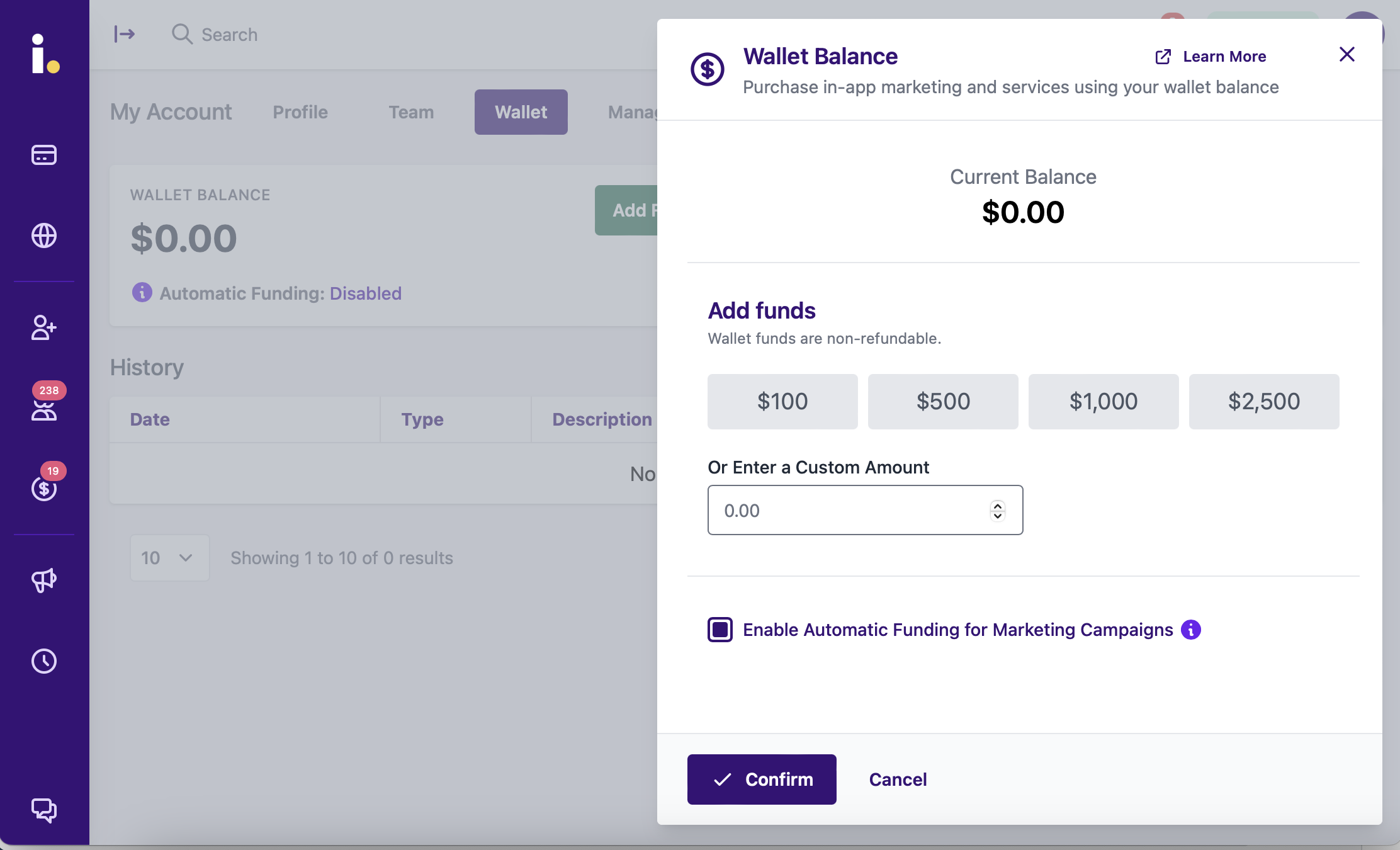 We've made some changes to our wallet! Automatic Funding will allow you to submit marketing campaigns with ease and reliability - never missing a batch due to a lack of funds.
When a marketing batch starts processing, Invelo will first use the funds in your wallet. If there are not enough funds in your wallet to cover the total batch amount and Automatic funding is enabled, Invelo will then charge your credit card for the remaining amount to process your batch.
If you want to utilize this automation, please visit your account and enable Automatic Funding.
Invelo will notify you if your credit card expires within 30 days, so you will never miss a batch send again!
Record Activity Filters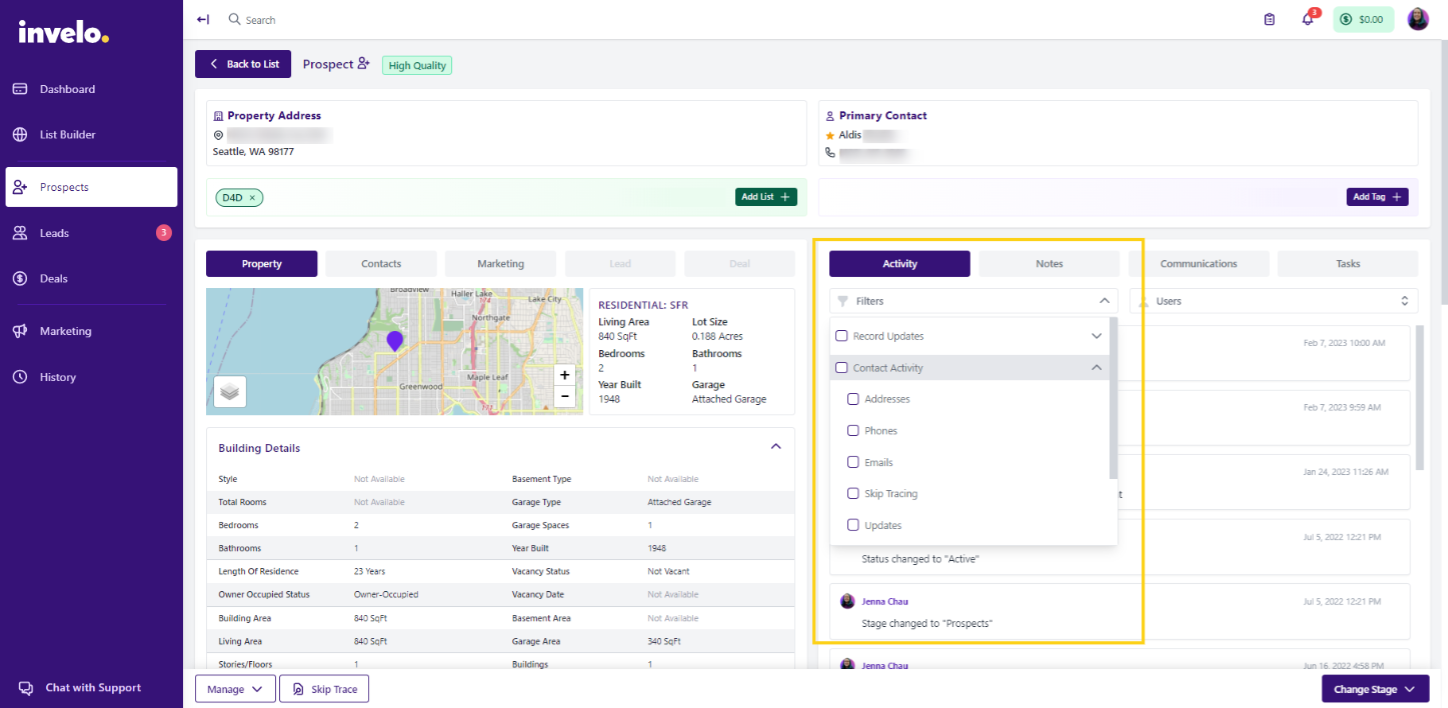 Now you can filter through a record's activity history with activity filters! These include filters for record updates, team activity, contact activity, marketing, and communication.
This means if you have a record with a lot of activity, you no longer have to scroll through the entire list to find specific activities. You can instead select what activity you are looking for and filter out the rest.

Improvements
Records
HUGE performance improvements for your prospects, leads, and deals database. Invelo has optimized the platform so that accounts with many records will now see them load significantly faster. For example, accounts with up to 800,000 records will now have load times of only a couple of seconds! This will make managing and filtering records much faster and easier. Hefty accounts should already be noticing a significant improvement.
Marketing
Marketing campaigns will now only require users to be able to fund the first batch to submit the campaign. After that, users will be charged for each subsequent batch when it begins processing through existing wallet funds or Automatic Funding if that option is enabled. This makes it easier to get your campaigns started because you don't have to have the total cost in your wallet to get started!
Skip Tracing
We are continuing to improve the skip tracing functionality within Invelo. You'll notice the skip tracing modal has changed to provide users the best options when skip tracing a single record and records in bulk. When skip tracing, Invelo will not change your primary contact for the record, unless the primary contact is a company and an owner is found, which will then replace the primary contact.
We've added a helpful tip when using the 'Find and add more contacts' feature. This box should only be selected when you know the primary contacts are not correct. For example, you can 'Find and add more contacts' when skip tracing a property with a deceased owner. Invelo will also provide up to 5 additional contacts if available (an increase from 3) and set the most recent Invelo-provided contact as the primary for that record.
Fixes
Fixed the way the DNC field is notated within skip-traced contacts. The field will now show a "no" value if the contact has been skip traced and is not DNC.
Fixed the motivation column within the leads table not sorting records correctly.
Fixed email subject field to allow 78 characters.
Fixed issue caused by new record activity, which showed an error if the user tried to delete a task that was not linked to a record.
Fixed skip tracing a specific contact from changing its primary on record unless using the "find new" option.
Fixed email sequence previews so they now show the correct information.
Fixed error when editing and saving contact names
What's New As Of January 24
Happy 2023! With the new year, we bring more updates, additions, and fixes to the Invelo platform. Below are a few recent changes we made that will affect how you use the platform (in a good way).

New Features
Filter Records By Property Type And MLS
Users will now be able to filter records in their database by property type and MLS status. This change will be available for all records, including prospects, leads, and deals. Check out the video above to learn more about this update!

Changes
Records and List Builder
Exported records now include last skip traced date per contact.
The List Builder will now be able to filter for "unknown" in Equity, Last Sale Date, Last Sale Price, Length of Residence, and Year Built.
Skip Tracing
Skip tracing has been updated to point to use Invelo defined contacts and mailing addresses as primary to increase accuracy and improve data quality.
Marketing
Ringless voicemail will now default to the contact's primary mobile phone number. This ensures the highest deliverability possible, which occurs when landlines are avoided. A landline will only be used if a mobile number is not found for a contact.
Direct mail is now changing from a 5-day delay to a 7-day delay in the first sequence to avoid to avoid disruption during direct mail production.
The scheduling limit for direct mail campaigns has also been changed so that only the first sequence has to go out within six months – the rest can be scheduled any amount of time in the future.

Fixes
Fixed incorrect PO Box mailing address formatting.
6 million records have been re-synced to correct a vacancy date issue.
Fixed a bug that was not showing the cost for some custom marketing sequences.
Updated all existing active, completed, and cancelled campaign statistics.
What's New As Of December 20
We've just released several improvements, new features, and fixes to make Invelo even better! Our latest release includes several improvements to the platform's marketing section.
New Features
Marketing Sequence Send Dates
The most significant change is the ability for users to choose the exact sequence send date in marketing campaigns. Previously, users had to select a start date, then calculate delay times between sequences. Now, users can select the specific send date for direct mail, RVM, email, and custom sequences.
For direct mail marketing, users can select their desired send dates six days out from the start of the campaign on either Monday, Wednesday, or Friday. Based on the date selected, future batches will send out at a similar cadence. Ringless voicemail and email sending can start a day out from the creation of the campaign.
This change will make planning, creating and submitting your marketing campaigns even easier!

Queued Records
Marketing campaigns will now show the total number of queued records. Queued records are the number of records still queued within the campaign and have not completed all campaign sequences yet.

Campaign Notifications
Users will now receive a notification email with batch information a day before the marketing batch goes into processing and once the batch is completed. This will keep users informed of their marketing campaigns' progress when activated.

Records Processing
Users will now see how many records are still waiting to be processed in ringless voicemail and email marketing sequences. This will give users an idea of how long their campaign will take.

Changes
Confirmation Page
Invelo users will now see more information in their confirmation messages when completing a marketing campaign. This will make it easier to spot mistakes before a campaign goes live.
Campaign Overview
Once a campaign is submitted, users will see a campaign overview page that includes more information about the campaign so that they can make future decisions based on their completed campaigns.
Marketing Sequence View
Users can now see more details about marketing sequences without having to open the campaign.
Creation of Direct Mail & RVM Sequence
When creating a new direct mail sequence or a ringless voicemail sequence, users will see more information to avoid confusion when setting up a campaign.

Platform Fixes
Fixed an issue when the user tried to view a direct mail preview after a marketing profile had been deleted.
Fixed issues with ringless voicemail status not changing based on the outcome of the batch.
Fixed the batch numbering so the first batch starts with a 1 rather than a 0.
Fixed the ringless voicemail pricing sheet to allow three decimals.
Fixed the issue where ringless voicemail and email sequences could not be saved from campaign presets.
Fixed the issue that was only showing five tasks in the Tasks tab. Now all tasks should be visible.
Fixed list stacking issue so that now users can filter for all records on 2+ lists, and Invelo will bring back all records with at least two lists and no maximum number of lists. The previous filtering would not include records on more than ten lists.
Fixed issue when creating custom fields. Now users should be able to create custom fields on import without restrictions, with names.
Fixed the "Add Funds" functionality of Skip Tracing.
Fixed an issue where large skip-tracing batches (more than 5,000 records) failed.
What's New As Of October 13
Lots of improvements and bug fixes have been added to the platform over the last few months and are now fully live for all users.
🎉Bigger Pockets Integration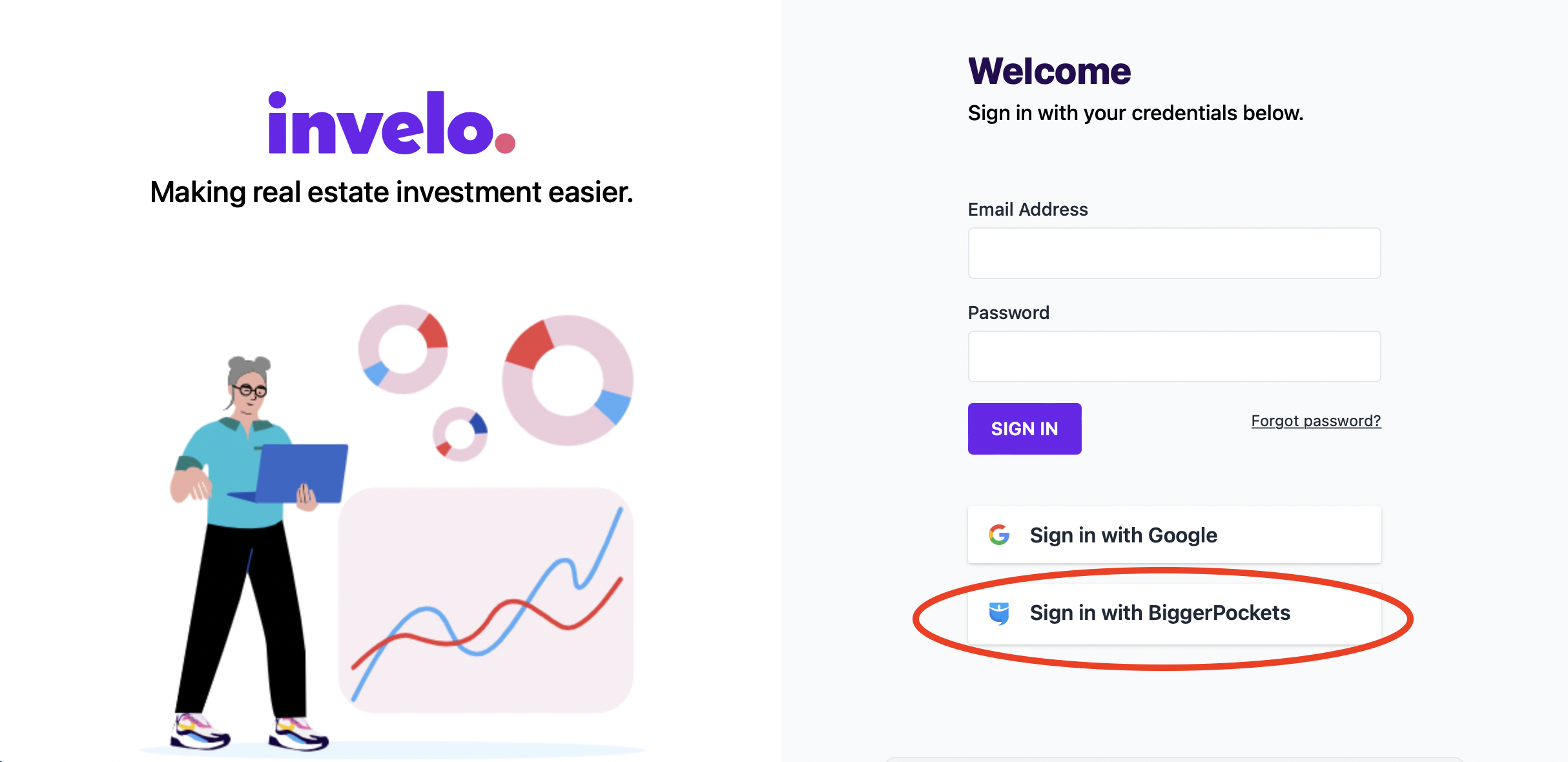 You will now be able to sign in or sign up to Invelo with your Bigger Pockets account. Invelo will be partnering with Bigger Pockets to allow a seamlessly link between the two platforms as well as exclusive promotions. Stay tuned for more!
Marketing Updates
There have been numerous additions made to Invelo's marketing capabilities.
You will now be able to see all available and unavailable records when you begin building a marketing campaign. This will help users visualize how many of their records are already in a marketing campaign when setting up a new one.
Users will also now be able to choose to include or exclude duplicate records in any marketing campaign. This will be turned off by default but can be turned on.
In the creation of email marketing sequences users will now be able to see which email templates are recommended for prospects and which are recommended for leads. This will help users select the right template for what kind of campaign they are building.
Platform Fixes
Fixed record import issue that created duplicate records for some users.
Resolved issue with imports moving the record stage the wrong way.
Fixed issue that was causing the auto-add feature in List Builder to fail.
Fixed a record mapping issue that was affecting last names.
Resolved an issue in marketing where a record was not removed from a campaign while in a queued state.
Fixed a campaign status issue where a marketing campaign was marked as active despite finishing its last sequence.
Fixed a problem with auto-add batches that had incorrectly calculated costs and start dates.
Resolved an issue with MLS listing status filter not saving to preset.
Fixed the Invelo presets on List Builder from loading indefinitely and not returning results.
What's New As Of August 4
We have added a few major updates and new features all over the platform for all subscription levels.
Marketing Presets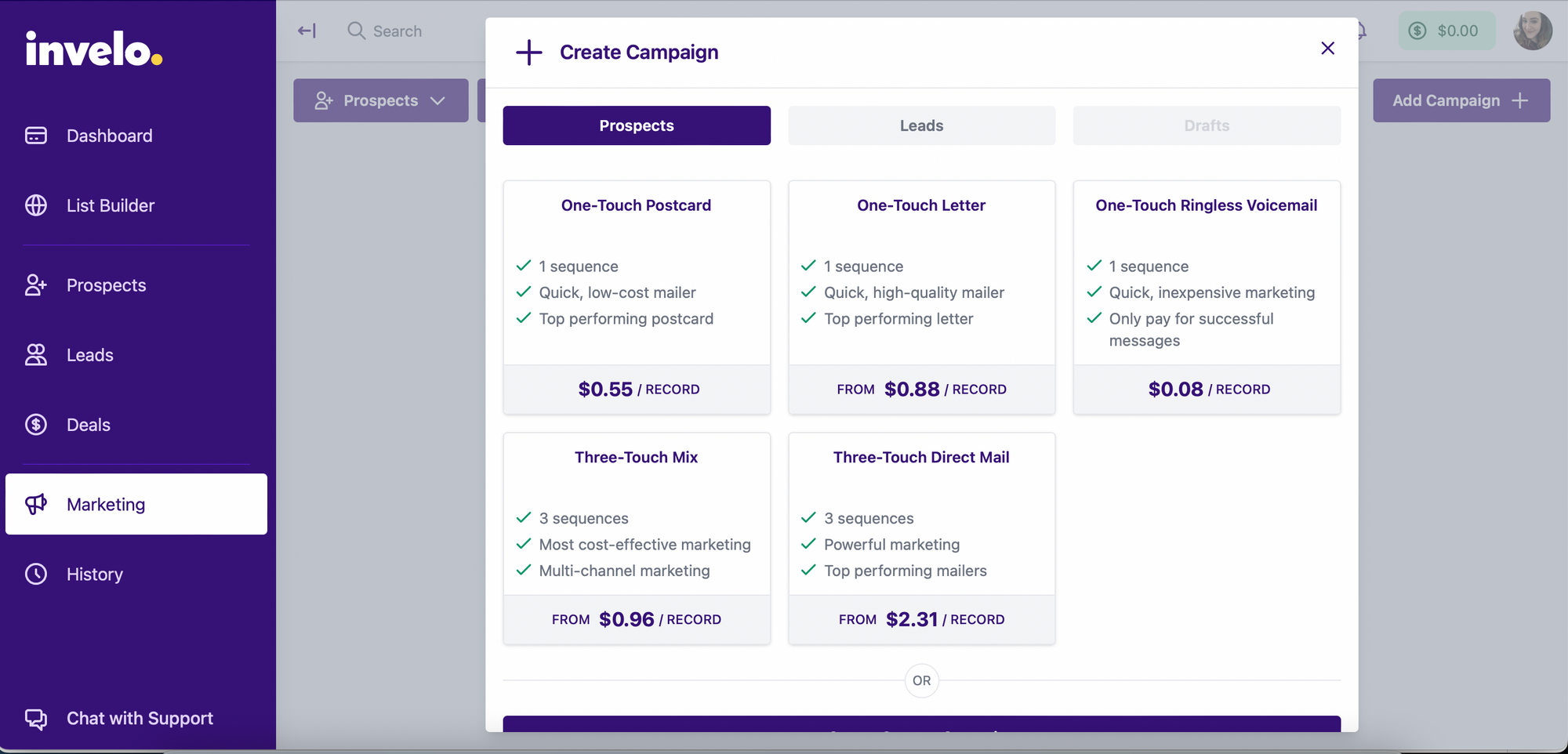 You can now create marketing campaigns in a flash with marketing presets. Select from 7 preset campaigns created to market to prospects or leads. The pricing will vary depending on subscription level with the lowest marketing pricing available for users on Professional Plans.
Before you begin creating your marketing campaigns be sure to create a marketing profile! Simply click on your image or initials in the top right corner and select "Marketing Settings" or just click here.
Now that marketing presets are live, those on Starter Plans will only be able to use presets to create marketing campaigns. Custom campaigns will only be available to those on paid plans.
Skip Tracing
Full skip tracing services are now live! You can use Invelo to skip trace individual properties, contacts, trusts and corporations as well as conduct bulk traces.
To skip trace a record just go to that record and click on the skip trace icon or the purple banner that prompts you to skip trace. From there you can choose to search that one record or find additional associated contacts for an additional charge. You will only be charged when a trace is successful.
You can also choose to change your primary contact on the record to be the best match found by the skip trace. Even if you don't select this option you will see the skip traced contact in the record.
Prices for skip tracing vary depending on subscription level and type of contact. Corporate skip traces will always be $0.05 more than property records for every subscription level. For the lowest skip tracing prices upgrade to the Professional Plan.
Learn more about how to skip trace by checking out the skip tracing guide over on the help desk.
Manual Record Add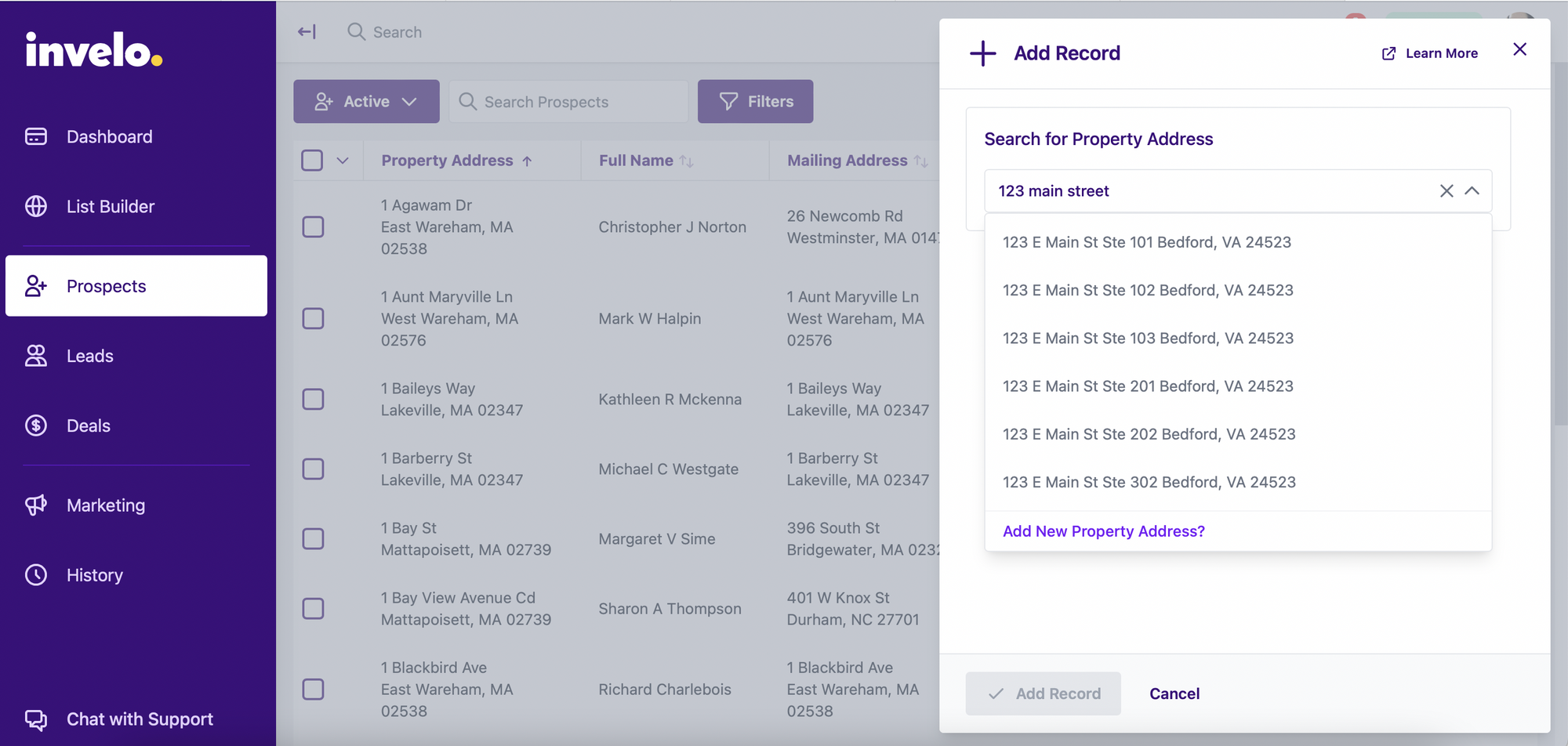 You now have the ability to capture the contact information during a manual record upload. When you add a property and our database finds multiple records, you'll have the opportunity to select the particular record. This feature is helpful when selecting an apartment number within a building's address or for land.

What's New As Of July 13
We have added a number of new functionalities to the List Builder for paid subscribers.
Auto-Add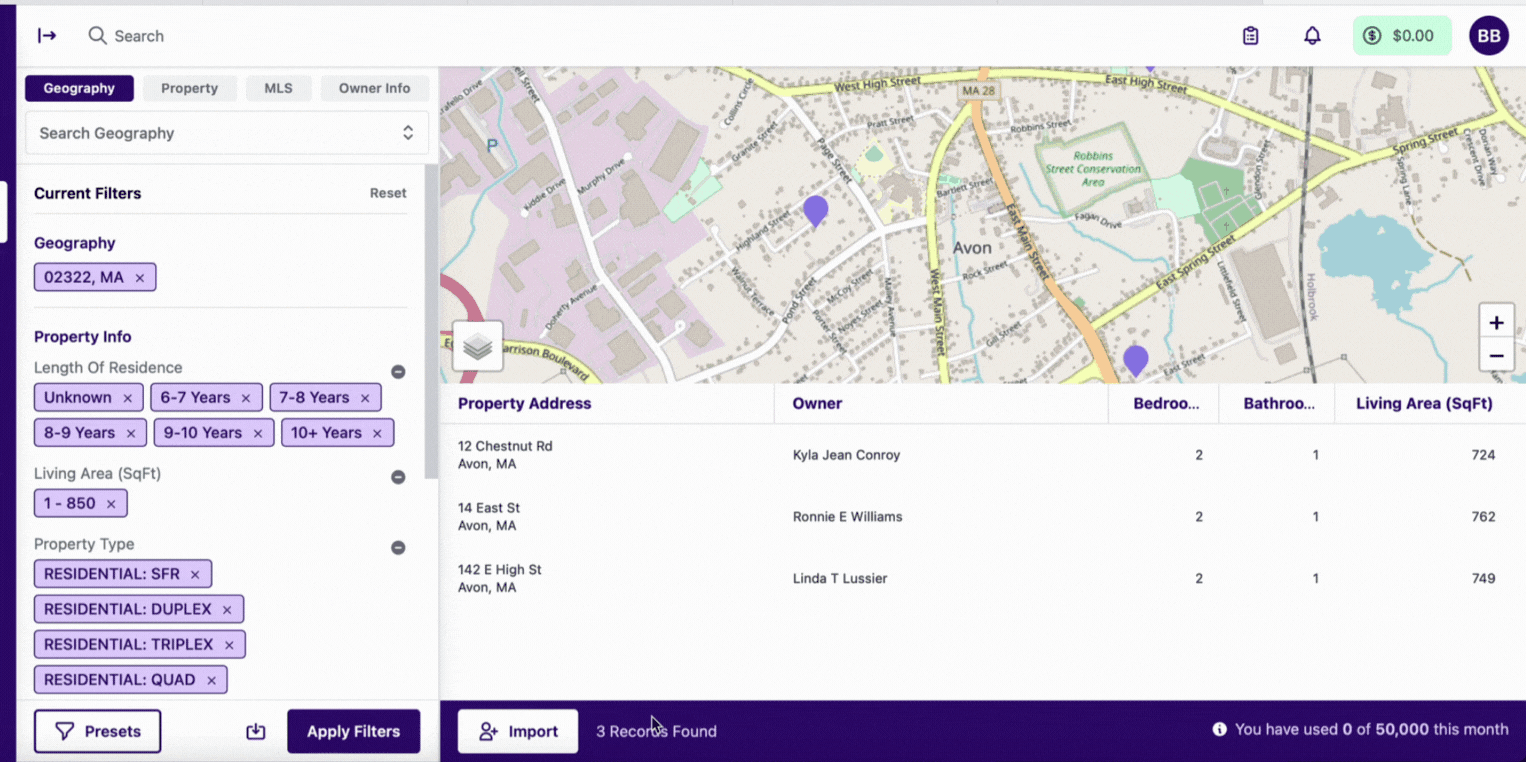 We have added a new feature that will enable you to keep up with potential leads without lifting a finger. The auto-add feature is now live in List Builder. This feature allows you to conduct a search with all desired parameters, save it as a preset, and allow new contacts that meet those parameters to be added automatically as Invelo refreshes its data daily. This will allow you to run a search once and then have it automatically update as new properties match your specifications.
Set your list specifications, any tags you want added to the leads before enabling the auto-add feature to ensure everything is ending up where it should be. You can also share your preset with your team so they can have access to that automation.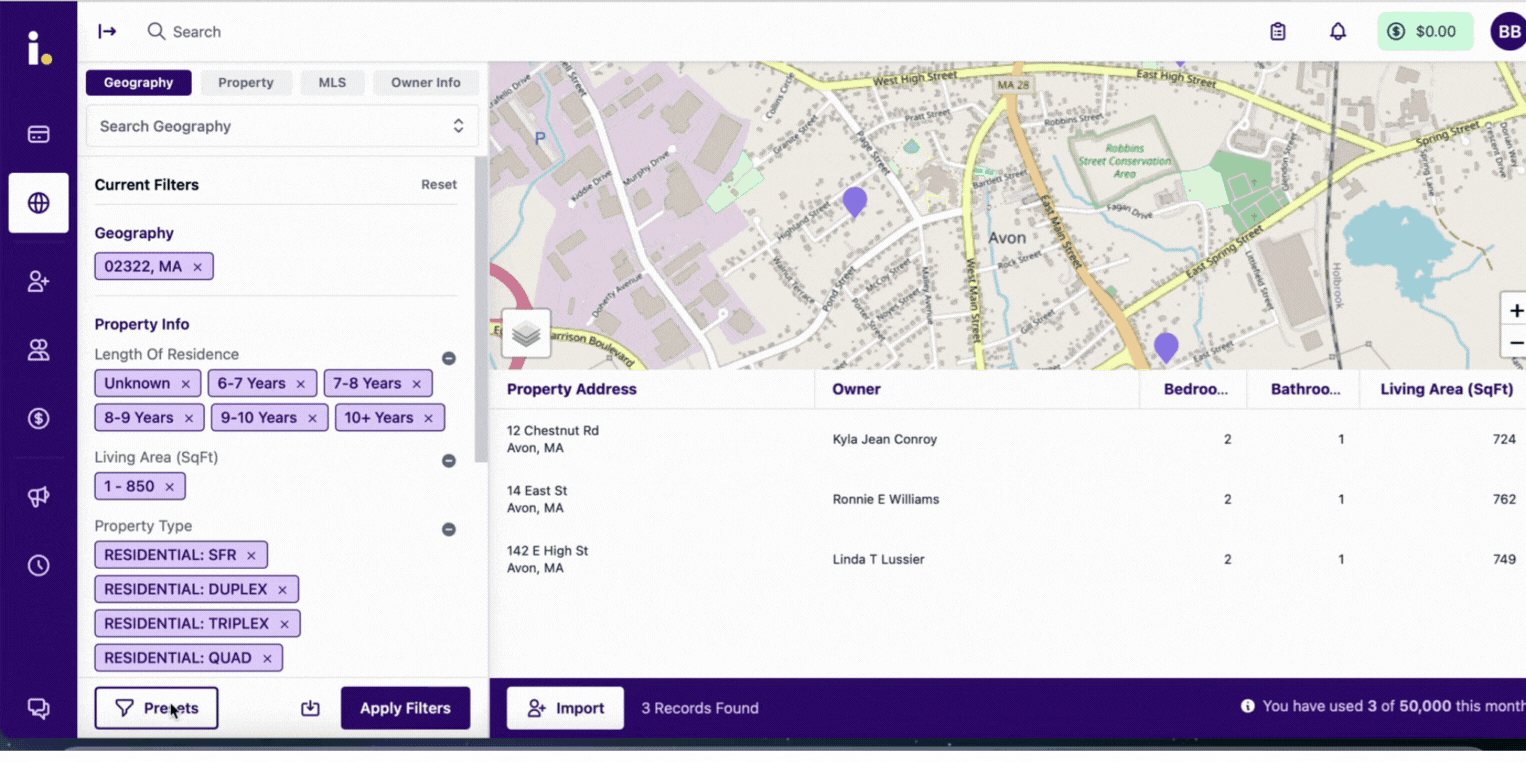 Once you have created presets with the auto-add feature you can manage them right from the List Builder home screen. Simply click 'Presets' on the bottom left and you will see a list of presets you have built and can share them with your team, turn them on or off or delete them.
What's New As Of June 29
As of June 29 we have made a number of improvements live for users resolving issues platform-wide as well as a few new features.
Select All
Users will now be able to "Select All" within the platform – addressing a concern of a number of users. This will make record and list management easier for all users.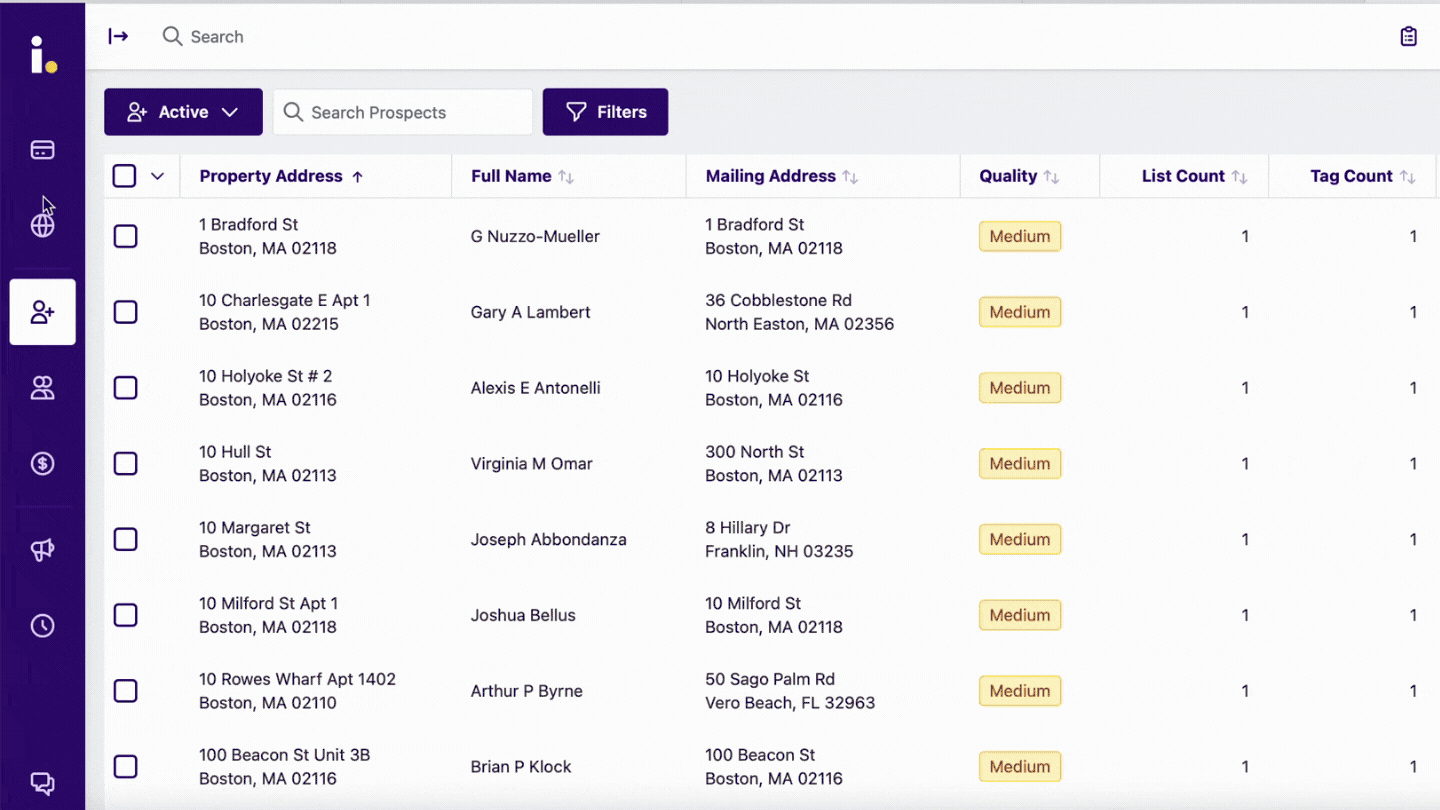 Ringless Voicemail
Ringless voicemail is now live and available for use in the Marketing tab.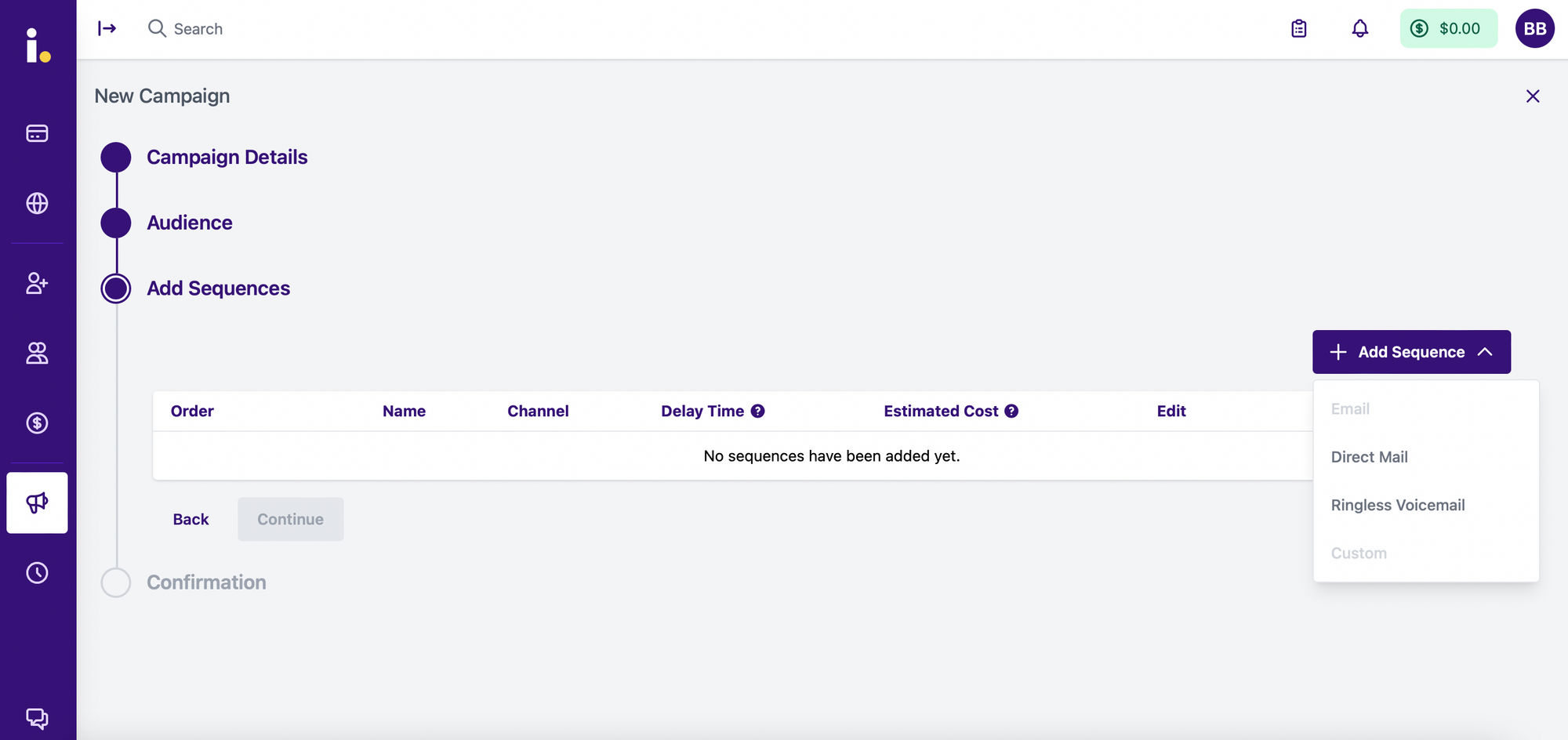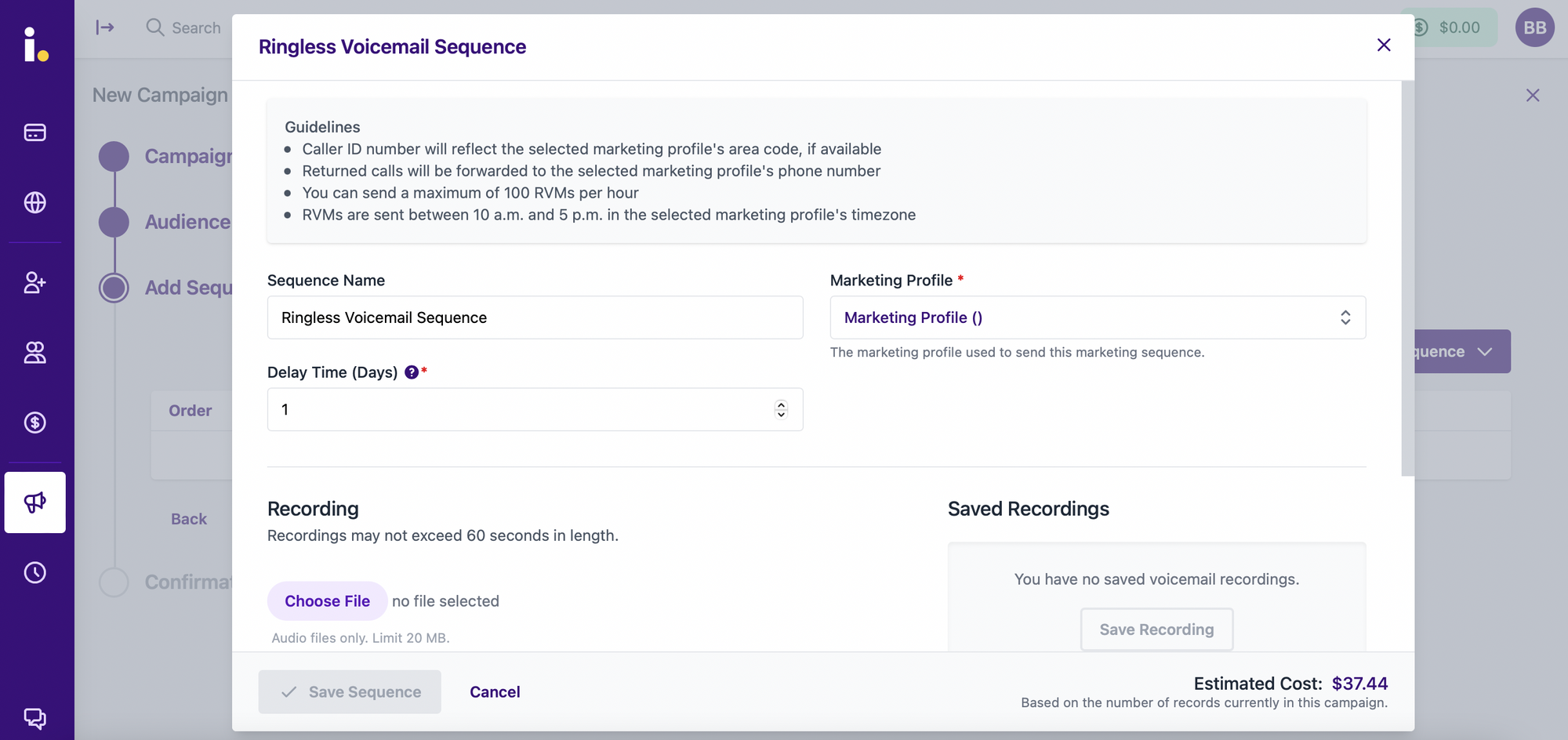 New List Builder Filters
The filter "Not Listed" has been added to List Builder filtering in the MLS Listing Status Filter.
Addition of "Property Type" filter and options on List Builder under "Property."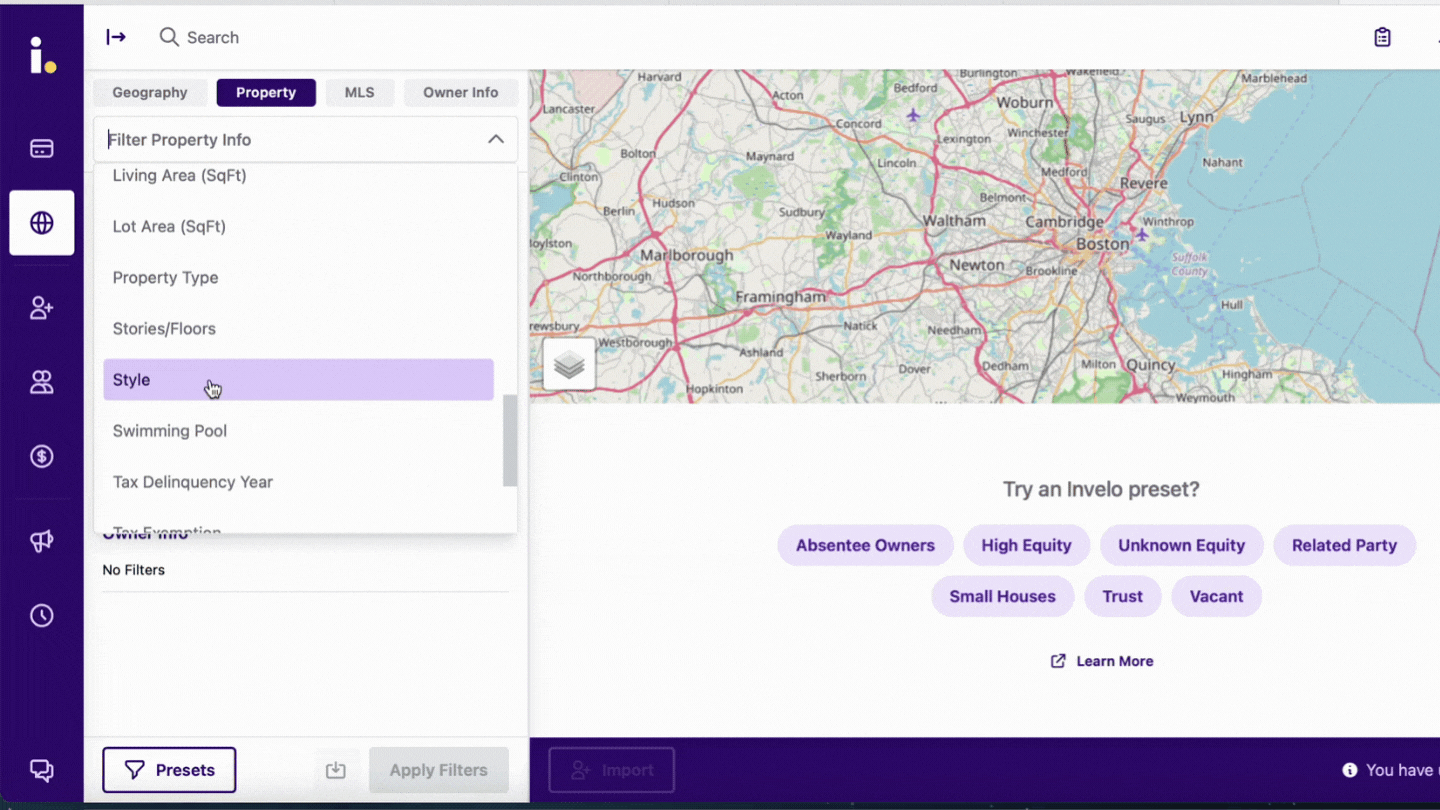 Dashboard Updates
*For paid plans only
Sold and Vacant properties added to the user dashboard. Sold properties are automatically flagged and moved from active prospects to removed prospects database.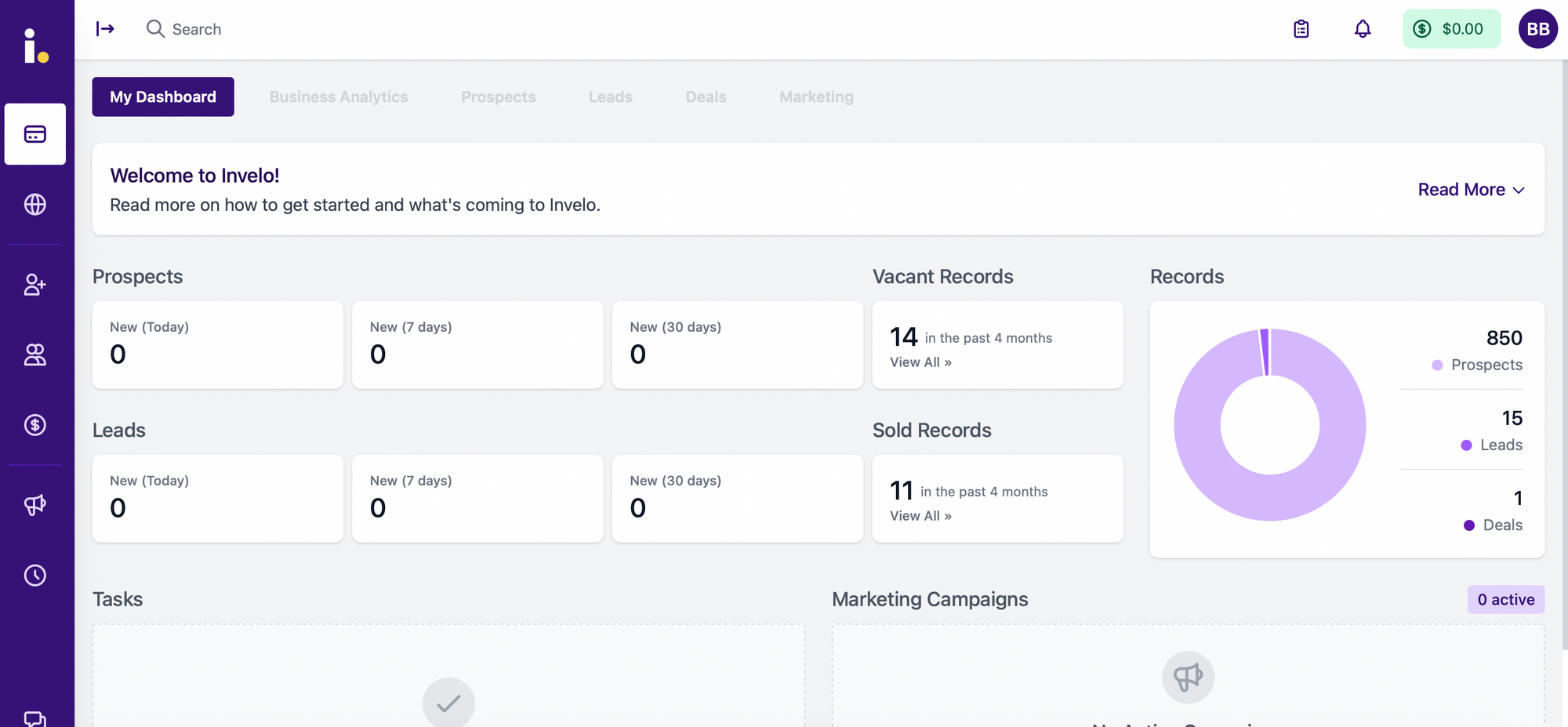 Check out the Roadmap to see what we are working on now....