If you are a new investor, starting over in a new farm area, or expanding your business, developing prospect lists is critical in building your real estate investing business. The first step for most investors is starting with the easiest prospect lists to pull, known as general lists.
General lists are prospect lists that can be compiled with little legwork. Unlike niche prospect lists, you can create all types of general lists using Invelo's List Builder in only a few minutes! In fact, for many types, you simply have to select a Quick List and select a location, and the list builds for you!
The ease of creation makes general lists a very popular resource for investors, which means there will be more competition regarding the properties listed. While the competitive nature may make the properties lower quality, general lists are something every investor needs to build on their journey to create solid, high-quality lists.
To understand general lists, you first have to understand the different types. There are six general list types, and each comprises properties and records with different attributes and situations.
The Types of General Lists
If you are looking to invest in residential real estate, a few properties and situations are easier to convert into a deal. General lists compile all the properties in a select location with these specific attributes to allow you to send targeted marketing messages and turn them into leads.

Absentee List
An Absentee List is a popular list for investors. An Absentee List is a collection of properties in which the owner does not live on the property. There are several reasons the owner could not live on-site, including inherited property, rental property, or a friend or relative living there.
Just because a property has an absentee owner does not mean that there is a motivation to sell. But there are many reasons that they could be motivated, including having a problem tenant, being tired of being a landlord, struggling to keep up with maintenance, or the house is just sitting vacant and producing tax bills.

Equity List
The following list is an Equity List. An Equity List comprises properties worth at least twice as much as the remaining debt on the home.
For example, if someone bought a home ten years ago and has been making regular mortgage payments. The house is now worth $600,000, and the amount the owner owes on their mortgage is $300,000. This means that the owner has 50% equity in the home.
If you are an investor creating an Equity List, you are generally looking for properties with 50% - 100% equity or "unknown equity" because this could mean that a mortgage is older and may have been paid off in full.
While not every homeowner will be interested in selling, many with a lot of equity may want to cash out or are open to the idea. This is why an Equity List is beneficial for real estate investors to build. However, even though it is essential, properties in this list are considered low-quality, and there will be many of them. Therefore, it is important to use filters to drill down on the exact type of properties you are looking for.

Senior List
If you are building an Equity List, you are already halfway to creating a Senior List. A Senior List is the same thing as an Equity List, with the addition of an age filter that will target homeowners older than 65. Adding the age filter lets you see homeowners with a lot of equity who are at or over retirement age and may be looking to downsize or move soon.
PRO TIP: If you're ready to do real estate investing, you'll need a great tool to manage leads and run marketing campaigns. Give Invelo a try for free.
Related Party List
Next is a Related Party List. This list identified properties sold in non-arm's-length transactions or inter-family transfers.
For this list, we are talking about properties sold at a deep discount within ten years.
While considered a general list, many investors are unfamiliar with Related Party Lists. Therefore, this is the only general list that would be considered high-quality.

Small House List
This kind of list is precisely what it sounds like. A Small House List comprises properties with a small living area. This is an excellent list for investors looking to expand or use the land to build a new home.
Small homes make good prospects because they tend to do poorly on the market since fewer people are looking for a home with as much square footage as an apartment. Investors are likely the best choice if they are looking to find a larger home, and they may be more willing to sell at a discounted price.

Trust List
The final general list is called a Trust List. This list contains properties that are held in a trust. When a property is held in a trust, it often indicates that a potential transfer of ownership is imminent due to someone passing away.
When creating this list, you want to filter out high-value properties since wealthy people utilize trusts to hold their real estate. This is a great list if you are keeping up with it. If you can catch the property while it is going through the transfer of ownership, you may find a motivated seller before the property even falls in their hands and before other investors have made contact.
How Do You Build General Lists?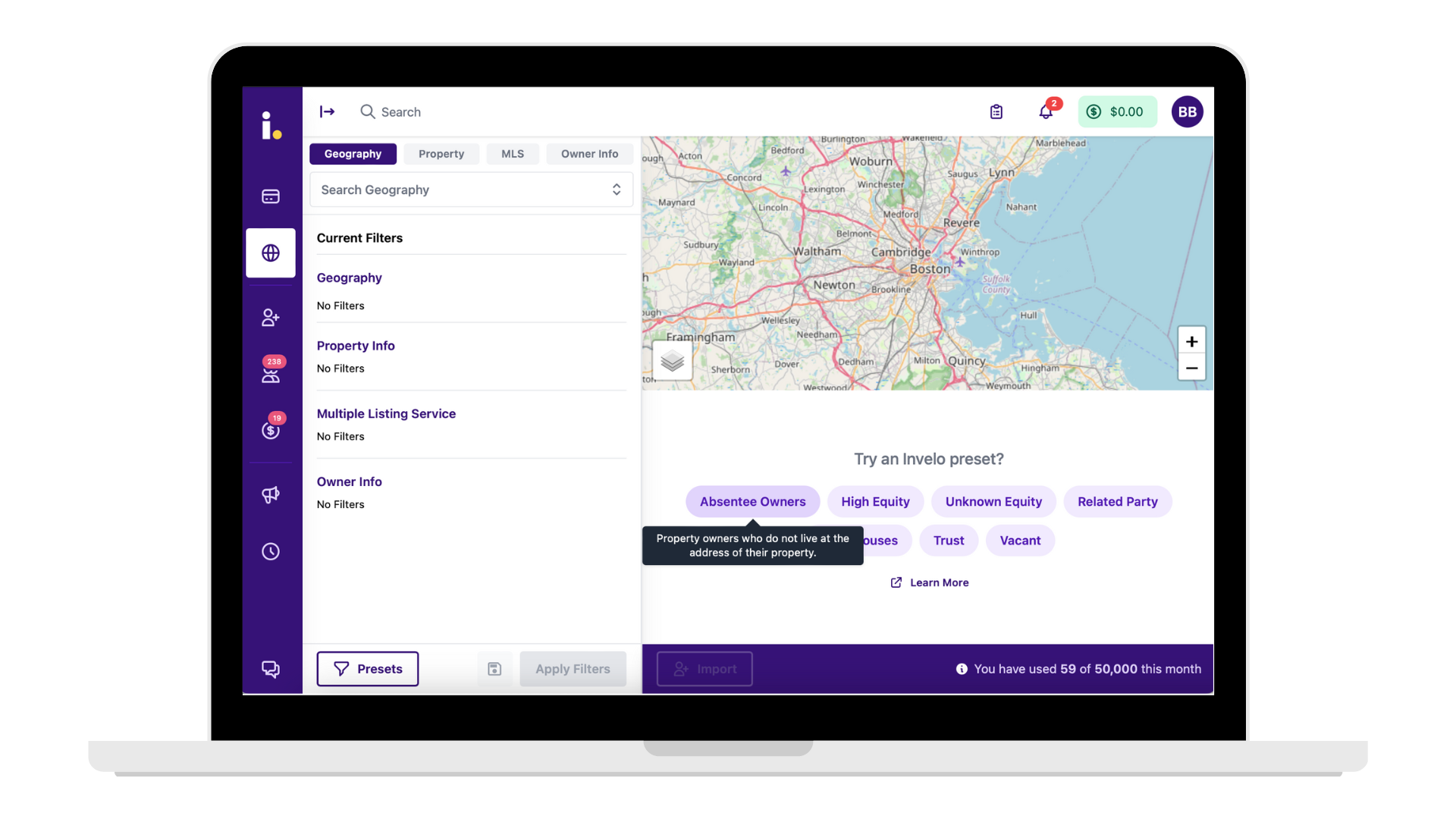 Building a general list is easy on a platform like Invelo. To create these general lists on Invelo, you must navigate to the List Builder. From there, you will see seven buttons on the bottom right. These are presets that will add the needed filters to the search function to create each list. The only type of list on Invelo is "Unknown Equity" because this is sometimes grouped into an Equity List.
Once you click on one of the Quick Lists, the fields will populate automatically. You can make adjustments based on what you are looking for and add the location of your farm area. That is all it takes to create a general list on Invelo!
After you have created your general lists, it is vital to take the time to add filters to find the properties that suit your needs the most. For example, if your farm area is large, you might have lists that are far too big to market to effectively. Therefore, you want to spend time refining your lists to ensure they will be worth marketing to. If you start marketing to a massive list without refining it, you may waste money and not see a high success rate.

Final Thoughts
Your prospect lists are the gasoline that fuels your real estate investing business. If you fill up with something low quality, your engine will struggle and eventually stop running altogether. This is why it is crucial to build lists of varying qualities and refine them to the specifications you are looking for in an investment property.
A tool like Invelo will help simplify this process and increase efficiency. When you finish building, you can use Invelo to refresh lists and send out marketing messaging automatically. This seamless integration of list builder to CRM to marketing platform is why Invelo is the best real estate solution on the market today.