If you are a real estate investor you know that managing property records and communication can be difficult and time-consuming. This is why many real estate investors invest in a good CRM to free up time and streamline their business.
Managing data can be one of the most tedious parts of a real estate investing business. The larger your business, the more data you have to manage. Some real estate investors can get away with using an Excel spreadsheet but most will need a program with much more robust capabilities.
CRM (customer relationship management) systems are the logical solution for a big data problem. But as a real estate investor, you need something specifically tailored to real estate to properly manage your property records and get the most out of your business. How can you scale your business when you spend so much time managing your records? Using tools that can manage and automate certain aspects of your business is an important part of moving your business to the next level.
PRO TIP: If you're a real estate investor, you need a great tool to manage leads and run marketing campaigns. Give Invelo a try for free.
What Is A CRM?
A customer relationship management system is a kind of software that is made to store, sort, and annotate data. CRMs exist in just about every field that utilizes customer data. A good CRM will not only store and sort your customer information but allow you to add notes, create tags, sort into lists, build and manage workflows, create nurture campaigns, and more. Many CRMs are paired with marketing automation services, like email marketing, to manage targeted marketing campaigns.
For real estate investing a good CRM will have to be tailored to the business to be an effective tool. You need something that can contain both property records as well as owner records and work seamlessly with marketing in multiple channels. You will also need a tool that can record skip tracing, and accurately update data based on property activity. Investing in a tool that is meant for your specific area of business is one of the best ways you can offload hours of administrative work without sacrificing accuracy or efficiency.
Why Do You Need A CRM?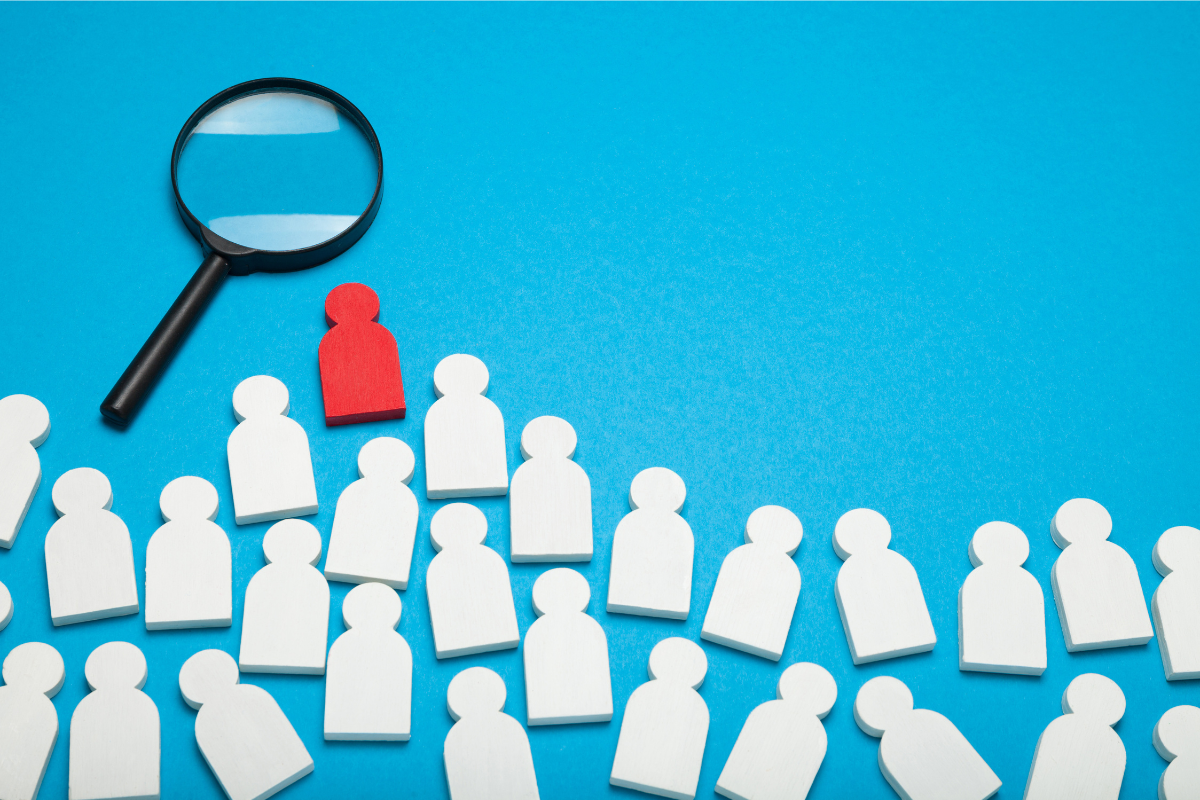 If your business stores customer records, you need a CRM. Investing in a good CRM is one of the best things you can do for your real estate investing business, at any level. This kind of software will allow you to scale your business like never before! Even if you are a smaller operation and don't plan on growing too large a CRM is the most effective way to collect and manage your records.
Increase Efficiency
Managing thousands of records correctly without help is a nearly impossible task. If you were to load all of your records on a spreadsheet how long do you think it would take for something to go wrong with the file? How long would it take to sort and update customer records? You cannot manage or grow a real estate business without a good CRM.
A CRM will do a lot of the mundane, yet critical work for you. It will keep your records updated through the sales pipeline and allow you to sort them into lists and tagged groups to better market to them. Doing that manually simply isn't an option.
Additionally, CRMs will allow you to store your data in one centralized place where you and the rest of your team have easy access to it.
Save Time
How long do you think you would spend managing your records database without a CRM? Probably too much time. How can you grow a business when you spend so much time caught up in administrative work?
Using a CRM will free up hours of work and allow you to focus on other things in your business. For a real estate investor time is critical when pursuing leads and closing deals. If you can automate anything in your business, you should. A CRM does that for you as well as tackles other lead generation tasks that you may not even have time for but can benefit your business.
What could you do with more time? Maybe you could connect with more leads? Maybe you could craft more robust marketing campaigns? Getting those hours back will give your business an immediate boost.
Stay Organized
If you want a good snapshot of your sales pipeline or want information on a recent marketing campaign you need a clean and organized data set. CRM systems are made to keep data stored in an organized manner. Even if you are new to the software, you can still create a database of well-organized data.
As a real estate investor, it is important to have customer records stored in an organized manner. You want to be able to take a look at your leads list without having to manually sort through data. With a CRM your data is always organized so you can always get a clear picture regardless of when you choose to review it.
Maintain Accuracy
If you want to close more deals you have to make sure your data is as accurate as possible. You don't want to spend money marketing to leads when your leads list is mixed in with your prospects, or the mailing addresses for the property owners are mixed in with the property address. Having accurate information is crucial in building a business and making sure your marketing budget is being spent in the best way possible.
A CRM will promote more accuracy in your business because it is eliminating a lot of human interaction. Since you can automate many tasks using a CRM tool you cut down on the chances of human error affecting your business. It's always possible, of course, but a CRM will reduce the chances of making a catastrophic mistake.
Invelo Can Do All That And More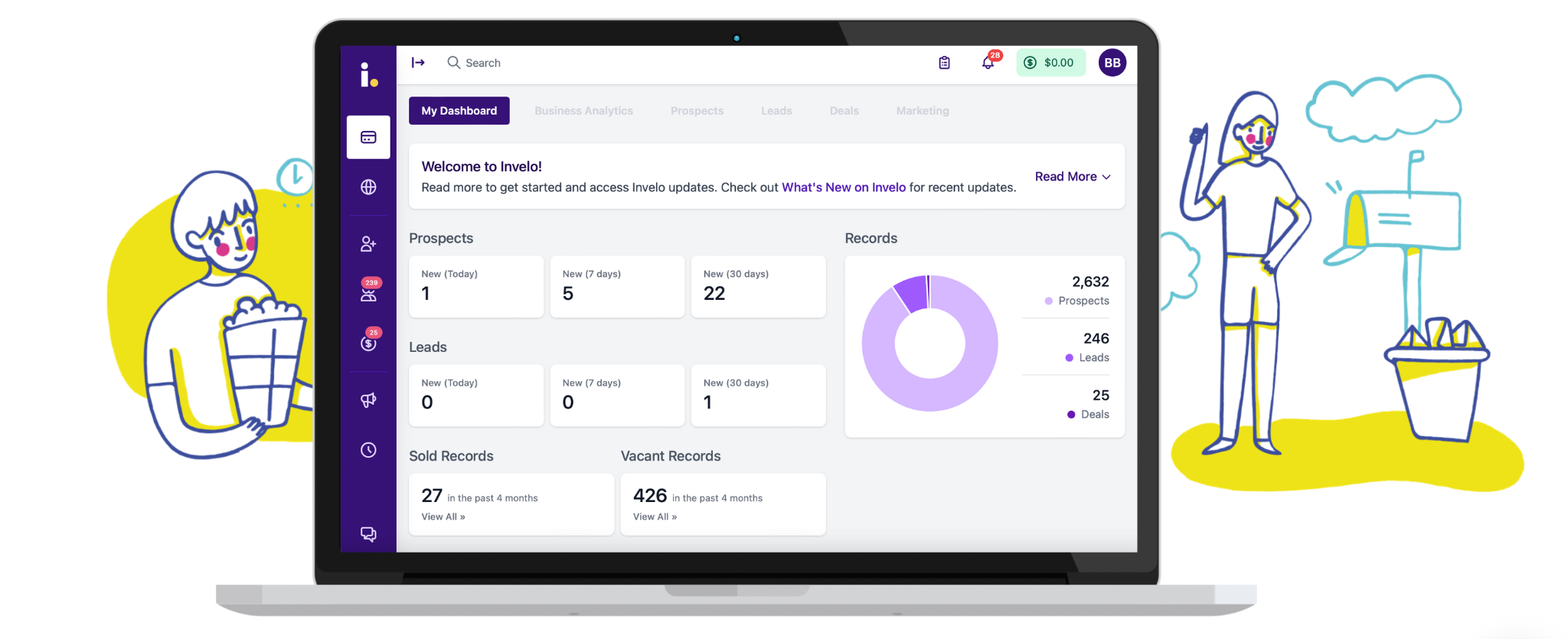 If you are a real estate investor looking to grow your business there is no better tool than Invelo. Not only is Invelo a powerful CRM, but also a platform where you can build lists, create and send marketing campaigns and learn the ins and the outs of the industry.
Real estate investors will often have subscriptions to several different kinds of software to get everything needed to manage a business. You probably have one that you use for looking up property records, another for managing your sales pipeline, and yet another for sending marketing campaigns. What if you could get everything you needed in one place for one price?
Invelo was created to be a one-stop shop for real estate investors where they could manage their entire business within one platform.
Created by an investor, Invelo was crafted with knowledge of what investors need to run and grow their businesses. The platform is simple, powerful, and sleek with options for beginners and professionals. You can manage your records from prospects to deals without having to switch to another platform. Run smart email campaigns, custom direct mail campaigns, ringless voicemail campaigns, and more entirely from the platform with information from each campaign added to your records.
Invelo As A CRM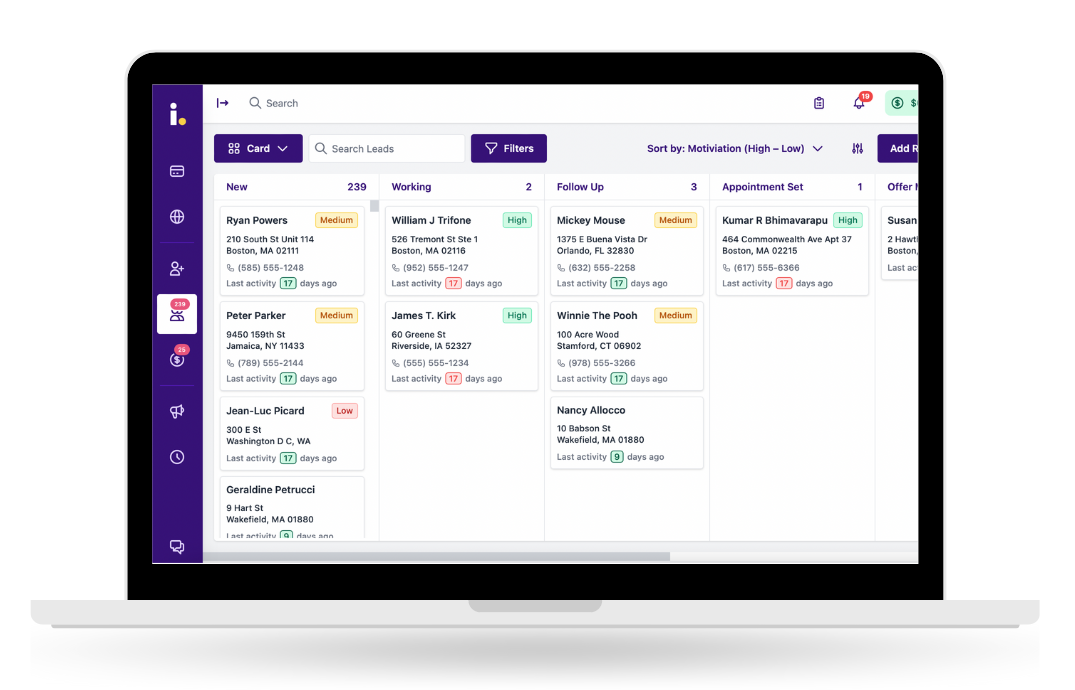 Invelo's sales pipeline management was made specifically for use by real estate investors so its CRM functionality is the best in the business. Easily create lists using the list builder tool or import your list from your old CRM right into the platform. Not only is adding records easy, but Invelo also has a team of Customer Success Specialists on hand to make sure every single record makes its way to its new home.
Managing data inside Invelo is simple and highly automated. You can swiftly sort records based on what stage of the sales pipeline they are in as well as add notes, tags, filters and additional contacts. Set up automation that will add high-value records to specific lists automatically and feed them into pre-built marketing campaigns. Never miss out on a lead again!
Final Thoughts
Investing in a good real estate CRM is the best way to start your business on the path of growth. Without help managing records your business will not be able to function with the efficiency and flexibility it needs to.
Using something smart and specifically made for investors, like Invelo, will ensure that your critical business records are in the right hands.
Try Invelo for free right now!