To maintain a successful real estate investing business you must have a steady flow of leads. Generating a few isn't so hard but how do you keep it going? There are a number of lead generation tactics real estate professionals rely on to keep their business growing.
To grow any business you need consistency and a way to generate steady revenue with room to scale. In real estate investing this means identifying and pursuing leads to close deals and make money. Without generating leads you cannot close deals, and your business will eventually fail.
When you first start out you may have a few leads in the pipeline or know where you can find some. But soon those will dry up and you will have to get creative. Seasoned investors know that you need to diversify to find consistent, quality leads. Relying too much on one source of lead generation can put you at a disadvantage and can stifle growth. The more tactics you have in motion the better your chances of generating good leads.
So what are some of the most common and successful tactics used by the pros? Here are a few worth investing in:

Real Estate Software
If you value efficiency, real estate investing software is a great asset to invest in for your business. Real estate software is specifically designed for investors to generate, manage and pursue leads from beginning to end. Stay within one, easy to use platform to keep your business optimized and organized.
The most advanced choice is Invelo, an all-in-one platform for investors to generate leads, manage sales, and create marketing campaigns all within the same platform. To build a list of leads you can use Invelo's list building feature to search through property records to find leads that meet your criteria. Sort properties based on size, location, occupancy and more. From there you can quickly use skip tracing to find their contact information as well as market directly to the homeowners with a few clicks.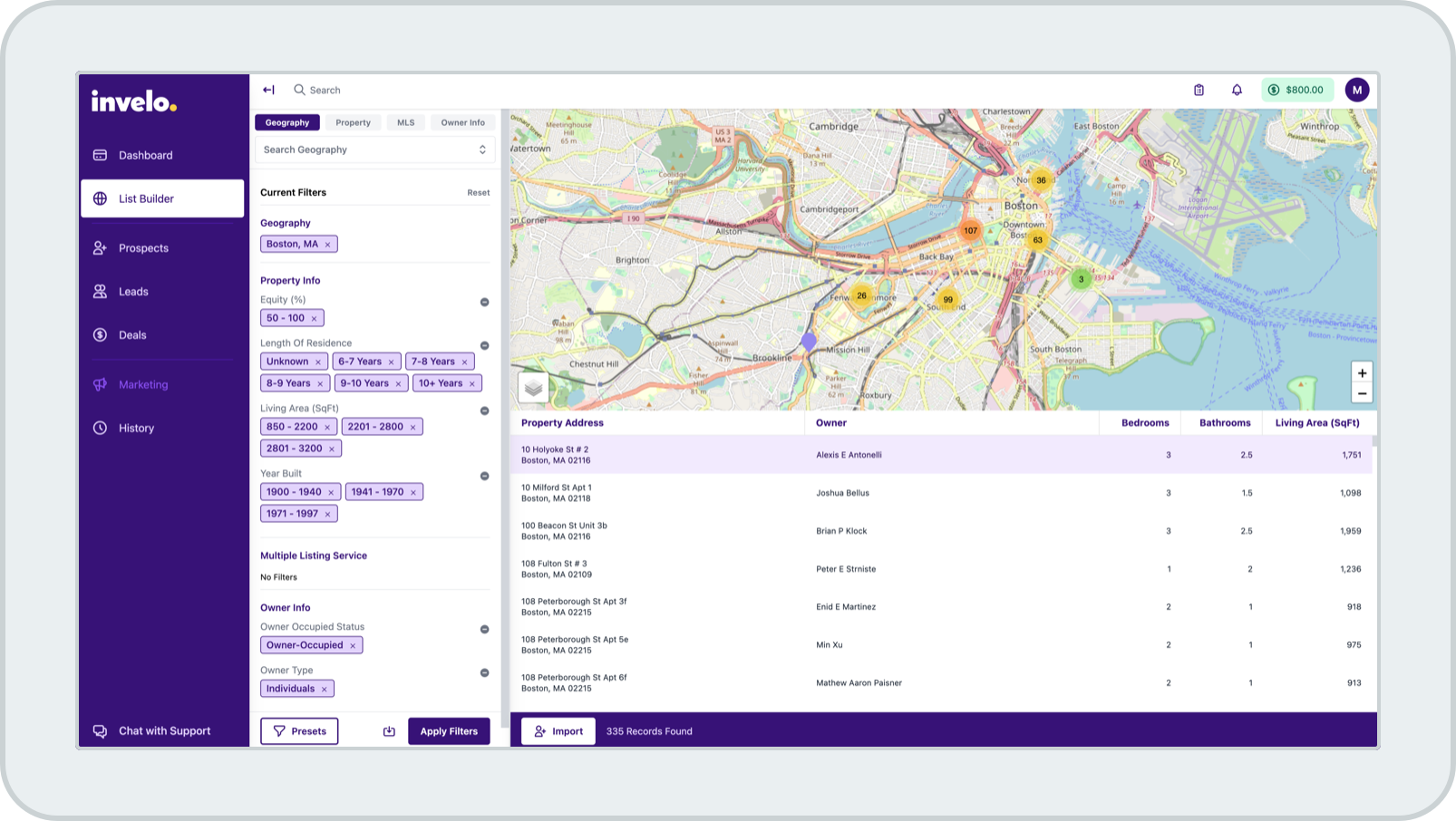 Invelo automatically updates in-platform generated lists as well as uploaded lists to make sure you always have the most up-to-date information available and don't have to waste your time searching.
A tool like Invelo can be invaluable for an investor, providing a simplified way to generate and manage leads while nurturing them to deals.

Direct Mail
It may seem a bit analog in our digital age but one of the tried and true lead generation tactics is direct mail. Direct mail has been around for decades and is a reliable way to generate leads, especially in real estate.
Investors use direct mail to target specific areas with general mailers or individual homeowners with highly customized postcards. Direct mail can be both personal and impersonal depending on the campaign you are running.
Unlike email, direct mail will reliably make some kind of impact on the recipient – even if they glance at it for a second before throwing it away. With email things can easily be deleted or filtered without reading more than a word. The key to direct mail is designing campaigns that stand out and get your point across, and making sure to keep up with sending them consistently.
Investors often use direct mail campaigns to market to homeowners in similar situations to uncover leads. For example an investor might design a campaign that targets tax delinquent properties or probate properties in a certain area. With this kind of campaign you can craft a specific message to a large group and isolate opportunities.

Digital Ads
While you are sending out your mailers make sure you are also engaging with leads online. The two most popular and effective places to advertise online are Facebook and Google. Running ads in one or both of these places can be a great way to get attention from homeowners actively seeking out a buyer.
When creating a digital ad make sure you aren't casting too wide a net. You need to hone in on who you are targeting so you can create more effective ads and cut down on unnecessary spending.
If you are creating Google ads make sure you research the top keywords that a seller in your area is probably using to find a buyer for their property. If you are only looking for sellers in a specific area make sure you add geographic information as well so your ad will only be shown to potential leads. You don't want to spend a fortune on ads that aren't showing up for the right people.
If you are advertising on Facebook you want to do much of the same while also looking at certain websites and organizations that sellers might visit. Also make sure to advertise to people who have already visited your website. This is a great way to re-target people who might have been interested in working with you but didn't follow through in getting in contact.

PRO TIP: Get started generating leads right now with Invelo - Find Prospects, Market to Leads, Track Deals and Make money. Signup for free and see how easy it is to make money buying and selling homes.
SEO
Aside from paid ads you also want to make sure that you have a solid organic presence on search engines, especially Google. To do this you must create a simple website that is consistently updated using good SEO practices.
To boost your website's SEO you want to optimize each page associated with your domain. Research keywords and use them in titles, body copy, page titles and page URLs. Additionally, create a blog that is hosted on your website and periodically write articles that focus on your top keywords. Your posts do not have to be novels in length but must be substantive and written for both humans and search engines to gather data from.
By putting in the work you can make your website rank higher in Google's organic search results, which can be a huge win for a business. More than 75 percent of people never go beyond the first page of Google search results with more than 31 percent clicking on the first result. If you spend some time honing in on keywords in your area you can set your business up for success without paying for ad placement on Google Search.

Driving For Dollars
Sometimes to find the best leads you have to go out into the world and look for them yourself. Driving for dollars is exactly what it sounds like – you drive around looking for homes that could be potential leads.
When an investor uses driving for dollars they are usually specifically seeking out homes that are distressed or in obvious disrepair since this is easy to see from the outside. To successfully utilize this tactic you want to research the neighborhoods you are interested in before you get in the car to make sure you know that a home in this area is a worthwhile pursuit.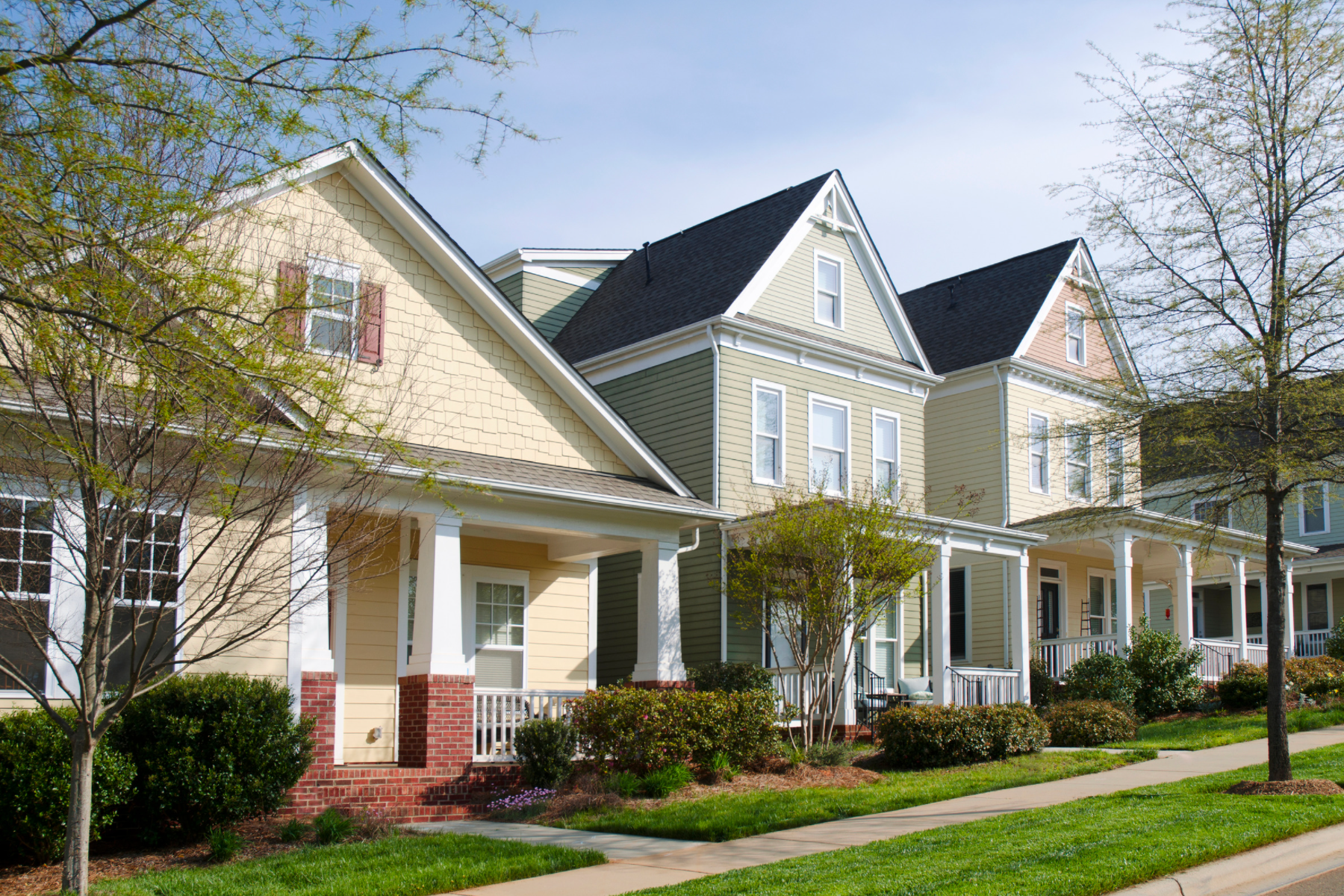 Once you have located a property you may be interested in you will employ another lead generation tactic to make contact with the homeowner. Generally an investor would simply cold call the homeowner or knock on the door and talk face to face. If either of those are impossible or undesirable then a great next step is including them in a direct mail campaign to build interest.

Real Estate Websites
There are a number of real estate websites that are great for generating leads. Depending on what you are looking for you can usually find some sort of centralized resource online. Here are a few popular websites that service specific niches inside of real estate investing:

Display Ads
If you are looking for interested sellers in a particular area it might be advantageous to run a campaign of display ads in the area. Display ads include any kind of physical advertisement. This could be purchasing lawn signs and asking to put them up in a neighborhood, smaller signs that are attached to poles or community bulletin boards or even billboards. If you want to grab a potential lead's attention and you know where they are going to be, this can be a great way to get your business in front of them.
Display ads give you the opportunity to get your brand and contact information in front of the right people. Even if sellers don't reach out directly to you, your ads have created name and brand recognition that can make converting them to a lead easier in the future.

Final Thoughts
Lead generation is all about consistency and diversity. You never want to get comfortable only using one tactic. Every lead generation tactic above works harmoniously with all of the others. By trying different things and staying active you can ensure that your business has a constant flow of new leads at all times.