Real estate investor websites are getting increasingly popular by the day. Investors are no longer completely dependent on real estate agents with property data on back pocket listings and index card files. Interestingly, 51% of buyers found their homes online, 28% through their realtors, and 7% via a yard sign.
Today, real estate investing information is readily available online. Investors can now sit on their couch and check out numerous properties within a few hours. But the internet can also lead to information overload, with hundreds of websites a search click away. Things get confusing when you don't know what website to trust and what to not.
PRO TIP: If you're ready to do real estate investing, you'll need a great tool to manage leads and run marketing campaigns. Give Invelo a try for free.
Hopefully, this article will help you choose the best real estate investor website for your investment endeavors. Our curated collection of real estate investor websites come under different categories. Without further ado, let's dive in!
Real Estate Investor Websites: Community
Many real estate investors don't have coworkers or partners. They manage most of their assets online. Several community-based real estate investor websites have been developed to make sure you don't get lonely in the investing process.
In the world of real estate, community-based websites let you establish relationships with other investors rather than only experts. These communities offer a safe place for you to understand any unfamiliar part of the investing process or share your vexations.
ActiveRain
ActiveRain is a real estate investor website that has formed one of the biggest social networks for real estate professionals. Thousands of investors have signed up to its site. In this community, they share networks with lenders, brokers, agents, and property inspectors.
The platform has its own education segment called ActiveRain University. It's famous for its user-generated content. Moreover, it houses a long-running series of webinars from verified professionals.
In addition, ActiveRain serves as a community blogging network where all members are free to interact with each other and create posts. The website has archived a total of over 4 million such posts. Hundreds of blogs are published every day to keep the site as active as its name.
BiggerPockets
BiggerPockets boasts a huge investment community. It has a large blog and multiple resources in text and video formats. It even has a few simple calculators to estimate rehab costs and rents.
The website's main attraction is its user forum, where hundreds of investors converse every day. The discussions take place on various topics, such as:
Where you can make the most money
What process is used to evaluate properties
The best or worst flip of your life
How you can solve typical landlord problems
What the latest news may mean for the real estate market.
BiggerPockets houses a friendly community. Because the community is so big, you can easily meet people who know exactly how you are feeling or have solutions to your problems.
Real Estate Investor Websites: Tools & Software
Investing in property can be a tedious process. You need to preview the various properties listed online, research, estimate their value, exchange payments, and lease and manage your properties across the country. This can take you days if you don't use the right website for the investment.
Today's real estate tools and software make it very easy to analyze deals and maximize returns on investment in your portfolio. You can virtually determine important metrics like ROI, yield, fair market value, and rents.
Invelo for Real Estate Investors
Real estate investors all report one common challenge – no unified system. They have tools for finding properties. They have CRM systems for managing leads. They have marketing solutions for sending direct mail, emails, cold calling and more. And they have reporting tools to bring all the data together. But these tools largely operate in a silo. There are integration apps like Zapier, but even the most technically savvy investors can't get all of their systems to sync. This means more expense. More breakdowns. More confusion. And less success.
Enter Invelo. Truly the one system that takes the most important parts of real estate investing and combines them into an easy to use system.
Find prospects with Invelo's list builder
Search based on proven property attributes or create your own custom filters in seconds from a database of over 150 million records.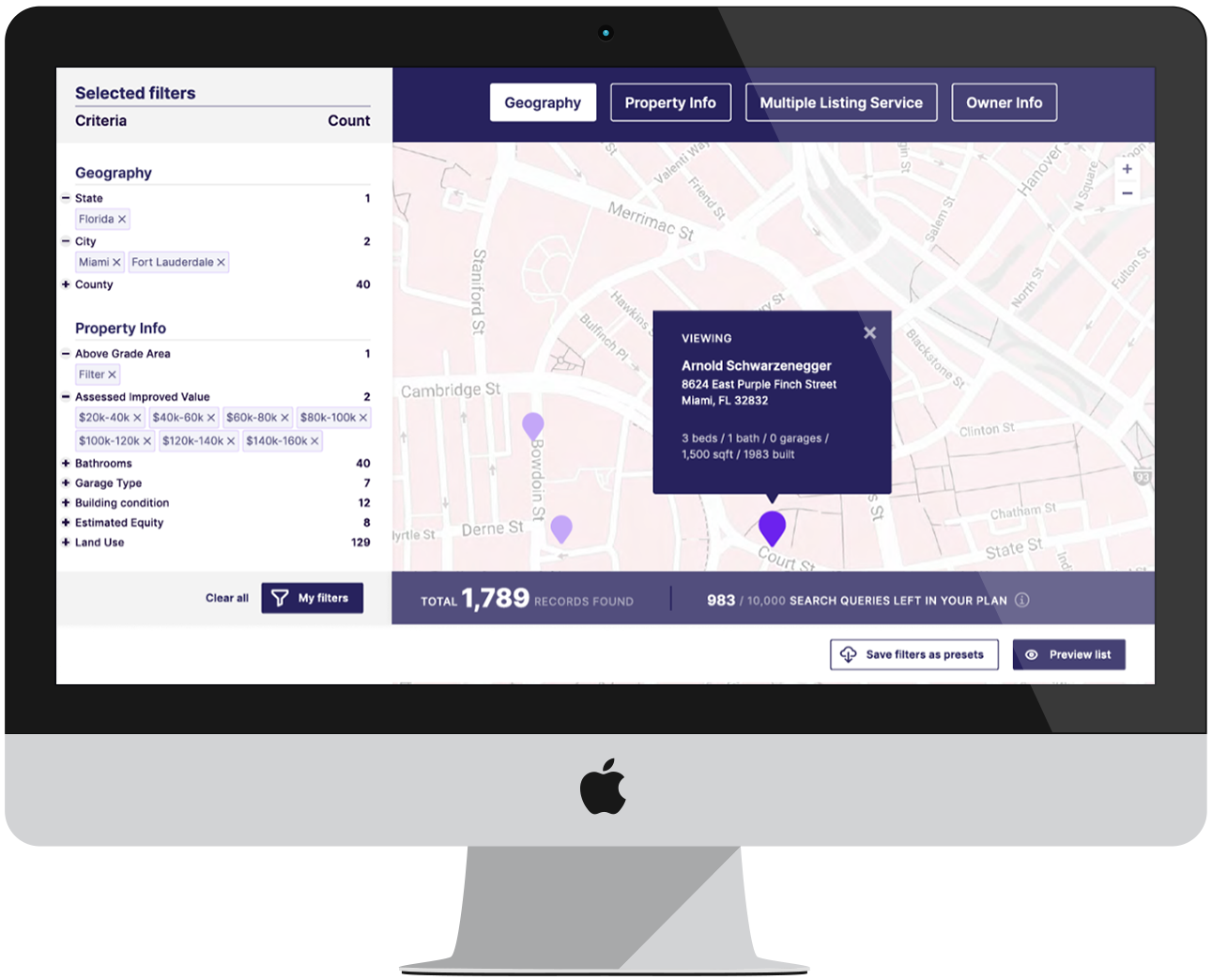 Build automated marketing campaigns
Never manually market again. Just set up a campaign and records will automatically get added and triggered when new prospects meet your criteria.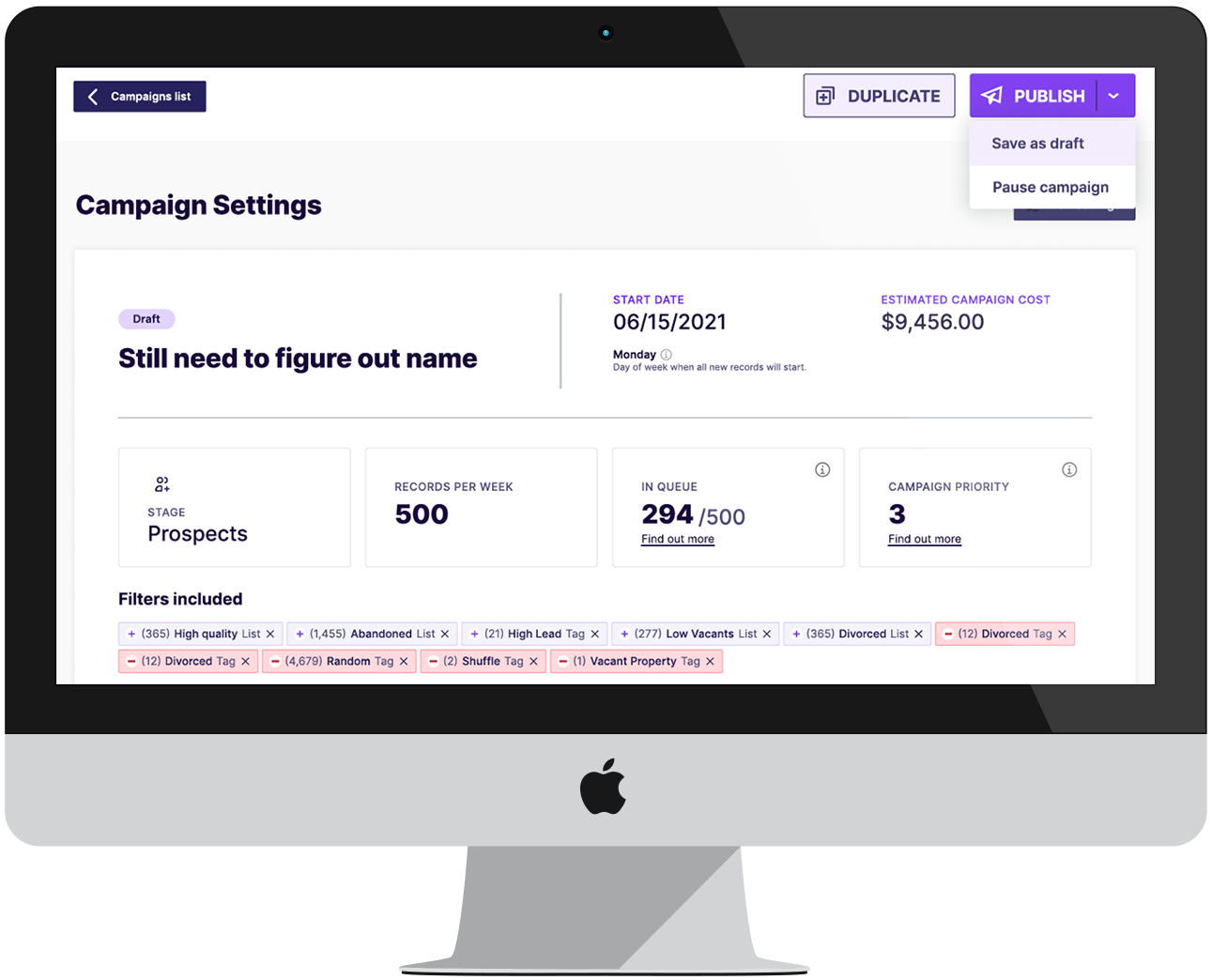 Manage and track leads and deals
Organize prospects, leads and deals by tracking multiple contacts, using the industries best skip tracing to find owner information and keep up on activity, notes and tasks.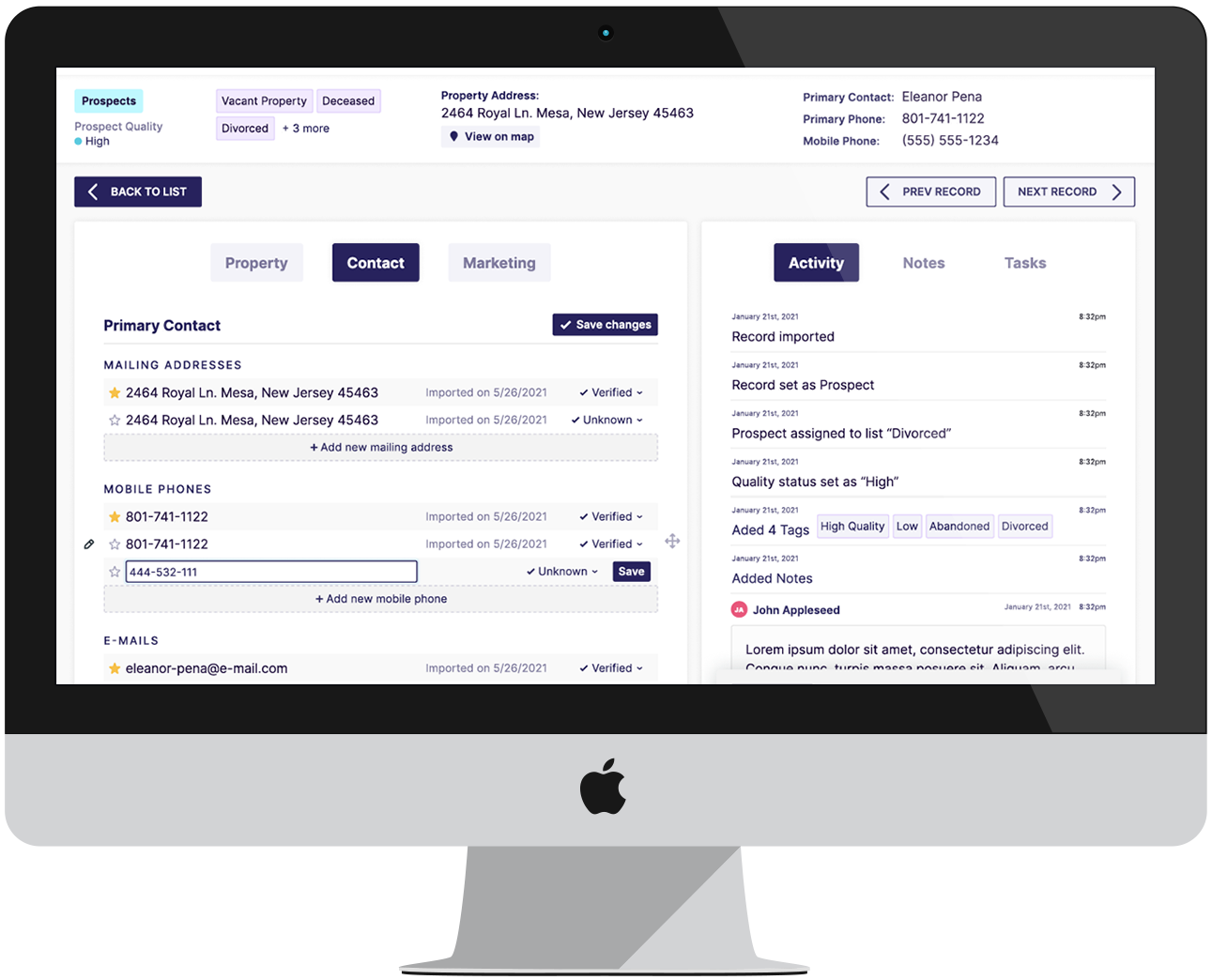 Analyze results and track key metrics
Easy to use dashboards, full function reporting and logging of every activity in the system.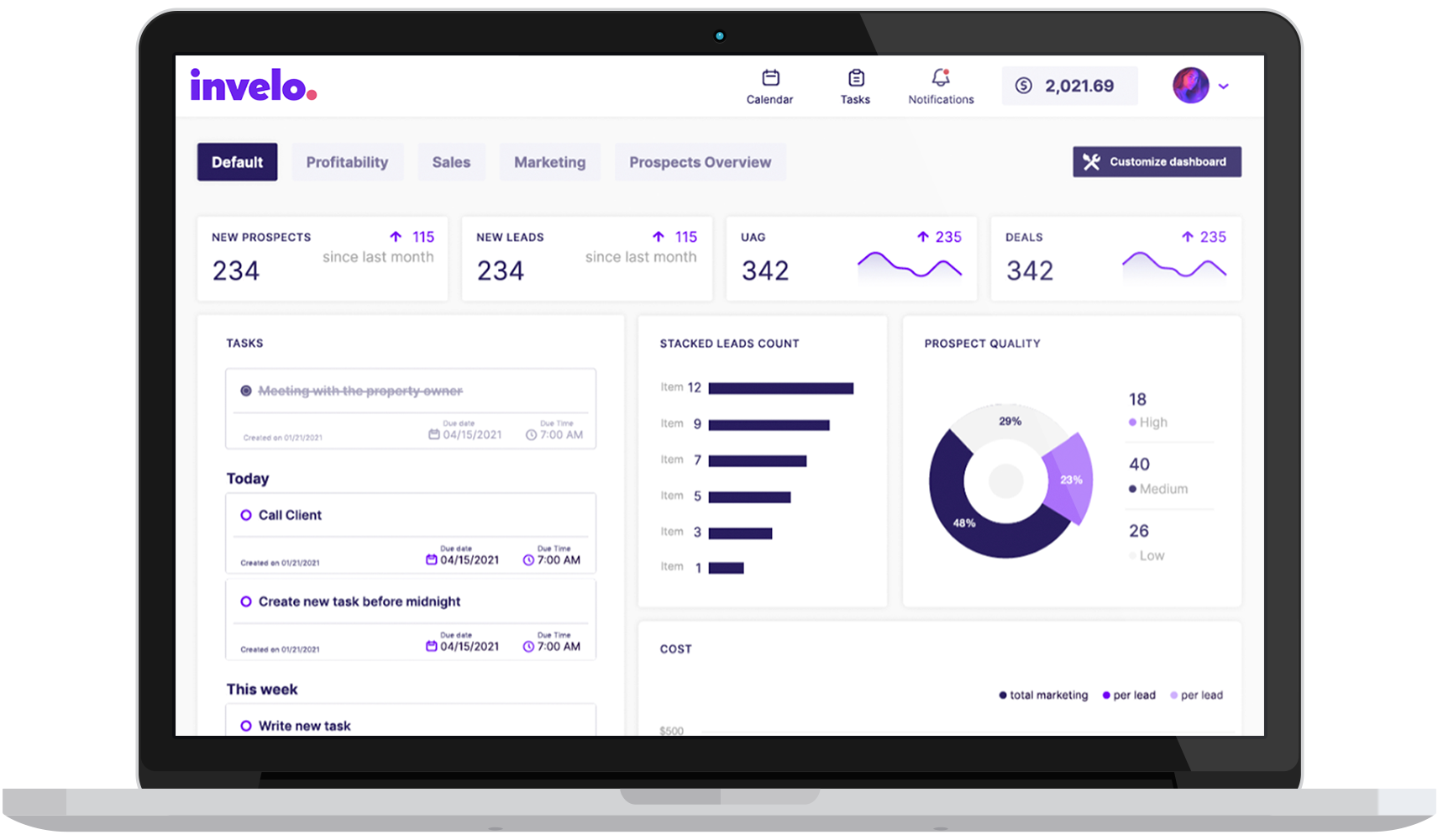 Invelo is great for seasoned investors and newbies
Whether you've been in the real estate investor game for decades or just want to get started, invelo is for you. The platform has built-in best practices which takes all the guesswork out of setup and execution. And invelo has unlimited free training and education programs so you can learn the ins-and-outs of real estate investing from some of the most successful professionals in the business.
Roofstock
Roofstock is a real estate investor website built exclusively for buying and selling any rental property. You can even buy ownership shares of properties using this platform. It provides tools suitable for small investors, but it also offers a plethora of features to help large-scale investors build a strong portfolio.
The website is great for first-time investors. It's user-friendly and easily navigable. There are straightforward drop-down menus on the main landing page to steer you. The minimum required investment is $500.
The website allows investors to purchase properties sight unseen. This is made possible by its certification process and national network of experienced partners and property managers. Roofstock also lets investors purchase small multi-family rental properties and single-family homes with pre-occupied tenants.
You can invest with Roofstock in three ways: make fractional ownership investment as an accredited investor, directly own single-family rental properties, and make portfolio investments to diversify assets that are suitable for a 1031 exchange.
In addition to the above, Roofstock also provides great software for investors to research the investment potential of almost all US rental markets. Investors can choose the right market according to their investment strategies.
Proforma property analysis is built into the listing information for each rental holding listed on the Roofstock Investment Property Marketplace. It performs analysis on essential financial metrics like gross yield, annual return, projected appreciation, and cash flow.
Mashvisor
Mashvisor is one of the most data-driven online property search platforms. It's dedicated to residential property investors, including those who want to use their holdings as Airbnb rentals. Investors can carry out enhanced property searches depending on the various types of data.
You can find some proprietary statistics here, such as seasonal trends, occupancy percentages and history, neighborhood insights, and Airbnb and traditional rental rates.
The main difference between Mashvisor and other real estate investor software is that it's suitable for analyzing both short-term vacation rentals and traditional long-term rental properties. The platform has more than 450,000 property listings, and you can avail of analytics for each of them.
Mashvisor partially automates some of the most essential analyses needed. Its analytics tools provide you with cost assumptions, occupancy rates, revenue projections, cash flow calculations, seasonal trends, and investment purchase analysis.
SparkRental
SparkRental has a powerful online property management software that automates almost all of the management work for your rental properties.
The real estate investor website lets you advertise vacancies across several websites simultaneously, get eviction reports, collect digital rental applications, run tenant credit, calculate rent, keep relationship files for tenants, and more.
Once you've found a tenant, you can create a customized, state-specific lease agreement and e-sign it. Then, you can collect rent online and quickly make direct deposits.
Furthermore, the platform offers free video courses and has a podcast with a little library of back episodes. It also has an information-rich blog on real estate investing and property management tips and tricks.
Zillow
Zillow offers one of the most robust sets of tools for agents, buyers, sellers, renters, and other professionals. It has a database of above 135 million properties and a suite of mobile apps for investors to research anywhere. Zillow also serves as a powerful advertising tool.
Zillow has data syndication deals with multiple local MLS (multiple listing services) and non-MLS sources. Non-MLS sources consist of auctions, non-MLS foreclosures, and sales by the owner. The MLS sources allow investors to save much time and money they would otherwise spend on getting a real estate license to have access to MLS.
Thus, the company is free to buyers and sellers of properties. Investors can access free market data and investment tools. Instead, Zillow is a source of driving leads to advertisers. It makes money by charging advertisement fees to lenders, agents, and other home service providers.
Zillow also lets you search for apartments and homes, list your properties for rent or sale, and tour a property through images and videos if available. You can also save your searches and connect with lenders and agents.
The following are the most notable real estate investor websites for crowdfunding.
RealtyMogul
RealMogul is one of the top real estate investor websites for crowdfunding. With comprehensive asset management and a meticulous vetting process, the platform makes passive income more accessible to investors.
The website has easy-to-follow drop-down menus and a clear layout. It gives you a variety of investment options, from investing to raising equity capital. Even before signing up, the platform lets you easily go through past property offerings and their performance. You can view properties based on the list price, property type, investment type, location, and other pertinent criteria.
Properties are divided into 3 investment types:
Individual properties that are available solely to accredited investors, with a minimum required investment of $15,000-50,000.
REITs that are accessible to all kinds of investors
1031-eligible private placement investments
CrowdStreet
CrowdStreet is a real estate investor website available only for accredited investors. Although the investors can potentially earn high returns, the low liquidity and high minimum investment might make the platform unsuitable for beginners or those who plan to cash out quickly.
Its online tools include deal comparisons, performance projections, and portfolio analytics. The investor dashboard provides all relevant information, such as taxation, quarterly reporting, and sponsor details. The website is easy to navigate and optimized for mobile
Fundrise
Fundrise provides a platform that ensures real estate investing is available to anyone with a low-cost, diversified portfolio of quality offerings. With a low barrier to entry, it offers expert personal advice and advanced tech solutions.
Fundrise's website is rich in information. However, it may seem cluttered to you compared to a competitor's streamlined website.
The investor dashboard is simple. It consists of project updates, returns, goals, and auto-invest options. Additionally, Fundrise has a mobile app with all the functions of the website.
Fundrise doesn't have a live chat or phone call option for customer service. Nonetheless, you can contact the company via email form and obtain answers to common questions in its FAQ section.

Real Estate Investor Websites: Education
While there are communities that are partly involved in helping you out with the investing process, there are real estate investor websites solely devoted to education on real estate investment.
These websites are updated for you to obtain the latest news. You can even get guides about how to get started with real estate investing and traverse controversies.
Apartments.com
Apartments.com is dedicated to the needs of landlords. It has a huge collection of resources to help you obtain and monetize your properties via renting.
The site's archived articles cover different topics, including how to advertise units, prepare a rental property, and screen your tenants.
It also has a 'Landlord Toolbox' with links and guides to topics, such as property lifecycle, state laws and regulations, industry events, and training classes. It even has a podcast with episodes dating back many years.
This Old House
If you are a do-it-yourself (DIY) property investor, This Old House is the right place for you. Most novice investors can't afford professionals to repair the property they're flipping. So, they depend on their own knowledge and expertise, which they can gain from this website.
This Old House has renovation articles, videos, and guides for each room of the house.  It has guides on special skills like solar & alternative energy installing, HVAC, and woodworking. It even has TV listings, a podcast, and a magazine.
HousingWire
HousingWire is one of the most prominent information and news websites for the housing market in the US. The company gets about 10 million visitors per month.
The news section follows the most significant latest trends in real estate investing, like:
Real estate law
Credit and mortgage rates
Real estate market situation
Moves of the market leaders
Lending and servicing.
The website also has white papers written by industry experts and video tutorials. HW+ subscribers can receive exclusive news and commentary. They even get access to a Slack channel that's exclusive to members.
Final Thoughts
There are different types of real estate investor websites out there to help you in your investment journey, maximize profits, and expand your knowledge. They guide you towards financial freedom.
One type of website might not be enough for you. You may use Zillow to research market trends, perform analysis using Mashvisor, network with investors on ActiveRain, and stay updated on the latest market news with HouseWire. At the end of the day, you need to find the right mix to start your real estate journey.