Are you a real estate professional looking to supercharge your list-building efforts? Invelo is here to help! Invelo makes it easier than ever to identify potential leads and build powerful property lists that align with your investment goals.
Let's explore the five essential tips to conquering real estate investing with powerful lists.
1. Define Your Criteria
Before diving into list building, it's crucial to define your criteria. What types of properties are you interested in? Consider factors like location, property type, equity, and any distressed situations you're targeting. Having a clear set of criteria will streamline your search and ensure you're identifying the right leads.
2. Leverage Advanced Filters
Invelo offers a range of advanced filters that can help you fine-tune your property searches. Take advantage of these filters to narrow down your list and pinpoint the most promising opportunities. Gain access to an extensive array of over 100 property, owner, and MLS data filters - you can even filter by swimming pool ;)
3. Stay Updated with Alerts
Don't miss out on hot leads! Invelo's alert system can notify you when new properties that match your criteria become available. This proactive approach ensures you're always one step ahead of the competition, ready to seize the best opportunities as soon as they arise.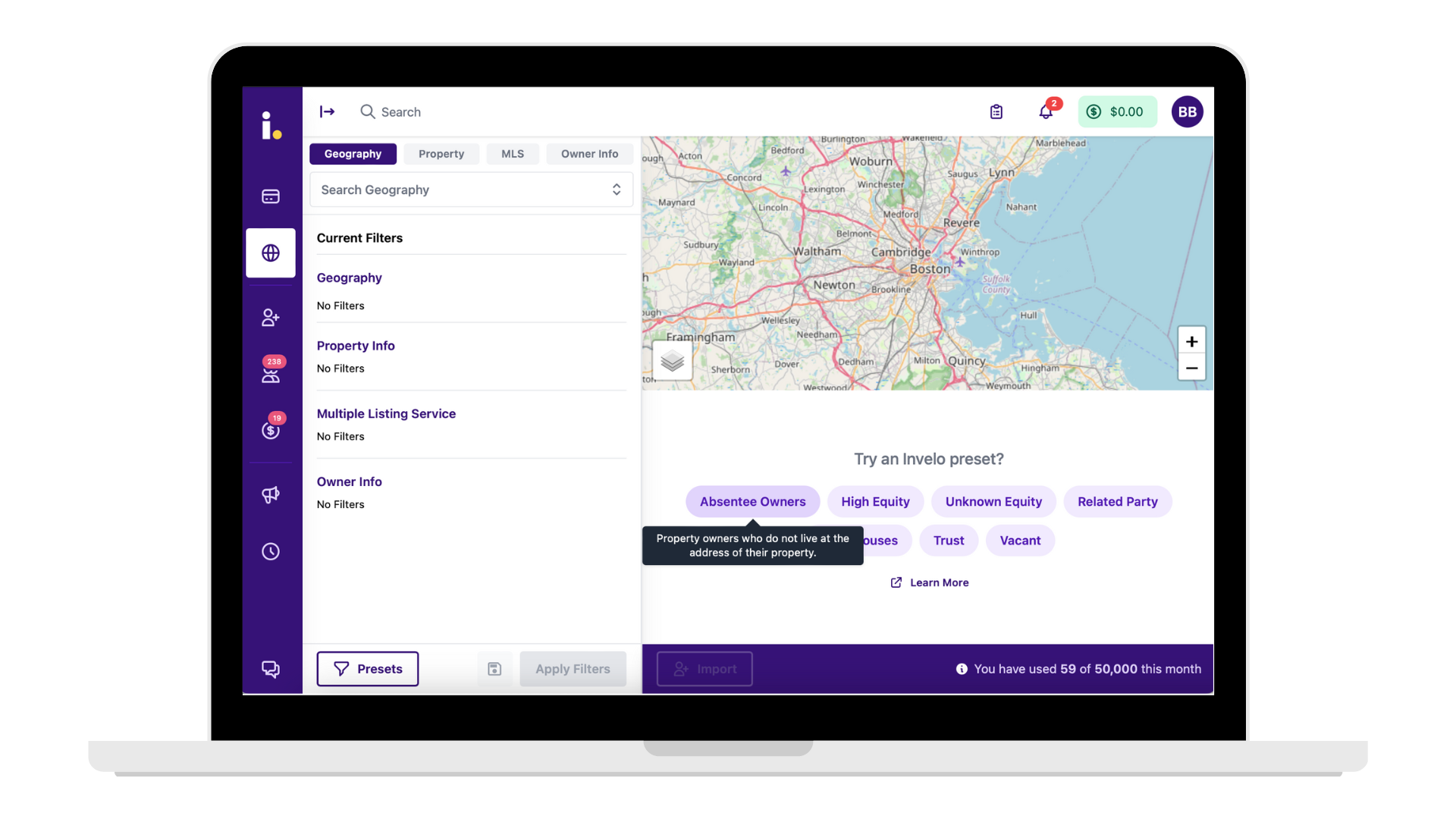 Pro Tip: Check out our blog for a more in-depth breakdown of general prospect lists.
4. Analyze Property Data
Invelo provides comprehensive property data to help you make informed decisions. Dive into property details, historical data, and neighborhood insights to assess a property's potential. This data-driven approach will empower you to prioritize the most lucrative investments in your list.
Pro Tip: Check out our FREE GUIDE for lists that netted more than 10M in off-market deals.
5. Organize and Manage Your Lists
Efficiency is key for any real estate investor. Organize your property lists effortlessly, and manage them all within the Invelo platform. A centralized approach streamlines your workflow, making it easy to track and monitor your leads as you progress through your real estate journey.
6. Target Your Farm Area with Precision
Drill down with accuracy using Invelo's powerful location targeting tools. Filter prospects by county, city, zip code, or leverage the draw tool to create custom boundaries on the map. View detailed property information and zoom in on specific areas, allowing you to uncover valuable local market opportunities.
With Invelo's List Builder feature and these five tips, you'll be well-equipped to create targeted property lists that align with your investment strategy. Say goodbye to endless hours of manual research, and hello to a more efficient and productive real estate business!
Ready to take your list-building game to the next level? Start using Invelo's List Builder today and watch your real estate investments soar!