If you are a real estate investor looking for an opportunity, delving into the foreclosure market could be a lucrative endeavor. While the number of foreclosed properties has fallen since the subprime mortgage crisis in 2008, there are still plenty of homes hitting the market and going up for auction in every zip code.
Foreclosed homes can be great opportunities for real estate investors with experience, know-how and cash. They can often be purchased for lower prices and repaired or flipped and sold for a hefty profit. And while many of the processes associated with finding and buying foreclosed homes are similar to finding regular homes there are some marked differences.
If you are looking to get started in the world of foreclosures, where do you start?
What Is A Foreclosed Home?
A foreclosure is when a bank has taken back a property due to the homeowner not paying their mortgage. This is a simple definition for a process that can often be long and complicated. In fact in the United States the average foreclosure process takes an average of 922 days according to ATTOM Data Solutions's 'U.S. Foreclosure Market Report.' Depending on the state the process can take more than twice as long, stretching out for years and years before the home actually hits the market.
Foreclosing on a home is usually the final step in a long process a bank or lender embarks on when a homeowner fails to pay their mortgage for three to six months or more. Usually the bank will take steps to try and get the homeowner to pay t avoid having to trigger a foreclosure. When the bank takes back ownership of the property they are often looking to sell it to recoup some of the money lost from the missed mortgage payments.
Some foreclosed homes are in good condition but many have fallen into disrepair with some needing extensive repairs to be habitable.
Where To Find Foreclosed Homes
If you are an experienced investor looking to work with foreclosed homes you have a few options for where to look, depending on your state and depending on what you are looking for.
PRO TIP: Want to find properties to fix and flip? Use Invelo's list builder to search by 100+ filters and find the perfect property to invest in.
Government Websites
There are a number of government-run or government-sponsored websites that you can look through to find properties that have recently been foreclosed on and are for sale. HUD Foreclosures is where you should look for listings made by the government with the office of Housing and Urban Development.
Other useful websites are HomePath, the foreclosure website for Fannie Mae and HomeSteps, the foreclosure listing site for Freddie Mac. Both websites allow you to search for properties based on location or MLS number.
Auctions
A great resource, especially for investors, is foreclosure auctions. On Auction.com you can find thousands of properties listed that you can bid on in both digital and in-person auctions. The website allows you to browse based on location as well as whether a property is bank-owned or foreclosed.
Foreclosure auctions are a very common way for banks to offload foreclosed properties quickly.
Foreclosure Listings
If you are looking for homes that have not yet been foreclosed on but are in the process check out Foreclosure.com. The website has more than a million homes listed with many considered pre-foreclosure where homeowners may be interested in offloading their homes quickly.
Newspapers
To find the latest foreclosures in your area check out the newspaper. A requirement for filing for foreclosure is that the lender post a "Notice of Sale" in the local newspaper. If you are looking in a particular area this could be an easy way to stay on top of what is hitting the market.
Bank Websites
When a bank forecloses on a property it owns it will likely put it up for sale or auction promptly. Many large banks have their inventory of foreclosed properties listed on their website with all of the applicable information. If you cannot find listings on a banks website make sure to check out the website of asset management companies who may help banks offload foreclosed properties.
Real Estate Agents
If your area is particularly difficult you may find success working with a real estate agent that specializes in foreclosed homes. These agents can be great resources especially if you have not been in the foreclosure market for a long time. They often have knowledge and expertise that can make finding and closing on properties easier.
Real Estate Sites
You can also find foreclosures listed on your general real estate websites like Zillow, which has a specific portal for foreclosure sales. These sites may not be specifically geared toward investors but they are still full of information.
Hit The Road!
If you are looking for something local or in a specific neighborhood you may have some luck simply getting in the car and driving around the neighborhood. Spotting homes in foreclosure tend to be easy because they are marked with "Foreclosed" or "Bank Repo" signs. If you find one during your drive you can simply call the real estate agent listed on the sign.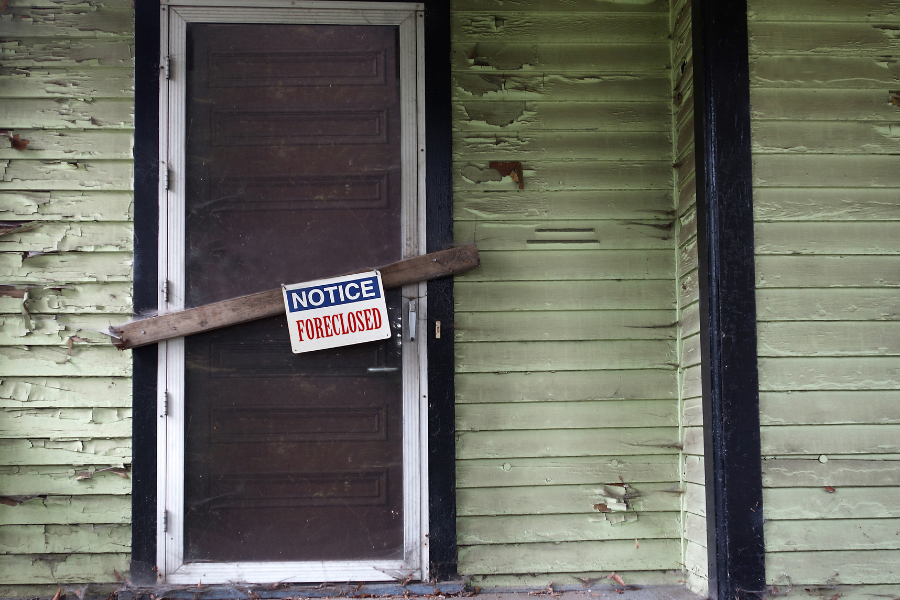 Before You Buy
If you've found a home that meets your needs you need to do a few more things before you grab your wallet. Any investor needs to do a serious risk assessment to make sure that this purchase will be profitable for you down the line. You don't want to get stuck with a money pit or get stuck in a long legal endeavor that can cost you thousands of dollars.
Evaluate The Condition
Before you buy you have to do a thorough inspection of the home. Foreclosed properties are sold "as-is" and that can mean the home is in okay condition or horrid condition. The home could require major repairs that could make the project too costly for you to flip. Many foreclosed homes have fallen into some kind of disrepair, you just need to be sure that it is still salvageable.
Check For Squatters
In the current market homes rarely stay on the market long but if a property has been foreclosed and uninhabited for long enough it could come with squatters. And with squatters could come a prolonged legal battle to get them removed from the property. Be sure to assess any property you may buy to avoid this.
Know The Market Value
To make any money on foreclosed homes you have to know the market value for a property in the area you are buying. Make sure you do your research into the market and neighborhood to make sure you are making a sound investment.
Get Financing
Before you head into the buying process make sure your financing is secure. There are a number of loans you can apply for that are specifically for foreclosed properties including…
Commercial Loans aka Fix and Flip loans are available through banks and are specifically designed for foreclosed homes. To get one of these loans you will have to show a history of buying and selling properties and be able to fork over a hefty down payment of up to 35 percent.
If you are in one of 10 states and planning on buying a property owned by Freddie Mac you can apply for a HomeSteps loan specifically designed for investors.
FHA 203(k) loans are offered through the Federal Housing Administration for properties that need significant renovations. These loans are available for owner-occupied properties and are managed through the federal government.
Try Invelo for Real Estate Investing
If you are currently buying investment property, whether flipping or renting, or if you are thinking of becoming a real estate investor, you're going to need a tool to manage prospects, market to leads and convert deals. There are many tools available for this, but very few address the four key aspects of real estate investing:
Finding Prospects - Use our built-in list builder with over 150 million property records to find target prospects that meet your specific criteria. Select from dozens of data points to optimize your list.
Marketing to Leads - Use built-in marketing campaigns to send direct mail, ringless voicemail, email, sms and more. Setup filter criteria to automatically find new prospects and add them to campaigns as they get added to your database.
Manage and Convert Opportunities - Track every step of the deal lifecycle including skip tracing to find better contact information, adding notes and setting tasks so you never miss an opportunity to close a deal.
On top of that, Invelo is unique because it has intelligent automation and built-in education. There is no reason to reinvent the wheel. Tons of investors have already figured out the best practices for finding, marketing, contacting, negotiating and closing real estate deals. Invelo has integrated all of this learning in to educational training and automation so you can "set it and forget it".
Invelo has a forever free account -- try it instantly and see what Invelo can do for you.
How To Buy A Foreclosed Home
Once you are ready to buy there are a few ways you can do it based on the circumstances of the listing. The process, in general, is similar to purchasing any home or property with some more paperwork.
At Auction
A common way to purchase a foreclosed property is to get it at auction. Auctions are run by a third-party either digitally or in person. Auctions are a great place to get a property on the cheap but they can be risky. Prices can easily run up if you aren't careful and you often don't have a chance to do your due diligence on the condition before you are bidding on it.
If you choose to purchase a property at auction you need to make sure you have plenty of experience and cash on hand.
From The Homeowner
If you can identify a property that is in pre-foreclosure you can purchase it from the homeowner in a short-sale. In this case owners want to offload their property before it ends up in foreclosure so they tend to be motivated.
These kinds of homes can be tough to find and negotiate. The homeowner wants to get enough to cover their remaining mortgage payment, which may still be quite high.
From The Bank
Buying from the bank may be the most secure way to purchase a foreclosed home. Before the bank lists a property they will make sure that all liens are cleared and occupants are gone so you don't have to worry about those. Banks will often work with real estate agents in the area.
You will be able to identify these listings because they will be marked "real estate owned" or "bank owned."
From The Government
If a home was financed through the federal government and has gone into foreclosure you will be able to purchase it directly from the government. These properties can either go up for auction or can be purchased just like you would a property owned by a bank.
Final Thoughts
Buying and flipping foreclosed properties is not for beginners. Dealing in the world of foreclosures can be very risky and require a great deal of experience to navigate. A foreclosed home can quickly become a money pit if the right amount of research is not done on a property or neighborhood. Foreclosed properties can also come with squatters or uncooperative occupants that can become a lengthy legal issue.  
But if you have the experience and cash you can make a killing flipping foreclosed homes. Your success is determined by how much work and research you are willing to put into any project. Those with a good deal of existing experience in real estate tend to understand the risks and are better set up for success.