Real estate investing is a multi-faceted business that includes everything from finding properties and managing leads to executing marketing plans. House flippers, real estate wholesalers, professionals, and beginners alike use different tools to manage the various aspects of the real estate business.
Two of the tools available to real estate investors are Propelio and Invelo. How do they compare?
What is Propelio?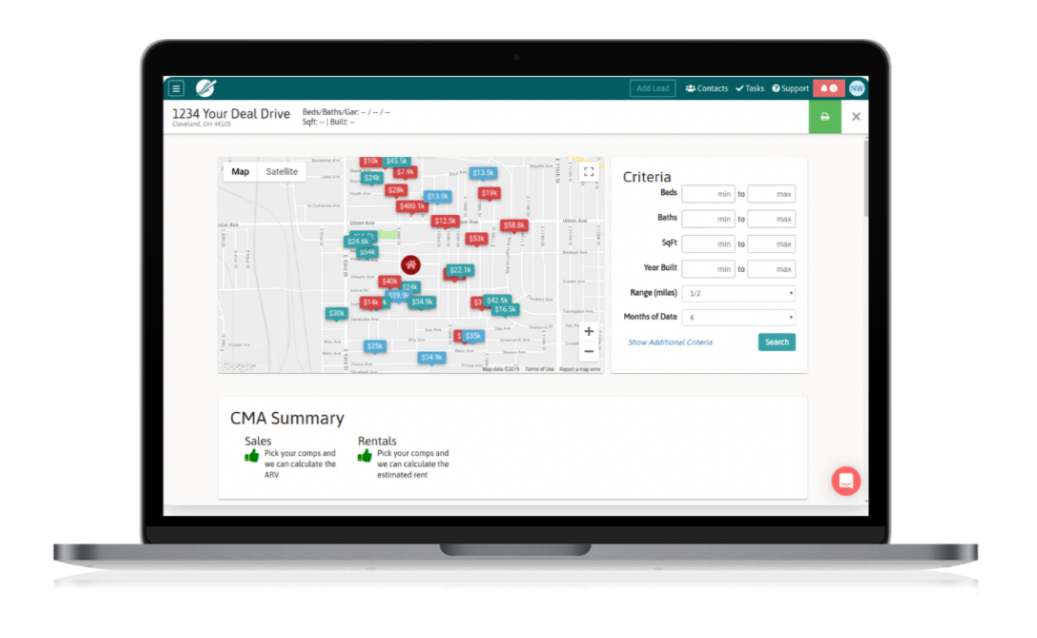 Propelio is a real estate investing platform that enables professionals to get the most out of their lead generation and management efforts. It is a popular choice among solopreneurs for quickly identifying motivated sellers in your neighborhood.
You can produce up-to-date MLS comps, obtain lead lists, use skip-tracing to find owner contact information, manage leads, and create an investor website using Propelio. Moreover, it offers educational resources, up-to-date property lists, real-time MLS comps, and additional features.
Propelio: Features
Propelio is a reliable real estate investing solution that can help you find deals suitable for your business strategy. Here are some of its features…
MLS Comps
Propelio allows you to create accurate and real-time MLS comps. It shows you both the street and satellite map view when you run comps simultaneously.
You'll be able to see the property owner's name, postal address, current deed, tax information, number of days on the market, and more. And because MLS data is updated every 15 minutes, the information you see is always accurate.
Driving for Dollars
Real estate investing can involve a lot of driving around looking for leads, and you can make these driving expeditions more efficient using Propelio.
The Propelio mobile app lets you check graphs and logs of your driving routes to better plan and track your efforts. The program has built-in skip trace capabilities (requiring ProCoins), so you can find the property owner's contact information right away. And if you can't reach the owner over the phone, Propelio also lets you send customized postcards to potential clients with your photo and contact information.
Lead Generation
Propelio lets you generate leads by narrowing your search down with location, owner, and property type filters.
With the option to create leads manually or from the daily lists, Propelio narrows down your search for cash buyers and private lenders operating in your market. The lead generation tool lets you quickly filter buyers and lenders by the number of deals, property size, and loan amount.
Lead Lists
You can access helpful lead lists from Propelio that show you the most motivated sellers, private lenders, and cash buyers in your area.
Propelio allows you to pinpoint the exact kind of properties and owners you want with several handy filters for counties, zip codes, absentee, trusted owners, bank-owned properties, equity, and selling motivation. The software also lets you view verified private lenders (with the option to search by minimum and maximum loan amount), which gives you access to financing in your required price range.
Lead Management
Propelio connects you with cash buyers and motivated sellers and makes it simple to manage those leads.
In addition to allowing you to generate lead lists manually or automatically via the daily list, the lead management features also allow you to attach notes, information, and documents. With the built-in calendar, you can create CMA reports with a single click, manage and assign daily tasks to your team, and monitor each team member's activities on the platform.
Real Estate Website and Marketing
An effective digital marketing strategy lets you connect better with potential leads. Propelio helps that goal by letting you build custom websites pre-loaded with valuable content.
With Propelio, creating your real estate investor website is straightforward. You can have a website with material up and running in minutes by simply filling out a questionnaire about the types of properties and sellers you wish to find.
Propelio's website builder lets you rank better and reach further by including search engine-friendly content, mobile responsive design, pre-built forms, as well as your domain and hosting. Free training, social media integrations, and weekly or monthly reports are also available.
Propelio CRM
Propelio's feature set includes Google Maps and Workspace integration and API from Woolpert.
Propelio makes use of the Woolpert API to instantly transfer data like automated value models, home valuations, market statistics/demographics, and individual property specifics to monitor leads from contact to closure. You can also assign leads to team members, distribute tasks, submit documents, and collaborate with Propelio's team management tools.
Propelio Academy
Propelio Academy provides fundamental training and assists users in expanding their investing knowledge. This online education resource includes hundreds of courses, blogs, forums, and training videos from notable real estate investors.
Propelio: Pricing
Propelio offers three different pricing options – Driving for Dollars, Marketing/Website, and a Pro package. All three plans have a 14-day free trial and a 30-day money-back guarantee.
Driving for Dollars Plan
For $29/month, the Driving for Dollars plan comes with skip tracing, direct mail, tracing your driving routes, and note-taking/photo attachment features.
The Marketing/Website Plan
This package adds to the features of the previous plan for $49 per month. Features include preset customized content, lead collecting tools, and domain services to create websites.
The Pro Plan
For $98/month, the highest-tier subscription adds to the previous packages with instant MLS comps, 5k lead downloads per day, as well as property, cash buyer, and private lender leads.
Propelio: Pros
Here are some advantages of using Propelio:
The mobile software allows for instant skip tracing and driving for dollars assistance.
Tools for lead generation, listing, and management will enable you to collect and manage leads in one place.
5,000 leads are accessible for download daily.
Propelio Academy provides monthly updated online REI education resources.
Propelio: Cons
Here are some disadvantages of using Propelio:
Base packages come with limited functionality.
The Highest-tier subscription is required to access instant MLS comps and property, cash buyer, and private lender leads.
It doesn't come with customized contact management and automated marketing features.
The real estate CRM functionality is limited
Invelo: The Best Propelio Alternative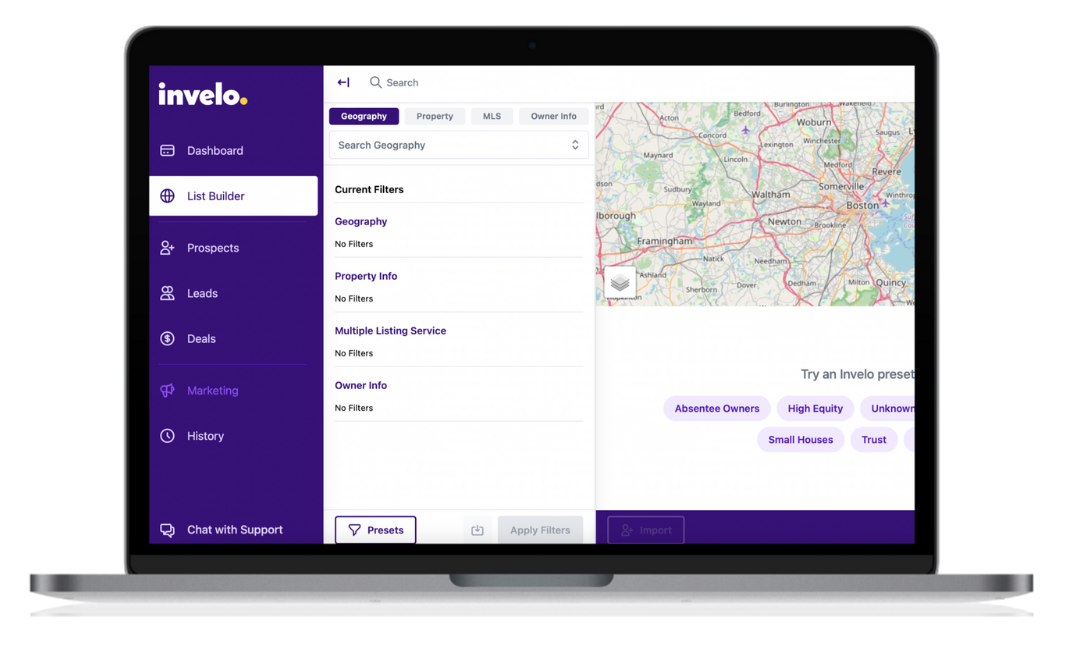 Invelo is a unified platform with an easy-to-use interface that supports all the crucial functions of your real estate business. This all-in-one REI platform supports your sales pipeline from start to close, from list creation to launching automated marketing campaigns to learning from industry experts.
With capabilities like list and marketing automation, skip tracing, geo-targeting, list stacking, team administration, and more, Invelo is a true one-stop solution for any real estate investor's needs.
Invelo: Features
From sales to marketing and analytics, Invelo has a handful of useful features:
Pipeline Management
Invelo intuitively breaks your sales pipeline into three sections, prospects, leads and deals to allow you and your team to manage your records most effectively.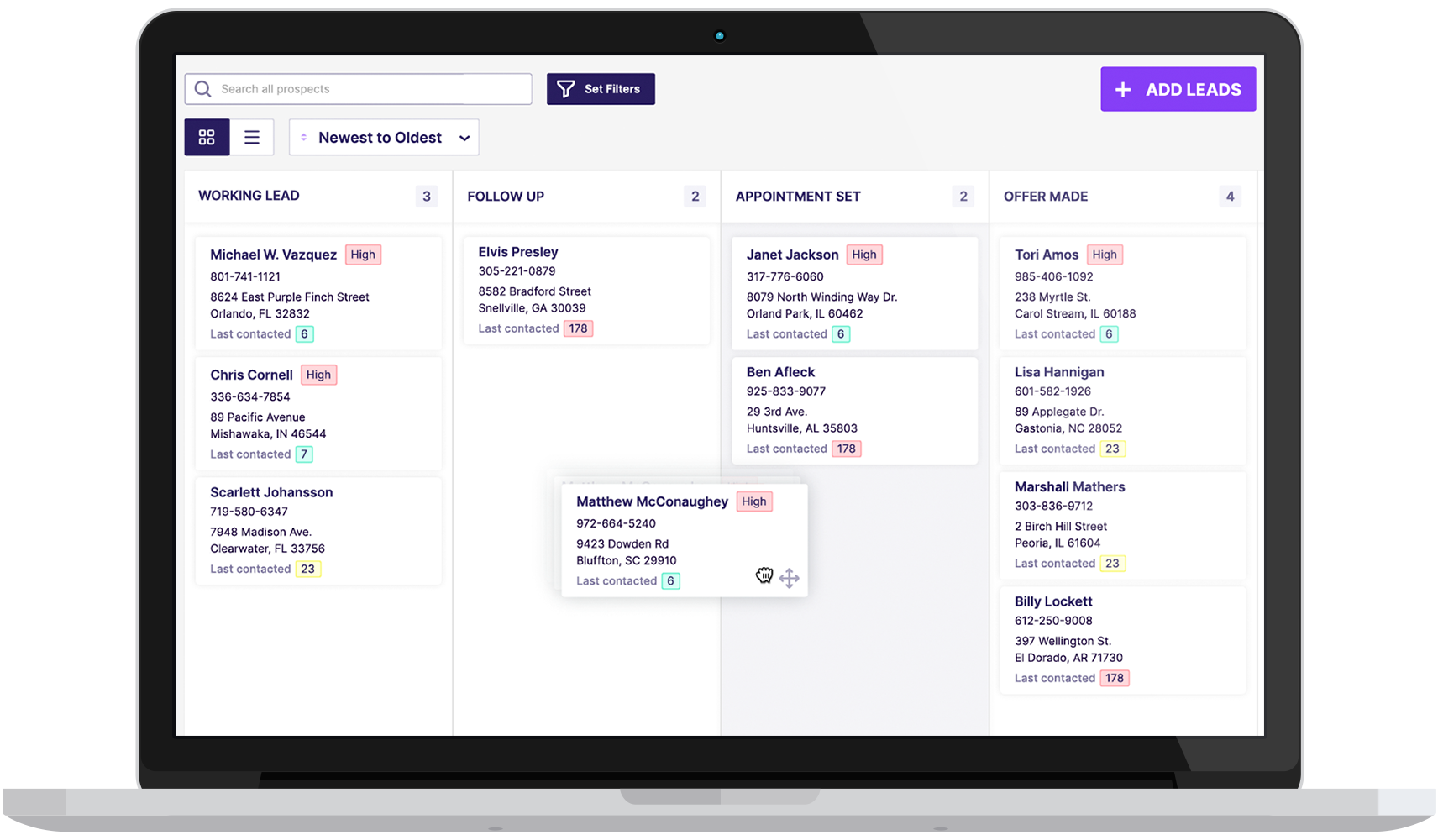 Invelo's intelligent list stacking and filtering features help you identify your highest quality prospects. Besides filling in property and contact detail gaps using its nationwide property database automatically.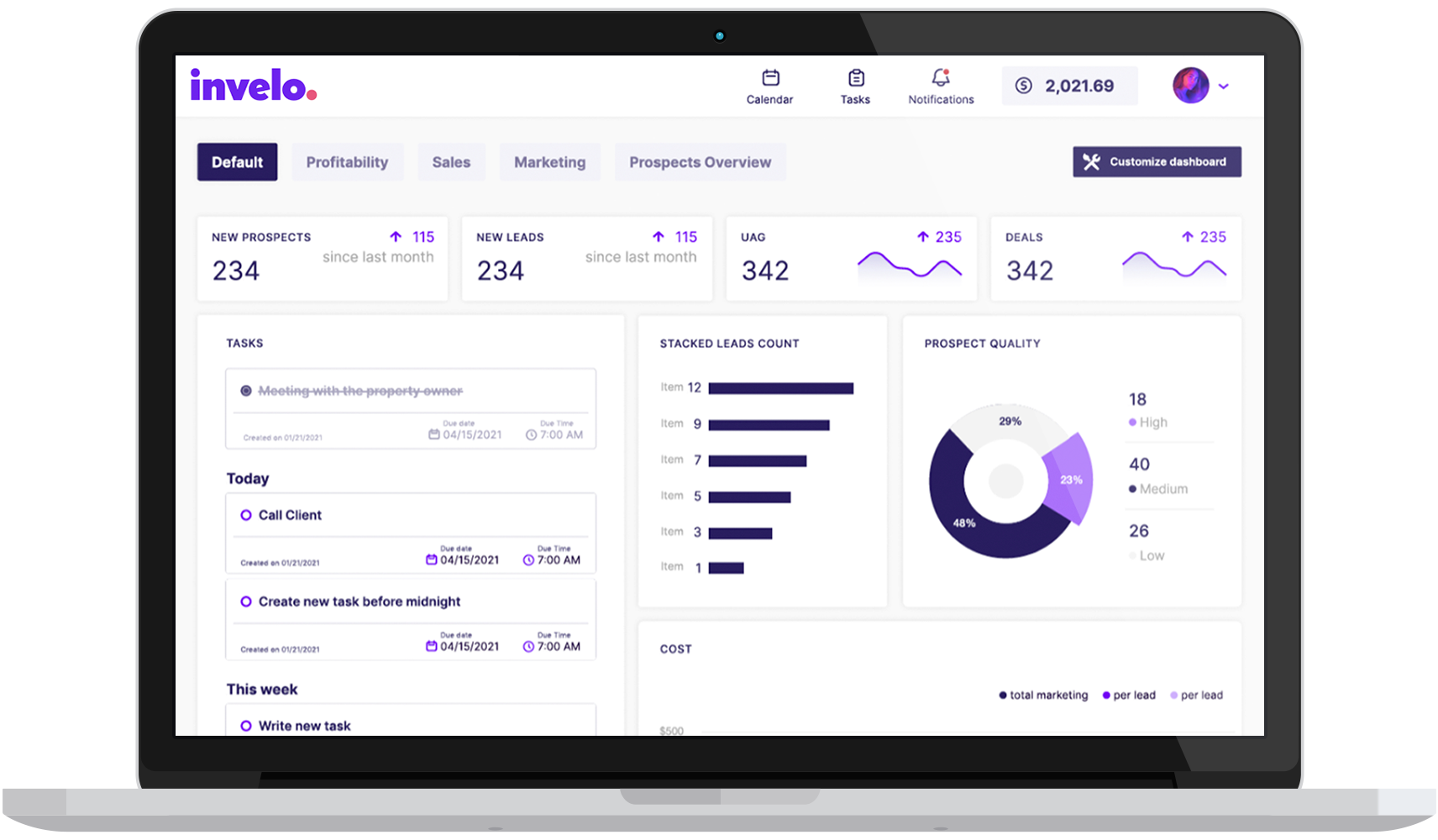 The platform notifies you of important marketing and record activity, creates notes and tasks, and maintains an activity log for each record. Features like contact management and skip tracing (with built-in litigator scrub) also update, store and verify your contacts with phone and email verification.
List Building
Invelo generates leads from a database of more than 150 million properties. It includes pre-built quick lists, smart filtering with nearly 100 data filters, and geo-targeting to search properties by location.

Furthermore, the automated smart list tool searches for new prospects that meet your criteria and adds them to the database without requiring manual input. Invelo also refreshes the contact and property information every day to keep your data up-to-date.
Marketing
With Invelo, you can easily run multi-step marketing campaigns with pre-built, high-performing campaigns that are designed to increase your conversion rate. Additional marketing options include direct email, ringless voicemail, drip email with follow-up, and much more.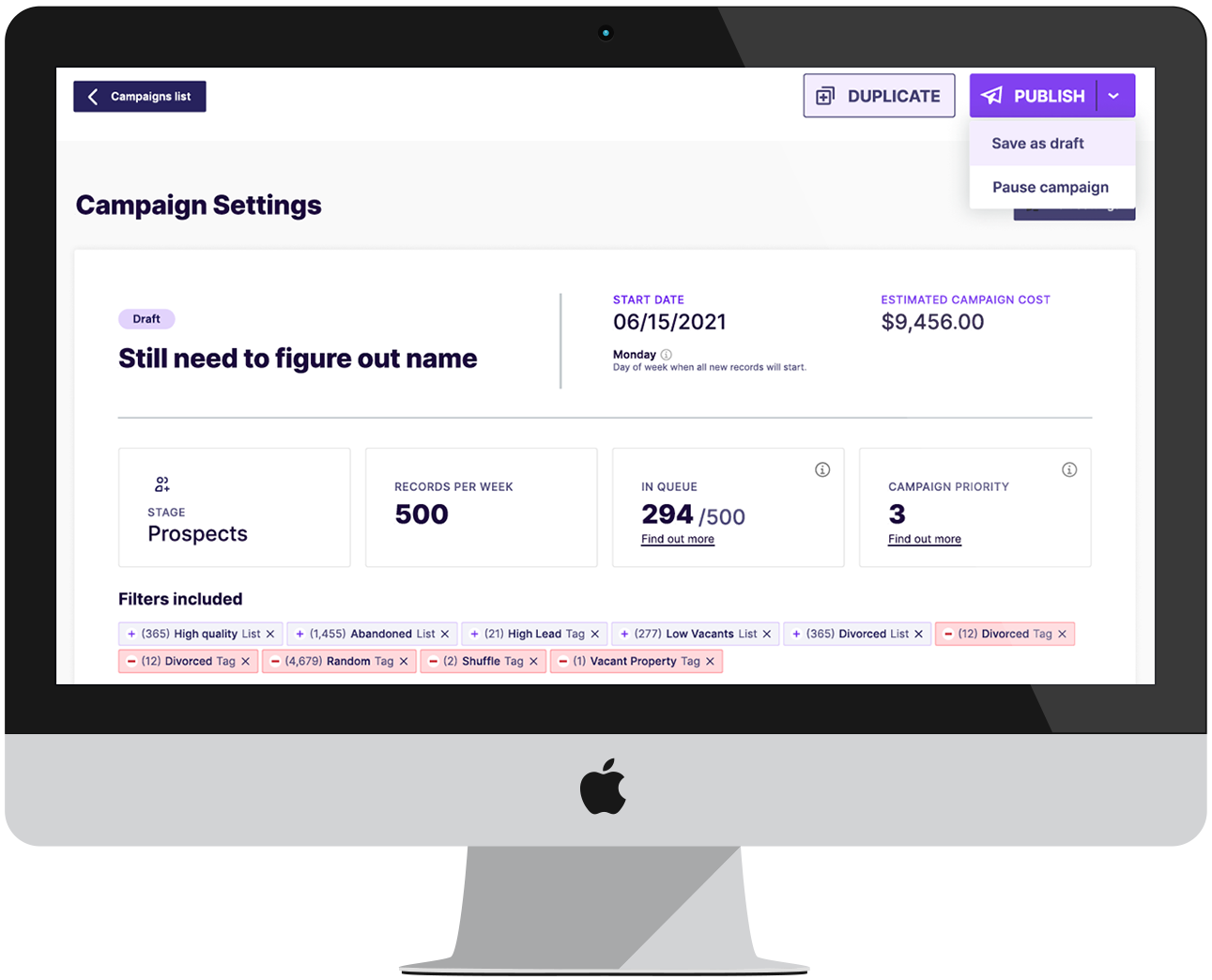 Invelo allows you to automate your campaigns with unlimited multi-step sequencing for every channel, in addition to setting up marketing activity calendars and arranging marketing by sender profiles.
Analytics and Intelligence
Invelo's advanced data analytics offer expansive tracking and performance reporting throughout the sales journey. These advanced analytics are unique to Invelo because every aspect of your business' sales journey is tracked within the platform.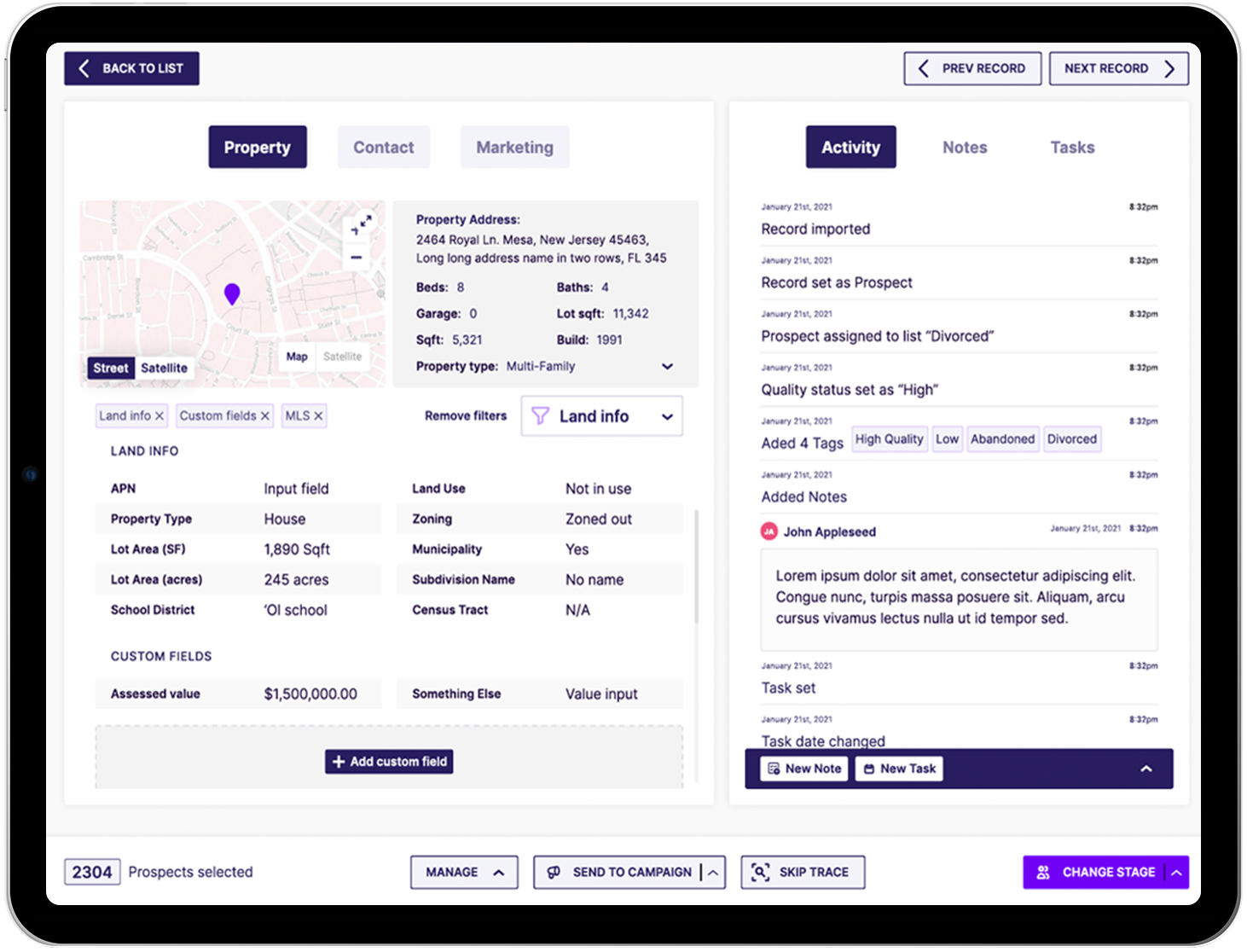 While actionable metrics and built-in dashboards highlight the most promising prospects, the status tracking feature monitors opportunities from prospect to deal. Besides removing marketing records for sold properties and giving real-time notifications for vacancies and sales, Invelo also lets you customize workflows, personalize settings, and view expansive activity logs.
Education
With hours of in-depth REI training, Masterclasses from top professionals, best practices, and newsletters- Invelo gives you free access to some valuable REI learning resources. Invelo guides you through every step of your REI journey with new education rolling out every month.
Invelo: Pricing
Invelo subscription plans are available in three tiers: Starter, Individual, and Professional. While you can activate each of these plans on a monthly basis, getting an annual subscription gives you two months of free usage.
Starter
Available for free with a limited-time offer, the Starter pack comes with full CRM, up to 5,000 records, 5,000 list builder prospects per month, basic dashboards and KPIs, unlimited imports, access to Invelo REI education, email support,t and more.
Individual
The Individual Plan is priced at $129 per month, which comes to $108/month with an annual subscription. Besides all the features of the previous plan, the Individual package additionally offers automation, Zapier integration, 20 custom fields, up to 250,000 records, 20,000 list builder prospects,s and record exports per month.
Professional
The Professional Plan is priced at $299 per month (or $249/month under the annual subscription). This top-tier package adds to the offerings of the previous plan with up to 1,000,000 records, 50,000 list builder prospects and records exports per month, unlimited custom fields, and team management.
PRO TIP: Get started with real estate investing right now with Invelo - Find Prospects, Market to Leads, Track Deals and Make money. Signup for free and see how easy it is to make money buying and selling homes.
Invelo: Pros
Here are some advantages of using Invelo:
User-focused interface, simple to learn and use at any skill level
Massive database with more than 155 million+ properties and nearly 100 data filters
Smart lists automatically refresh and add criteria-matching prospects
Automated, customizable, and multi-step marketing campaigns
Real-time notification alerts for vacancies and properties being sold
Highly customizable to fit your needs with expansive settings and automation
Free learning resources that are updated every month
Robust automation options to maximize lead conversion and save time
Combines all necessary marketing and sales functionalities under one platform
Invelo: Cons
Here are some disadvantages of using Invelo:
Subscription plans are, as of yet, only available for early access.
Feature to send and track sent/received texts to connect with leads is yet to be added.
Comprehensive REST API for building custom applications and reports isn't available yet.
Invelo vs. Propelio Comparison
Invelo is the best alternative to Propelio because it provides educational resources and tools to help you along with your sales and marketing path.
With both applications having their own set of advantages and disadvantages, we've created a side-by-side comparison to assist you in making your decision:
Features
Invelo
Propelio
Analytics & Intelligence

Automatically adds to and updates your prospects list.




Real-time alerts for vacant/sold properties.




Expansive status tracking and performance reports with actionable metrics.




Workflows, settings, and automation can be customized.




Maintains complete log of imports, exports, marketing, and transactions.




Automatically fill in property and contact detail gaps during manual input or importing.

Instant, real-time MLS comps.




Filters for property, cash buyer, and private lender leads (limited to Pro subscription).




Automation and customization options are unavailable for lead lists.

Skip Tracing

Skip tracing with built-in litigator scrub.




Contact verification for phone and email.

Built-in litigator for skip tracing is unavailable


List Building & Management

Nearly 100 data filters and a database of 150 million+ properties to generate leads.




Top-performing, pre-built quick lists.





Smart lists automatically update and add criteria-matching leads.




Custom/pre-built automation eliminates the need for manual inputs.

Options for both manual and automatic list generation.




Documents, photos, and link attachments.





Tools for lead generation, listing, and management collect and manage leads in one place.




Smart and automated listing features are unavailable.

Maximum Monthly Exports

20,000 record exports/month with the Individual plan.




50,000 record exports/month with the Professional Plan.

5,000 leads per day with a Pro subscription.


Team Management

Team management tools included in Professional plan.


Assigning leads and task delegation




Collaboration




Customizable options

API

Custom applications and reporting with upcoming REST API


Data Refresh/Update

Contact information and property data are refreshed and updated every day.


MLS data is updated every 15 minutes.


Integrations

Gmail




Zapier




Fully functional API integration

Google Maps




Google Workspace




API Woolpert.

Pricing

Free starter pack with the limited time offer.




The Individual Plan costs $129/month ($108/month with annual subscription).




The Professional Plan costs $299 per month ($249/month with annual subscription).




A yearly subscription gives 2 months of free usage.

$29/month for Driving for Dollars Plan

$49/month for Marketing/Website Plan



Education

REI training free to access.




Masterclass and onboarding with Individual and Pro plans.




Best practices newsletters.




Updated every month.

Free to access




Blog




Forum




PropelioTV (daily updated archive of live video sessions)




Events




Updated every month.

Customer Support

Email




Live chat




Tutorials




Help desk

Live Chat




Scheduled live demo

Platform
Marketing

Pre-built campaign templates.




Ringless voicemail, direct mail, and drip email.




Marketing activity calendar.




Unlimited multi-step sequencing for any marketing channel.




Campaign automation based on defined filters.

Custom websites with built-in lead capture tools.




Search engine optimization and preset marketing content.




Marketing campaign automation is unavailable.




Custom postcards.
Final Thoughts
Propelio is a popular alternative for solopreneurs. However, it suffers from a lack of intelligent automation tools.

On the other hand, Invelo's smart automation and customization capabilities help save time, increase conversion, and provide convenience for your business. So while Propelio may be better for MLS comps, Invelo excels in other areas.
Ultimately, the best software solution for you depends on your budget, investment style, and marketing strategy.