Running a successful real estate investing business means having to manage many moving parts at the same time. One of the most essential parts is planning, executing, and analyzing direct mail marketing campaigns.
Direct mail marketing is one of the most effective ways to market to prospects and leads. The physical approach, paired with marketing in other channels, has been proven to get more attention and lead to more conversions. But creating and managing direct mail campaigns can be difficult; if not set up right, they can be impossible to properly analyze and ultimately improve.
Making direct mail marketing is one of Invelo's core missions. Combining powerful marketing capabilities with a fully functional real estate CRM, Invelo has made it easy to set up automated campaigns that are easy to manage and easy to track.
Through Invelo you can set up campaigns that send to particular lists or campaigns that run continuously. The platform has numerous automations you can set up to feed records directly into campaigns so you only have to set the parameters once and then watch the platform work for you. Records of each send are added to each property record in your database so you will always know who has been part of which campaign and when they received their last communication.
Invelo has five types of direct mail available for users: postcards, personal letters, street view postcards, professional letters, and real-penned letters.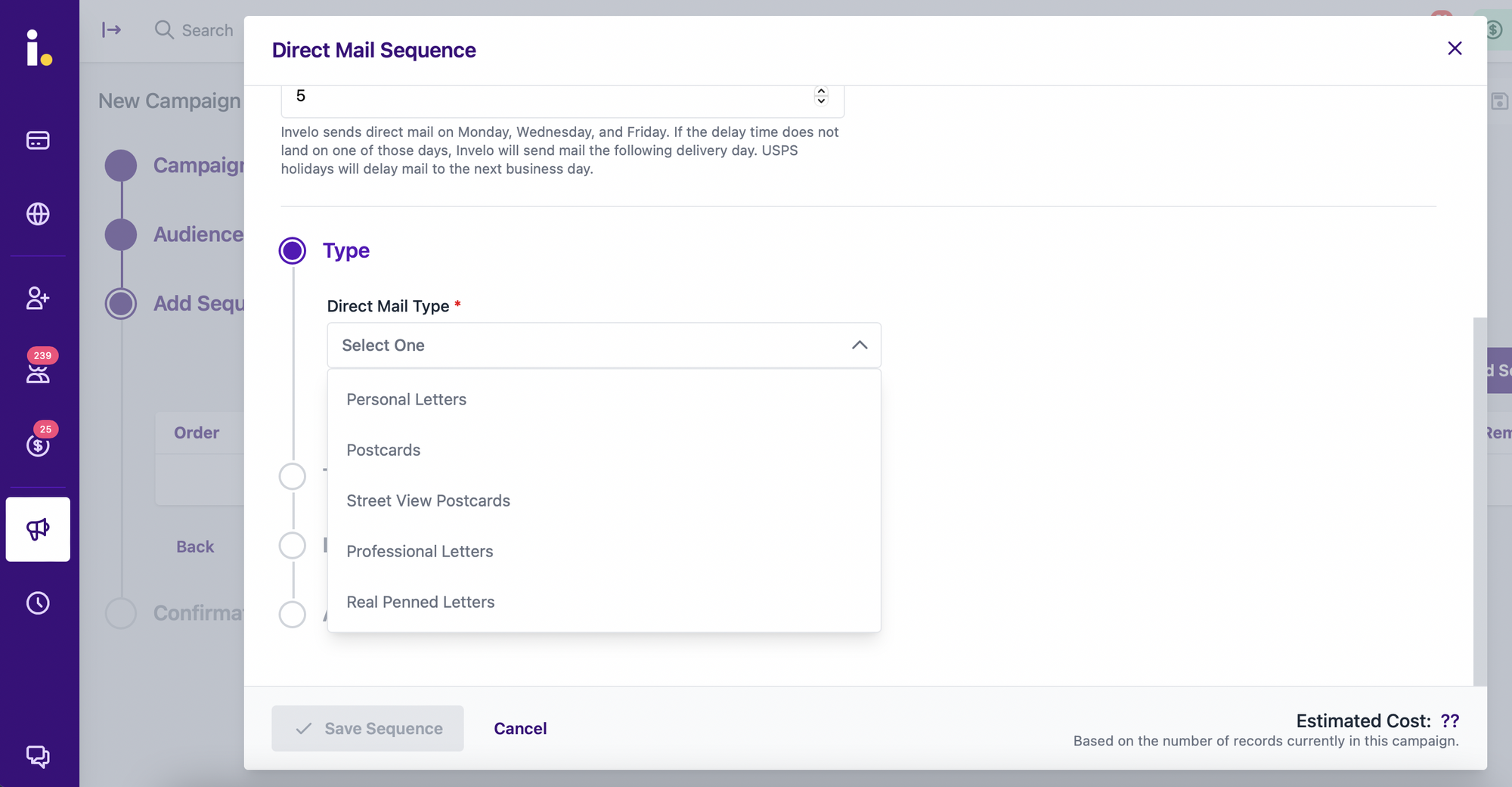 Personal Letters
Invelo's personal letters are standard, simple letters to reach out to prospects or leads. The letters start with a central business logo at the top and allow you to customize your message. If you don't know what to write there are three templates to choose from that contain sample text including a Standard Letter, a Seller Benefits Letter, and a Follow-Up Letter to get you started.

Postcards
One of the most popular mailers is the standard postcard which comes in three templates; Fair Cash Offer, No Hassle, and Quick Offer. You can customize the content of the front and the back including attributes that are unique to each homeowner. Additionally, you can choose your font color and the color and design of the background of the postcard. Invelo's postcard design is simple, easy to read, and follows best practices so you know that you are sending out mail that has been proven effective.

Professional Letters
If you have more to say and want to say it in more of a professional manner you have to option of sending professional letters. These letters have more space for content while still maintaining a simple design. You can get started by choosing one of three templates; Easy Process, Follow-Up, and Sticky Note (an added sticky note graphic). These letters are great when used to map out a process or provide some educational information to a prospect or lead.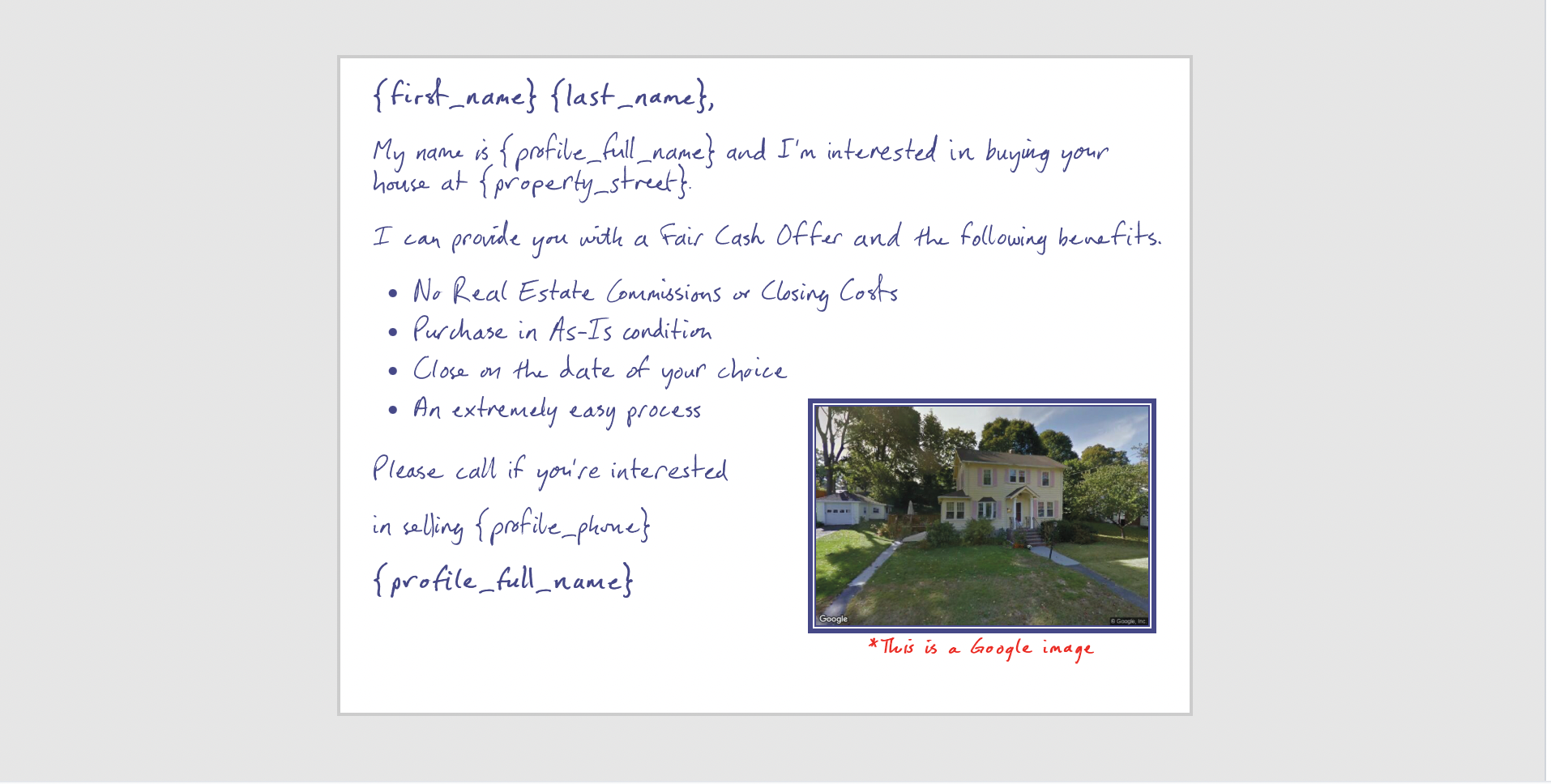 Street View Postcards
If you want to send mail that is even more striking and personal you have to option to send street view postcards to your prospects and leads. These postcards are a standard size and design but feature a Google street view image of the property you are interested in. This is an effective way of getting a property owner's attention and holding it so they read what you have to say. These postcards can be sent to any property owner as long as the property itself has an image on Google Street View.

Real Penned Letters
The final direct mail offering is the popular real penned letters. These letters are created using a real ballpoint pen to give them the appearance that they are completely handwritten. Letters that look like they were written by hand will stand out among other marketing materials sent in the mail and are more likely to get read. Choose from Cash Offer and Follow-Up letter templates and customize the content and attributes. Each letter is sent with the text written in a blue ballpoint pen.

Final Thoughts
Invelo is made to make real estate investing more efficient and easier to scale. Get started now and see how much time you can save with a simpler, more intuitive marketing process.


Sign up for a free plan now and upgrade to unlock custom marketing sequences!