Investing in real estate involves both investment intelligence as well as managerial skills. One of the biggest parts of real estate investment doesn't involve property at all — it involves people skills. That is why finding the best real estate CRM system is so important.
There are many websites and software available to make your job as an investor easier, the most valuable tool in your arsenal would still be a good CRM system.
Any investor spends a good deal of time dealing with people whether that be managing leads, tracking sellers, working with customers, and managing contacts. A Customer Relationship Management or CRM system helps you organize contacts, save time and reduce human error while building better relationships with your customers.
CRM systems are tools that allow you to quickly respond to queries, maintain the sales pipeline, and automate tasks. While most CRM tools offer lead management, contact management and marketing automation, some will meet your needs more than others.
With several options available on the market, picking the best CRM for real estate is easier said than done. Let's take a look at some of the most commonly used CRMs in the real estate investment world and look at some of their pros and cons.
Invelo For Real Estate Investors
Invelo is a unified system built specifically for real estate investors. The platform includes tools for finding properties, managing leads and solutions for sending direct mail, email, cold calling and more. Invelo truly takes the most important parts of real estate investing and combines them into a simplified system.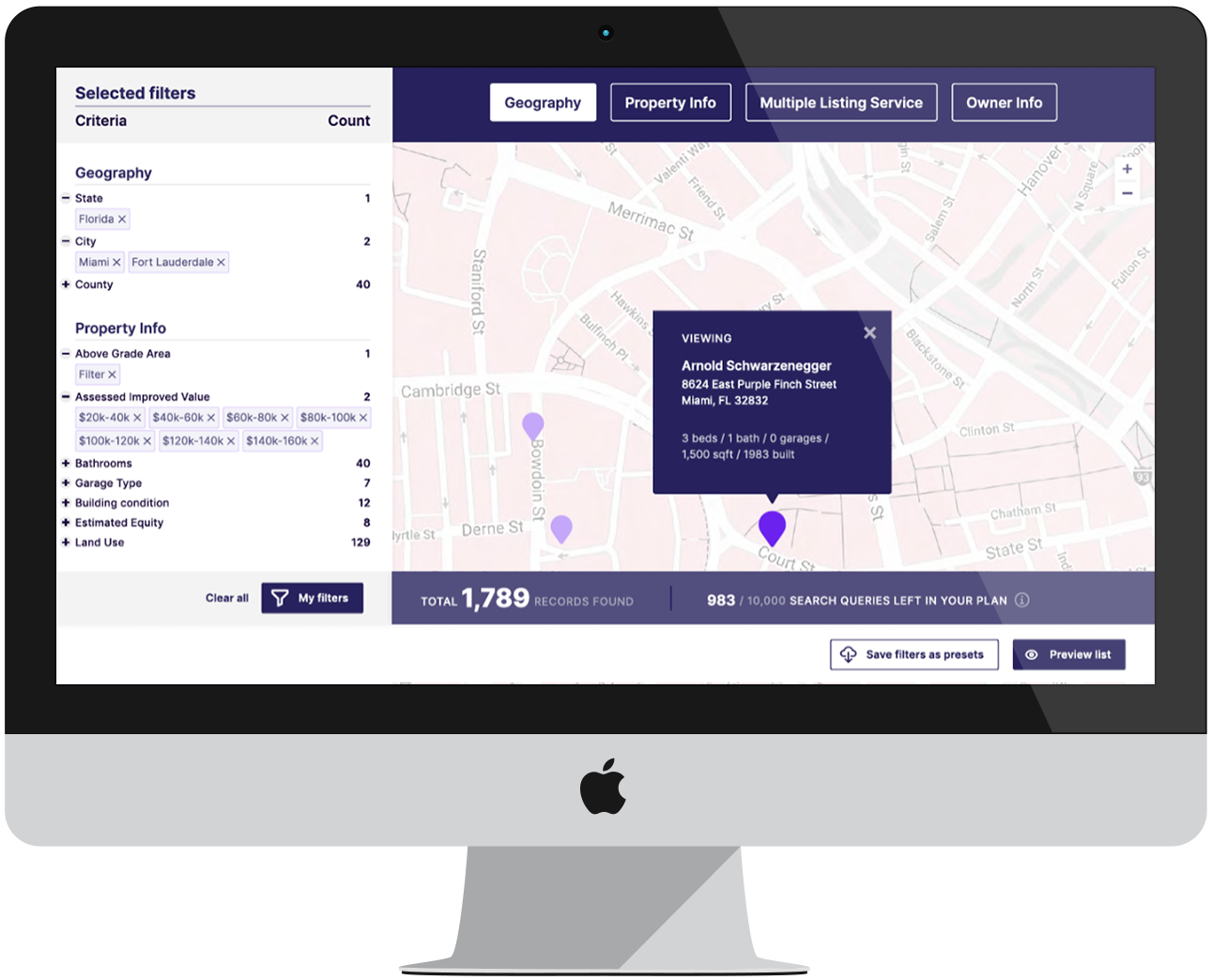 Features
Easily find new prospects with Invelo's list builder functionality. Create your own filters and find your new leads in a database of 150 million records.
Build easy automated marketing campaigns right on the platform.
Tools to easily manage and track both leads and deals.
Built in dashboards allow you to analyze and track your key metrics.
Pros
User-focused. Very simple to learn and use at any skill level.
Combines all the sales and marketing functionality you will need in one platform.
Robust automation options to save you time and convert more leads.
Cons
Propstream
Propstream is arguably one of the best CRM software out there. The platform offers skip tracing, lead lists, MLS comparisons, and more.
The built-in marketing features include a postcard generator, automated mailing, and custom landing pages are especially helpful for targeted marketing.
After a 7-day free trial, Propstream's services can be accessed with subscriptions starting at $99/month.
Features
Skip tracing feature gathers verified information, including address, contact information, mailing address, court records, and more for targeting property owners.
Built-in marketing tools allow you to send automated mail, voicemails, and postcards, redirecting leads to your custom landing page.
Nation-wide data search helps gather information for your required property type from across the country.
Targeted lists are automatically generated from multiple MLS
Pros
Skip tracing feature gathers property owner data speedily and efficiently
Automated voicemails, postcard generators, and mailing lists help reach leads all at once
The nation-wide search feature helps target leads across the country
Cons
There are monthly limitations on saving or exporting data.
Access to additional tools requires paid add-ons.
Relatively steep learning curve.
PRO TIP: Not all CRM systems work for everyone. Examining the features and taking advantage of free trials will help you make the best business decision possible.
Propelio
Propelio is a real estate investment platform targeted more towards solopreneurs. Besides helping you create targeted lists of motivated sellers, the platform also helps gather and manage data with its MLS comps, lead management and skip tracing features.
Propelio subscriptions start from $29/month to $98/month and all plans come with a 14-day free trial.
Features
Lead generation and listing tools help you organize and gather contact information to reach out to motivated sellers faster.
The mobile app shows detailed logs of routes and properties already visited, making driving for dollars much more efficient.
Paired with the driving for dollars feature, instant skip tracing lets you find the owner's contact information on the go.
The website builder lets you create custom, mobile-responsive websites pre-loaded with content optimized for higher search rankings.
Pros
Instant skip tracing and driving for dollars are accessible through the mobile app.
Lead generation and management tools help gather and maintain data, all in one place.
Online investing education resources are available through Propelio Academy.
Cons
Less friendly user interface.
Lower-tier packages come with limited functions.
You'll need a premium subscription for full functionality.
Lacking automated marketing and customizing contact management features.
REISift
REISift is a real estate sales and marketing CRM platform. It automates and optimizes real estate campaigns besides cleaning and simplifying your property data to highlight motivated sellers.
While REISift subscriptions are between $49/month to $ 299/month, a 7-day free trial is also available.
Features
The direct mail feature helps with targeted marketing campaigns.
The click-to-call feature allows you to call up a phone record directly through a REISift account.
Project management features assign and track tasks, set up follow-up systems, and more.
Runs data through USPS to verify vacant or occupied property status.
Skip tracing and data cleaning together help gather contact information while ruling out duplicates.
Pros
List stacking helps to list property owners meeting required criteria and create targeted marketing campaigns.
CRM tools help to manage and assign tasks, create presets for processes, and more.
Integrates with third-party apps and services like Zapier, Calltools, REIRail, and more.
Cons
Steep learning curve before users can become proficient.
All the features require some time to get used to.
Lower-tier subscriptions come with record limitations.
BatchLeads
BatchLeads is another example of an all-in-one platform for finding motivated sellers, managing leads, and performing direct mail campaigns.
The platform can also be a potential CRM solution, offering nationwide data search, skip tracing, list management, automated SMS messaging, and more.
BatchLeads subscriptions start at $39 per month and go up to $299 per month, and are available for Android, iOS, and through a web browser.
Features
Multiple filters are available in the nationwide prospect map search to narrow down on properties meeting the required criteria.
The automated text services include vacant property identification, call forwarding, deliverability checks, SMS templates, and other features.
The list manager feature finds the most motivated leads by removing duplicates, validating addresses, and ranking sellers.
Skip tracing automatically locates the most up-to-date contact information for owners and sellers.
Pros
BatchLeads CRM offers automated direct mail to easily reach out to your entire mailing list at once.
Leads can be engaged via automated texts redirecting them to your landing page or contact info.
Subscription plans can be mixed and matched to only pay for required add-ons.
Cons
Only one user can use all of the services through the base membership.
Contacts and custom fields are limited for lower-tier subscriptions.
Unlimited user access and full functionality are only available with a premium subscription.
PRO TIP: Cost is important but so is functionality. If your CRM can't help you grow your business, why spend money on it?
REI Blackbook
REI Blackbook is a web-based all-in-one solution for real estate investors.
With features like integrated CRM tools, marketing automation, campaign tracing, contact segmentation, and website building, REI Blackbook is a promising contender for the best real estate CRM.
REI Blackbook subscriptions start from $97/month and go up to $297/month with a 14-day free trial.
Features
Automated marketing and sales tools help strengthen customer experiences with ringless voicemails and personalized texts.
CRM tools seamlessly integrate with phone and website systems to keep contacts updated, add notes and display the lead's history all within the contact records.
Campaign tracking automates the follow-up process.
The property pipeline feature keeps contacts, property documents, and photos all in one place.
Pros
Marketing automation sends personalized emails to contacts and leads.
Website and page builder comes with presets and templates to create your customized site.
Cons
Limited number of contacts for base subscriptions.
Doesn't offer comprehensive property reports and analysis.
RealEFlow
RealEFlow is an all-in-one software that helps you generate filtered lead lists for effortless contact, run direct mail campaigns, and create custom websites.
Packed with features like lead pipelines, deal analyzer, email marketing, and more, RealEFlow subscriptions are available between $75/month to $175/month. RealEFlow also offers a 30-day trial run for $10.
Features
Local as well as nationwide search options with multiple filters to generate a list of highly motivated sellers.
Direct mail and email marketing services to automatically print and send pre-written messages to leads.
The property listing page creates unique URLs for properties that subscribers are trying to market to.
Pros
Helps you create custom, SEO-optimized websites with pre-designed templates and copies.
Tools help in property inspection and estimating rehab and repair costs.
Lead pipelines draw out leads based on tax, mortgage, and property information from an extensive database.
Cons
The base subscription comes with one lead generation website and limited tools.
The deal-analysis calculator lacks a long-term rental calculation option.
Most powerful features are only accessible through premium subscriptions.
PropertyRadar
PropertyRadar is a data-driven platform that helps real estate agents, brokers, and investors to access information on properties and owners. Apart from gathering data, the platform can also manage contacts and leads, access reports and analytics, and conduct email marketing and list building.
PropertyRadar also offers third-party connectivity with apps and services such as Hubspot, Asana, Airtable, and more.
The Essential plan starts at $59/month, while the Complete Plan starts at $99/month. PropertyRadar also offers a 3-day tree trial.
Features
Marketing tools to help reach out to leads through online ads, voicemail, email, and direct mail.
Shows properties matching search criteria with heat maps.
Draws up a list of leads and narrows down searches with pre-populated lists.
Marketing campaign automation to make things quicker and easier.
Integrates with hundreds of apps and services to create CRM's and other marketing materials.
Pros
Data is collected from public records and in real-time, so the chances of getting bad data are low.
Comps feature helps to quickly compare and analyze deals in real-time.
Access to verified owner and property information helps find off-market deals.
Cons
A free 3-day trial isn't enough to catch up with all the features and functionalities.
Full functionalities are only accessible with the highest-tier subscription.
Relatively less user-friendly.
InvestorFuse
InvestorFuse is a lead management CRM system that helps you close more deals through automation. Offering features like workflow management, automated mailing, lead source funneling, and more.
InvestorFuse subscriptions start from $147/month with additional setup fees.
Features
Funnels lead from sources like Carrot, BatchLeads, REIRail, in one place.
Automated text, email, and voicemails to reach thousands of leads at once.
Breaks down lead management and sales pipeline into a step-by-step process.
Workflow management and automated KPI tracking to monitor task progress for each team member.
Pros
Funnels leads from multiple sources into one.
Intuitive user interface.
Integrates with most REI tools for collecting marketing data and lead generation.
Cons
Limited number of users for base subscription.
Lead source limitations based on subscription plan.
Additional setup fee is required for all subscription plans.

DealMachine
DealMachine is a software tool that is especially helpful for driving for dollars, direct mail campaigns, tracking driving routes, and managing seller leads. The software offers mobile maps, real-time route tracking, list builders, skip tracing, and more.
DealMachine subscriptions start from $59/month and go up to $249/month.
Features
Driving for Dollars is made faster and more efficient with property filters, mobile maps, route trackers, and driver management features.
Owner lookup is made effortless with skip tracing for email addresses, phone numbers, and caller IDs.
Direct mail marketing features come with ROI trackers, customizable designs, property images, and more.
Leads are listed using advanced search and filters with property data like vacancy, mortgage balances, pre-foreclosures, and county records.
Pros
Virtually driving for dollars is possible through the Google Chrome extension.
Several demos and video tutorials are available to get started with DealMachine.
Cons
The starter package is limited to 500 leads a month for one driver.
Doesn't offer an MLS comparative market analysis tool.
Freedomsoft
FreedomSoft is a real estate investing platform that offers contact management, automated marketing, in-depth deal analysis and reports, repair estimates, cost analysis, and more.
Catering more towards wholesalers, FreedomSoft comes with CRM, skip tracing, broadcast marketing, and automated follow-up systems. FreedomSoft subscriptions range from $197/month to $497/month.
Features
Builds customized websites to attract niches and target markets.
Automatically calculates property value based on market and property information.
Complete email marketing and autoresponder system can send pre-written messages to thousands of leads at once.
Social media integration allows you to post across multiple accounts at once to advertise properties, and look for sellers.
Pros
User-friendly interface with a step-by-step guide for beginners.
Provides an all-in-one solution to most real estate business needs.
Comes with a 30-day money-back guarantee.
Cons
Comparatively pricier subscription plans.
Too many features and information might feel overwhelming.
Forefront
Forefront (formerly known as FlipPilot) is a one-stop real estate management and CRM solution offering services like communication tracking, automatic follow-ups, visual pipelines, and more.
The Forefront Pro subscription plan comes with unlimited users, leads, and contacts at $137/month and the option of a 14-day free trial.
Features
Visual drag-and-drop pipelines to easily customize workflows.
Automated follow-up system via email, SMS, and voicemails with deliverability checker.
Tracks lead and marketing campaigns in real-time with reports on inefficiencies, insights, and trends.
All communication is tracked and recorded with 'End of Day' reports mailed to subscribers daily.
Pros
Simple setup process.
Visual task manager for ease of use.
Easy to set up automation with unlimited follow-up.
Cons
Premium subscription price.
Advanced features and functionalities might require some time to get used to.
Final Thoughts
Investing in a quality CRM tool is critical to your business, which is why it's always a best practice to ask for demonstrations and take advantage of free-trial periods to determine which is right for you and your needs.
While one system might better fit wholesalers, another might work best for flippers and rehabbers. At the end of the day your choice of CRM comes down to budget, functionalities, ease of use, and your business objectives.