One of the biggest hurdles to creating an efficient sales pipeline in real estate investing is minimizing the time you spend maintaining your prospect lists. This is why Invelo has added several automations to make keeping your lists updated easier including the sold records automation.
Are you tired of constantly scrubbing your prospect lists? Get to know a little more about Invelo's sold record automation and why it makes list scrubbing a thing of the past.

Sold Records Automation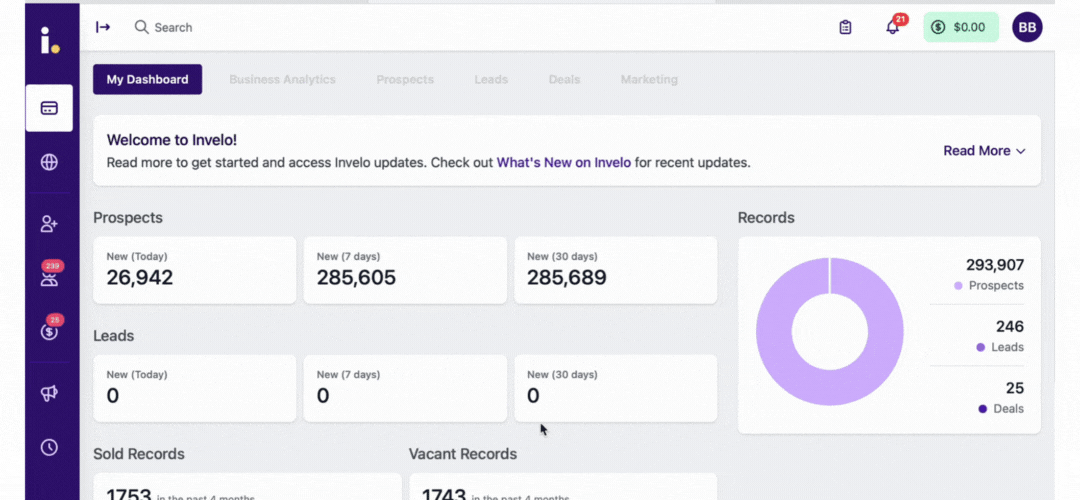 Removing sold properties from your prospect lists can be tedious to keep track of. If you are managing this manually you are constantly uploading new lists and painstakingly scrubbing records yourself. Do you keep those scrubbed records on hand for the future? What happens to them in terms of marketing campaigns? This is why Invelo has an added automation that removes sold properties from your lists automatically so you don't waste your marketing budget on properties that are likely to be sold again so soon.
Once a sold property has been removed from your active prospect lists they are placed on a separate "removed" list so you still have them in your database. The removed list allows you to search with filters to find properties where enough time has passed that they may qualify for your active lists. You can find your removed list by navigating over to prospects and clicking on the top left drop-down and changing it from 'active' to 'removed.'
In addition, you can access all sold properties from your dashboard to assess any trends in the local market and get more information about who is buying in your farm area and how much they are spending.
This automation is valuable because not only does it remove records from your active lists but also any active marketing campaigns the property is a part of. This ensures that you are only spending money marketing to properties that you have a chance at converting to deals. The automation removes the record the second the MLS is updated with the sold status of the property so you will never market to a sold record even a day longer than you need to.
Try Invelo for Real Estate Investing
If you are currently buying investment property, whether flipping or renting, or if you are thinking of becoming a real estate investor, you're going to need a tool to manage prospects, market to leads and convert deals. There are many tools available for this, but very few address the four key aspects of real estate investing:
Finding Prospects - Use our built-in list builder with over 150 million property records to find target prospects that meet your specific criteria. Select from dozens of data points to optimize your list.
Marketing to Leads - Use built-in marketing campaigns to send direct mail, ringless voicemail, email, sms and more. Setup filter criteria to automatically find new prospects and add them to campaigns as they get added to your database.
Manage and Convert Opportunities - Track every step of the deal lifecycle including skip tracing to find better contact information, adding notes and setting tasks so you never miss an opportunity to close a deal.
On top of that, Invelo is unique because it has intelligent automation and built-in education. There is no reason to reinvent the wheel. Tons of investors have already figured out the best practices for finding, marketing, contacting, negotiating and closing real estate deals. Invelo has integrated all of this learning in to educational training and automation so you can "set it and forget it".
Invelo has a forever free account -- sign up now and see what Invelo can do for your business.