The last thing any busy real estate investor wants is to have to constantly switch between platforms to manage their business. You have one platform for building and maintaining lists, one platform for managing your sales pipeline and yet another for running marketing campaigns. How do you keep all of those accurately updated? The truth is, you don't.
But Invelo is different.
Your sales pipeline is one of the most important pieces of your business. It's where you track prospects, store notes, keep track of the actions you have taken to move them along and figure out which are the leads worth pursuing. It's essential that this space is easy to manage and keeps track of every bit of information you have about each prospect.
Invelo's Sales Pipeline Management
Invelo's sales pipeline management system is simple and powerful. The pipeline allows you to manage prospects from lead to deal and everything in between. The sales pipeline is also built into the system and is fully connected to both list builder and marketing so you never have to manually update anything as you move between systems. Feel confident that all of your contact information is up-to-date and complete.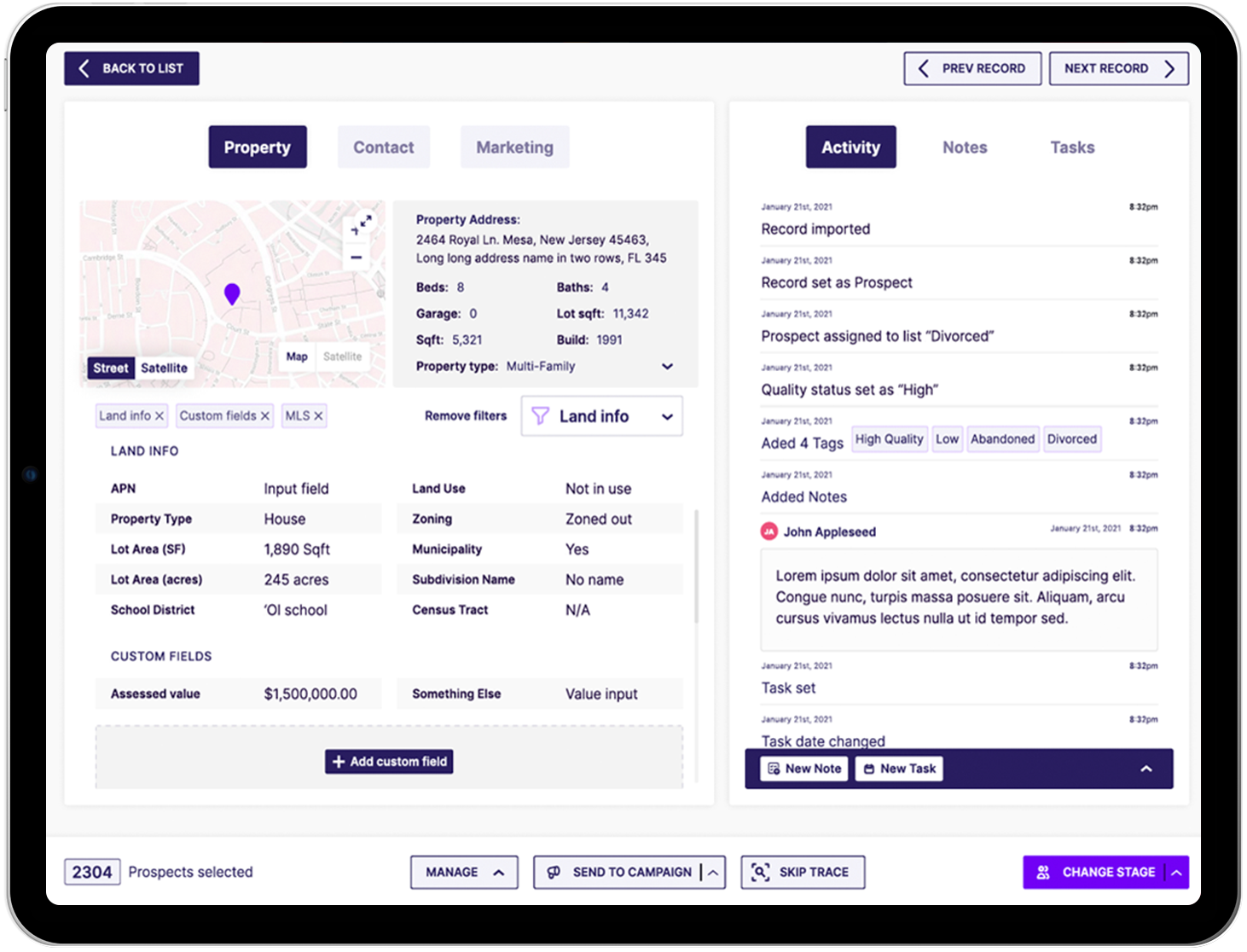 Invelo's sales pipeline management includes…
Prospect Segmentation - Use intelligent filtering and list stacking features to figure out which prospects are worth pursuing.
Skip Trace - Have a great prospect but don't know how to get in touch with the property owner? Access high quality skip tracing, with litigator scrub, right in the platform. Includes individual and corporate skip tracing with email and phone verification to ensure accuracy.
Data Appending - Never manually update contacts again! Invelo will automatically fill in property detail gaps in contacts imported or manually added to the system.
Notifications - Get notifications when anything happens that involves the leads you have selected. Be notified when a marketing campaign triggers, when new activity occurs or when some action is needed. You will always be in the know for all of your best leads.
Tasks & Notes - Add notes or tasks to each contact to make sure you always have the complete picture of every property in one centralized place for your whole team.
Follow-Up Sequences - Keep your leads warm! Stay on top of your leads by automatically adding them to follow-up marketing sequences to keep them informed and engaged.
Activity Log - See every action taken for every lead with a detailed activity log that is constantly updated and maintained. Log includes marketing campaigns, contact attempts, status changes and more.
Contact Management - Store unlimited contact information for each property.
Do It All In Invelo
Spend less time maintaining your records and more time pursuing deals. On Invelo you can feel confident that all of your sales information is up-to-date, complete and easy to access and change.
Sign up for free now!