If you are a real estate investor looking to start or grow your business you are looking everywhere for something that will give you a leg up. You are probably looking for resources, mentorship, and networking to help you expand your mind and network. This is why many investors turn to BiggerPockets.
Growing a business isn't just about finding more deals – but that does help. It is about building a strong foundation to support sustained growth. Grabbing a few more deals now won't necessarily set you up for success a year from now, much less 10 years from now. To adequately grow your business you need to plan, learn, and connect so that when the deals dry up you can make the changes you need to keep your business moving forward.
For real estate investors, one of the biggest resources is BiggerPockets. The social media platform designed specifically for real estate investors is a treasure trove of knowledge and insight. This is where investors can keep up with news about the industry and market, learn best practices, and connect with other investors.
The resources are there, so how does a real estate investor use BiggerPockets to actually grow their business?
PRO TIP: Ready to try BiggerPockets Pro? Use the code invelo22 for 20% your membership!
Building A Network To Learn From
One of the biggest features of BiggerPockets is the ability to network with other professionals across the country. Ever wonder how the investing business is going on the opposite coast? Whether you have a team behind you or work alone, it always helps to know more people in the business, no matter where they are.
The BiggerPockets forums have thousands of active users who are talking and sharing their stories every single day. If you need help on a project, looking for software recommendations, are looking for a professional nearby, or want to connect with people in your area you can find it on the forums.
Networking is critical for a successful business. Rarely are people able to build a strong, sustainable business completely alone. Scaling requires a community of support. You need people to look up to and model yourself after, you need to hear successes and failures so you can learn from both, and you need to get advice from people who are experts in their area of investing.
Creating a network of professionals, even just on a forum, will give you much more insight into the business and how you can help yours grow. Additionally, you may even learn about other niches inside real estate investing that could come in handy down the line. Maybe your interest is rental properties right now but you may be interested in wholesaling in the future. Having connections will help you make those transitions and decisions so much easier and well-informed.
Staying Informed And Educated
If you are running a business you need access to the best educational resources you can find — this goes for any type of business! You need a place to look for the latest news as well as insight into experiences and best practices. If you don't keep up with what is going on, how are you supposed to grow?
BiggerPockets is home to some of the most extensive resources available in real estate investing. You can find daily updates on the blog as well as guides,  downloadable resources, podcasts, classes, and video content.
With a BiggerPockets Pro account, you get access to even more educational content including exclusive articles and resources as well as discounted Bootcamp classes that will get you ready to make deals in only a few weeks!
Having a deep and constantly growing knowledge of your area of business is critical if you want to maintain growth over the long term. The market is constantly changing and you must be aware of what is going on to make the best projections and business decisions possible. Additionally, you need to be aware of the latest technology and best practices so you don't get left behind by your competition.
If you have been in the business for a while making sure you are constantly refreshing your knowledge is crucial. You wouldn't want to have a doctor that went to school in the 80s and never brushed up on the latest changes and technology! Don't get left behind.

Using The Latest Business Tools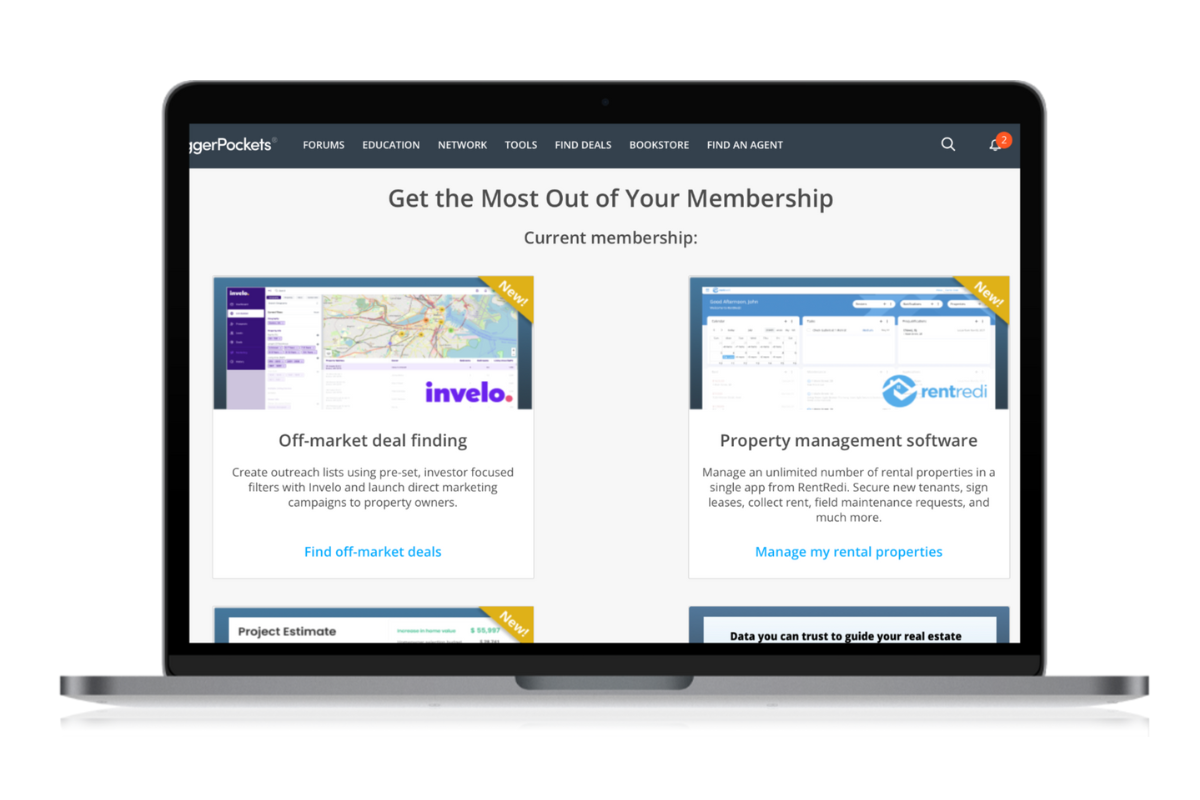 To grow a business you need to have access to a wide array of tools that will help you maintain efficiency and give you more time to make deals. With a BiggerPockets Pro account, you automatically have access to the latest technology that will make running your business so much easier.
Pro users have access to a variety of calculators that will help determine if a specific property is a financially sound investment. These include the Pro exclusive advanced rehab estimator and rent estimator.
With the new BiggerPockets Pro, users will now have exclusive access to both Invelo and RenRedi platforms.
RentRedi is a rental property management platform that can handle one or an unlimited number of rental properties under one account. Users can entirely manage their rental properties in-app as well as generate and sign leases, find new tenants, collect rent payments, manage maintenance requests, and much more. This tool is free for BiggerPockets Pro members and an incredibly powerful tool for any investor who is managing rental properties.
Invelo is an all-in-one real estate investing tool that allows users to generate lists using focused filters, manage records, maintain a sales pipeline, create multi-step custom marketing campaigns, and learn from industry experts. BiggerPockets Pro users can now sign up or sign in to Invelo with their BiggerPockets account, straight from their dashboard.
Using technology in your business is all but required. As an investor your time is precious, so toiling away in an excel spreadsheet to maintain your records isn't a great use of your time. Utilizing the latest tools that are available will allow you more time to do other things and increase the accuracy and efficiency of your business as a whole.

Final Thoughts
If you are a real estate investor looking to build your business there is no better resource than a BiggerPockets Pro account. Access to a constant stream of knowledge, contacts, and access to some of the best tools available is well worth the investment in your business. To get the most out of it make sure you stay active and engaged!
As part of Invelo's partnership with BiggerPockets, you can get a Pro account right now for 20% off with the code invelo22 as well as a bunch of other exclusive savings!