Investing in real estate can be lucrative, but finding the right property can be daunting. One way to find a good deal is to look for vacant or abandoned properties.
If you want to buy low, you often can't get lower than a vacant or abandoned property. These properties can frequently be purchased at a discount because property owners are motivated to get rid of a property sitting empty, collecting tax bills, and deteriorating.
Vacant and abandoned properties are favorites for investors because they have the potential to be flipped for profit. So whether you decide to renovate and rent or sell, an investor can see often see hefty returns.
The hard part is finding vacant and abandoned properties. Some might be listed for sale and searchable on an MLS, but many are just sitting empty and unlisted. As an investor, it is your job to find these unlisted properties and let the owners know it is in their best interest to sell! So how do you get started? Here are a few places to start searching for vacant and abandoned properties.

Look Through Property Records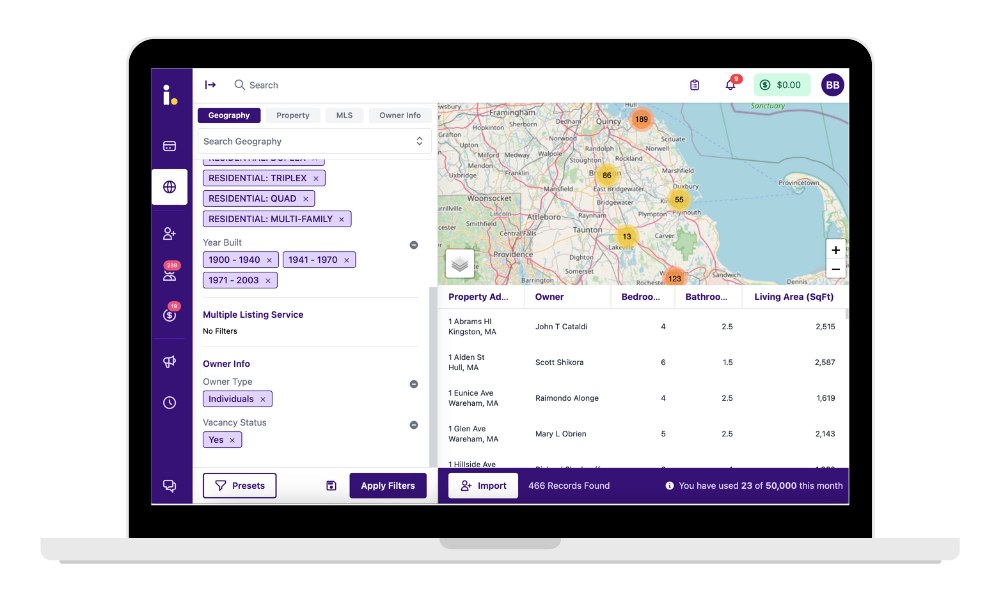 One of the easiest ways to find vacant or abandoned properties is to check public records. Most counties have a public property database that you can search online. Look for properties that have been tax delinquent or have liens against them. These properties are often neglected, and the owners may be motivated to sell.
You can also use a tool like Invelo to make prospects lists of motivated sellers with common characteristics. Invelo allows users to search for properties using various filters that can help you find vacant and abandoned properties in your farm area. Once you have created a list of prospects, you can skip trace directly in the platform and market to the property owners. Invelo makes the process seamless and completely trackable so that you can maximize marketing for each of your high-quality prospects.

Drive For Dollars
Driving for dollars is one of the best strategies for finding abandoned or distressed homes that have not hit the market. Take a drive around your target area and keep an eye out for properties that look abandoned or neglected. Look for overgrown lawns, boarded-up windows, and other signs of disrepair. Often, these properties will have a "for sale" sign or a notice from the city posted on the door. Also, watch for properties that don't match their surroundings. If a home looks older or not as kept up as its neighbors, this may be a sign that it is also falling into disrepair but may not be farther along as more obviously distressed properties.
While you are out, take a few photos of the property and note the address. You can then use a tool like Invelo to look for the owner and skip trace to find their contact information. Driving for dollars is a great way to find off-market properties and uncover unique deals!

Start Networking Locally
Are you a people person? Another way to find vacant or abandoned properties is to network with locals. Talk to people in the neighborhood, like real estate agents and property managers. They may know of properties that are not listed on the market yet. You can also join local real estate investor groups or attend networking events to meet other investors and get insider information on potential properties. For example, you might meet another investor that isn't looking for the same types of properties as you but has a lot of knowledge of the real estate market in the area.
You don't have to limit yourself to other real estate professionals! If you are targeting a particular area, talk to delivery people and postal workers who may have more insight into specific neighborhoods. Let them know what you are looking for and give them a way to contact you if they see a home you may be interested in.

Search Online
You can also search online for vacant or abandoned properties. Websites like Auction.com list properties that are up for auction or foreclosure. You can also check sites like Zillow and Trulia for properties that have been on the market for a long time. These tools are easy to use, but you may face competition from other investors because the properties are listed for sale depending on your area.
Try Invelo for Real Estate Investing
If you are currently buying investment property, whether flipping or renting, or if you are thinking of becoming a real estate investor, you're going to need a tool to manage prospects, market to leads and convert deals. There are many tools available for this, but very few address the four key aspects of real estate investing:
Finding Prospects - Use our built-in list builder with over 150 million property records to find target prospects that meet your specific criteria. Select from dozens of data points to optimize your list.
Marketing to Leads - Use built-in marketing campaigns to send direct mail, ringless voicemail, email, sms and more. Setup filter criteria to automatically find new prospects and add them to campaigns as they get added to your database.
Manage and Convert Opportunities - Track every step of the deal lifecycle including skip tracing to find better contact information, adding notes and setting tasks so you never miss an opportunity to close a deal.
On top of that, Invelo is unique because it has intelligent automation and built-in education. There is no reason to reinvent the wheel. Tons of investors have already figured out the best practices for finding, marketing, contacting, negotiating and closing real estate deals. Invelo has integrated all of this learning in to educational training and automation so you can "set it and forget it".
Invelo has a forever free account -- try it instantly and see what invelo can do for you.
Build A Social Media Presence
Social media can be a powerful tool for finding vacant or abandoned properties. You can use social media platforms like Facebook to connect with property owners or real estate agents who may know of a vacant or abandoned home that might not yet be up for sale. You can also use social media to advertise your services as a real estate investor and attract potential sellers.
You can run targeted ads on Facebook or build an organic presence in your farm area to build a reputation. Create and actively maintain a business page where you are actively engaged in real estate discussions in your area. Be sure to join local groups to connect with local stakeholders and build a local reputation.

Search For Probate Properties
Vacant homes don't necessarily have to mean they have been sitting empty for months or years. For example, when someone passes away, their property may go into probate. This means that the property is transferred to a probate court, which will then distribute the property to the heirs.
Probate properties are often neglected and can be purchased at a discount because family members want to unload them rather than pay property taxes and upkeep costs. This is a crucial prospect list to pull if you seek abandoned properties. These properties may be in better condition than usual abandoned properties depending on how long ago the owner and occupant passed away.

Work With A Real Estate Agent
Finally, you can always use a real estate agent to help you find vacant or abandoned properties. Real estate agents have access to multiple listing services (MLS) and can help you find properties not listed on the market yet. They can also help you navigate the buying process and negotiate a good deal.

Put In The Work And See Results
Vacant and abandoned properties can be diamonds in the rough for a dedicated real estate investor. If you can find something with potential for cheap, you have a great chance of turning a substantial profit. While you are searching, ensure you are accurately tracking and keeping notes on potential properties to maximize your marketing budget and target those that truly fit your criteria.