While real estate investing may not be the most conventional career path, it is still a great way to make good money. If you are here because you want to know how much you can make as a real estate investor or are simply interested to know how it works, read on. I promise it is worth your time.

Why Should You Consider Investing In Real Estate?
Real estate can be a great addition to your overall investment portfolio. It offers you competitive returns that are adjusted for risks and serves as a shield against inflation. You can use real estate investment to lower volatility through diversification. Investing in real estate can also help you extract some significant tax benefits.
Plus, since many real estate investments offer passive income, you would not need to continuously put in any further effort to earn money. You can also leverage your real estate worth to improve your potential return from real estate.
How Do Real Estate Investors Make Money?
There are many different ways to make money from real estate.
Appreciation
The most common way for real estate investors to profit is through their real estate's increasing in value, i.e., appreciating. The investors realize the profit by selling the real estate to someone at a higher price than what they originally paid for the property, making a profit.
There are ways to improve the profit you can gain by selling your property. One way is through the use of leverage. However, leverage can be dangerous. It can work against you if estate prices fall. You can also refinance the lower at a lower interest rate, thus lowering your costs and improving the returns.
If the property you own is undeveloped, you can also develop it to add value and help its price rise. Developers buy undeveloped land, which holds potential for development. They then construct buildings, residual or commercial, which increases the value even further.
If you are lucky and some valuable minerals or resources happen to be present on your land, your land can appreciate significantly.
Various factors affect the value of land, the most important being its location. Schools near the area, shopping malls, playgrounds, etc., affect how convenient living in that location is. Intangible factors also play a role here. A few examples would be employment rates, property taxes, and crime rates.
If you have a house built already, you can add extra rooms or furnish the kitchen using state-of-the-art appliances to bump up its value.
Remember that the opposite can also happen. If the neighborhood grows increasingly unsafe with rising crime rates, real estate prices in that neighborhood are most likely to fall.
Do account for increasing inflation, though. Even if inflation causes your real estate to increase in value, it will generally lead to increasing prices of most other things you need, thereby hurting your purchasing power.
Rent
Rent is a popular way of earning residual property income. You would own the building and rent out space. You can live in one of the units and rent out the ones you don't need. The tenants would pay an agreed-upon amount each month, which would eventually go up over time to adjust with inflation.
The amount remaining after subtracting the costs you incur is your rent. The location also plays a huge role here, regardless of whether you will be renting out commercial or residual property.
Short Term Rentals
Short-term rentals are growing in popularity over the last couple of years. A good example would be Airbnb, one of the best alternatives to hotels today.
You can rent out certain rooms or the whole house when you are away or not using it. This service can be in high demand, especially if you live in a popular place with tourists. Keep sanitization costs and local costs in consideration, though.
House Flipping
This is something that only experienced people attempt, usually. These are people who are knowledgeable about real estate valuation, house renovation, and marketing.
Also known as real estate flippers, such people often aim to sell an undervalued house in six months or less. However, the property must have some inherent value itself, such that the flipper can profit from it even without any changes. Some flippers add value to the property through renovations before selling them for a profit.
There are risks unique to house flipping too. For example, if you cannot turn over the property quickly, you might be in financial trouble if you do not have enough cash to pay the mortgage on the property.
Try Invelo for Real Estate Investing
If you are currently buying investment property, whether flipping or renting, or if you are thinking of becoming a real estate investor, you're going to need a tool to manage prospects, market to leads and convert deals. There are many tools available for this, but very few address the four key aspects of real estate investing:
Finding Prospects - Use our built-in list builder with over 150 million property records to find target prospects that meet your specific criteria. Select from dozens of data points to optimize your list.
Marketing to Leads - Use built-in marketing campaigns to send direct mail, ringless voicemail, email, sms and more. Setup filter criteria to automatically find new prospects and add them to campaigns as they get added to your database.
Manage and Convert Opportunities - Track every step of the deal lifecycle including skip tracing to find better contact information, adding notes and setting tasks so you never miss an opportunity to close a deal.
On top of that, Invelo is unique because it has intelligent automation and built-in education. There is no reason to reinvent the wheel. Tons of investors have already figured out the best practices for finding, marketing, contacting, negotiating and closing real estate deals. Invelo has integrated all of this learning in to educational training and automation so you can "set it and forget it".
Invelo has a forever free account -- try it instantly and see what Invelo can do for you.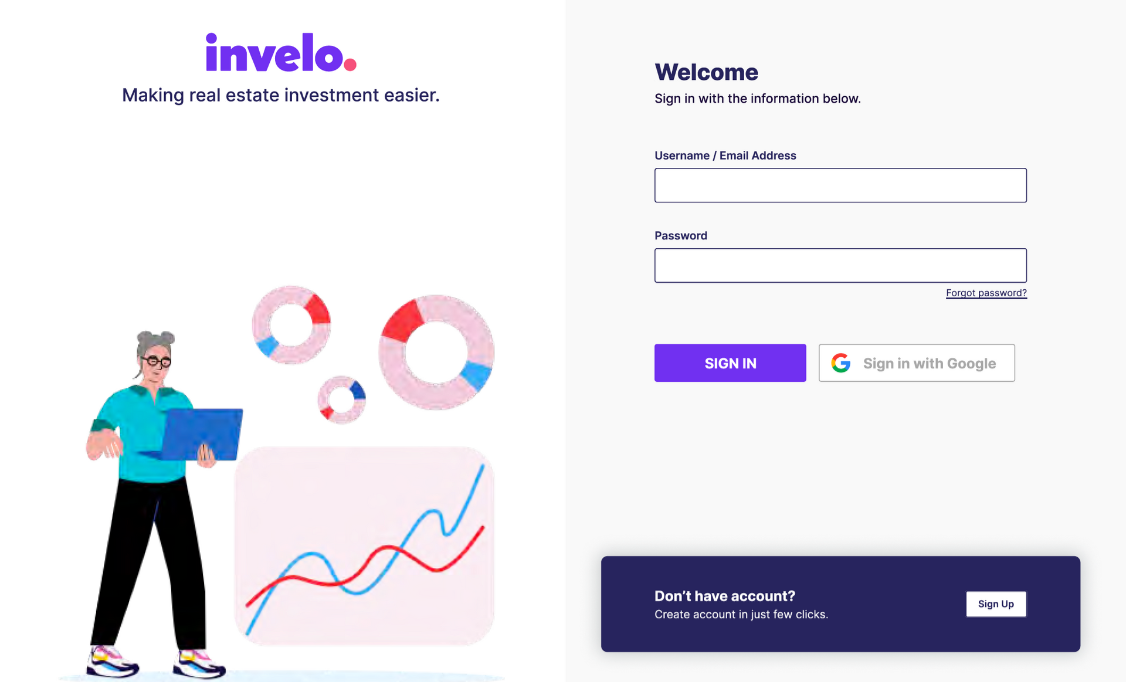 REITs
There are other ways to make money from real estate. If you want regular income from real estate without having to go about it in the traditional ways, you can invest in a real estate investment trust (REIT). REIT is a  company that owns, operates, or finances real estate that generates income.
Similar to earning dividends from stock investments, investing in REITs can help you earn a regular income.
REITs have a unique advantage for individual investors. It allows them to invest in non-residual properties, purchasing which is usually not feasible for most individual investors.
Also, unlike many other methods to earn money from real estate, REITs can be exchange-traded and thus are highly liquid.
Others
There are yet more ways to invest in real estate. There are online real estate investing platforms to help you invest in properties that may not be otherwise accessible to individual investors.
There is also contract flipping, where you can 'flip' the rights of a purchase contract to others instead of reselling the literal house itself. This would entail you bridging the gap between a seller and a buyer.
There are MBSs (mortgage-backed securities), MICs (mortgage investment corporations, and REIGs (real estate investment groups). MBSs and MICs mostly deal with investing in private mortgages rather than the properties themselves.
REIGs are groups of private investors who pool resources such as money and their knowledge regarding the real estate market and then acquire or invest in real estate that generates income.
How Much Money Do Real Estate Investors Usually Make?
According to ZipRecruiter, the average salary of real estate investors in the USA is around $124,000 each year. You can think of it as earning $60 per hour, assuming your working a 40 hour work week. Although many real estate invstors make that kind of money, or more, on a part-time basis.
Also know that the average does not always accurately reflect how many you could make as a lot of factors affect the pay. The location of the real estate, what method you employ to make money, etc., can make your income vary a lot.
For example, the national average annual salary for real estate flipping is approximately $69,000. For a short-term or vacation rental manager, the average salary in the USA is approximately $41,000 a year, or $20 per hour.
Hopefully, these figures give you an idea about just how much the salary range can vary in real estate investment.
Challenges That Real Estate Investors Usually Face
Nothing good in life comes easy, and real estate investment is no different.
Presence of Volatility
Market volatility is one problem that is currently plaguing most real estate investors. The coronavirus pandemic has brought with it a lot of uncertainty, which has definitely had an impact on real estate prices. How any investor will deal with the volatility depends on their strategy. Investors who are in it for the long haul may prefer to stick to stable investments for the time being.

The Increasing Popularity of iBuyer
Websites like iBuyer are becoming formidable competitors for many in the states. While competition will always be there, it is especially crucial right now for you as an investor to be transparent with your clients.
You need to earn their trust and assure them that there are no hidden fees to ambush them after they agree to the deal. Conveying a sense of transparency and reliability is necessary for you to outperform all your competitors.
Dwindling Numbers of Home Listings
The limited number of lucrative, active home listings presently contributes to making the market even more competitive and difficult for real estate investors to make handsome profits. Just for illustration, the number of active listings in the Austin-Round Rock Metropolitan Statistical Area (MSA) went down by 56 percent in June 2021.
About this, Kristee Leonard, The Leaders Realty, LLC, said, "It is even more vital right now for an investor to be working with a real estate broker who will provide them with off-market listings."
Hyperinflation Due to the Pandemic
The hyperinflation on assets brought on by the pandemic makes it difficult for real estate investors to offer competitive prices to customers. This makes it difficult for real estate investors to estimate cash flows from a property and decide whether or not to invest in it.
The effect of appreciation on the investors' returns can be canceled out by hyperinflation as it reduces the investors' purchasing power.
Moreover, the diminishing number of home listings contributes to the prices of real estate increasing.
Capitalization Rate Compression
Capitalization rate compression happens in markets with rising prices—the higher the prices, the lower the capitalization rates.
Supply chain disruption also contributes to increasing prices, as Cliff Booth, Westmount Realty Capital, LLC, believes.
"Disruption to supply chains has contributed to inflation in construction pricing, spurred by a drastic increase in the cost of materials, including lumber and steel, as well as overall higher wages due to a limited construction labor pool."
Andrew Schena, Capital Equity Partners, LLC, thinks investors should review their basics and realize the opportunity cost of investing in deals that are unlikely to succeed. "Understand who, what and where you're investing in," he said. "Ensure the operator has stress-tested their business plan."
Finances
As with many businesses, you need money to be able to make money in real estate. Do not forget to consider costs like down payment, closing costs, maintenance fees, mortgage payment, selling fees, etc.
Down payment depends on factors such as the type of property, sale price, and the type of mortgage loan you take out from a lender or bank. When thinking about costs, you should expect at least a 20 percent down payment and an additional 2 to 5 percent in closing costs. Closing costs may include agent fees, insurance, appraisal costs, etc.
Buying condos may subject you to Homeowners' Association (HOA) fees, which are extremely high. Also known as the HOA fee, it is a sum payable by owners of some particular types of real estate. These fees are used to maintain and enhance those properties.
Tips You Should Follow if You Want to Be a Successful Real Estate Investor
Plan Ahead
As with many things in life, planning ahead can save you time, resources, and a lot more. Set goals. Envision the big picture when making business decisions. Have a business plan.
Planning helps you know what is important and what is not. You can learn what things you should focus on and not worry as much about trivial things.
Think about how many units you want to own; if you want to upgrade them, if so, when; estimates of outflows and inflows of cash, etc. Take into consideration anything foreseeable that could affect your investment and returns.
Study the Market
Knowing the market you are operating in is very important for success. Stay on top of trends like changes in consumer expenditure, unemployment rate- things that can impact consumers' buying power.
You may not have much of an influence on these external factors, but knowing them helps you accept reality and plan for the future accordingly.
Maintain Transparency and Ethics
Joining the dark side may be a faster way to power, but not necessarily greater power.
A real estate investor's marketing is very much based on word of mouth. If you take advantage of uninformed clients and take part in unethical business practices, chances are, with time, everyone will know.
Keep Your Tenants In Mind
If you intend to rent your property out, keep your tenants in mind when looking at houses. That is to say, take some time to think about who your tenants may be: students, young families, etc.
This matters because they will be looking at different factors when considering your offer. Young families will likely be looking at neighborhoods close to good schools, which is something a college student will probably not worry about.
Some Parting Words
Real estate investment is a good way to make money. However, don't quit your day job yet. Learn the relevant concepts, research well, and make sure to plan. Understand the risks and payoffs before deciding whether this is the right path for you.