Whether you're an agent, a brokerage, or an investor, you can find real estate software promising you increased efficiency and profitability. But finding the right set of real estate software can be tricky.
Every brokerage, agent, or investor might have different needs and targets. This makes it essential for you to identify your needs before looking for a real estate software solution.
These tools can help you with lead generation, marketing automation, client management, and more. In this article, we've compiled a list of the essential real estate software you should be trying in 2021.
#1 – invelo for Real Estate Investors
Real estate investors all report one common challenge – no unified system. They have tools for finding properties. They have CRM systems for managing leads. They have marketing solutions for sending direct mail, emails, cold calling and more. And they have reporting tools to bring all the data together. But these tools largely operate in a silo. There are integration apps like Zapier, but even the most technically savvy investors can't get all of their systems to sync. This means more expense. More breakdowns. More confusion. And less success.
Enter Invelo. Truly the one system that takes the most important parts of real estate investing and combines them into an easy to use system.
Find prospects with Invelo's list builder
Search based on proven property attributes or create your own custom filters in seconds from a database of over 150 million records.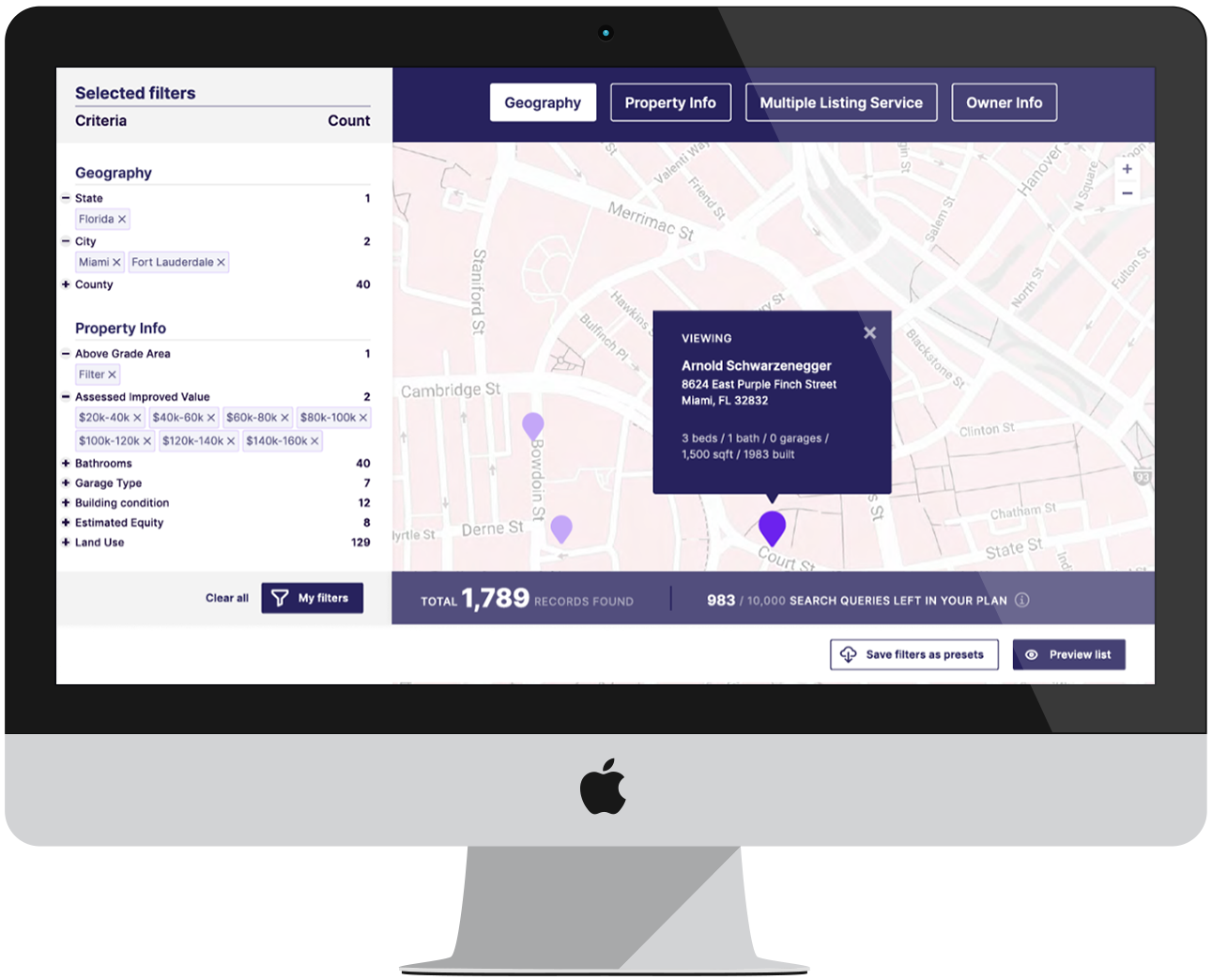 Build automated marketing campaigns
Never manually market again. Just set up a campaign and records will automatically get added and triggered when new prospects meet your criteria.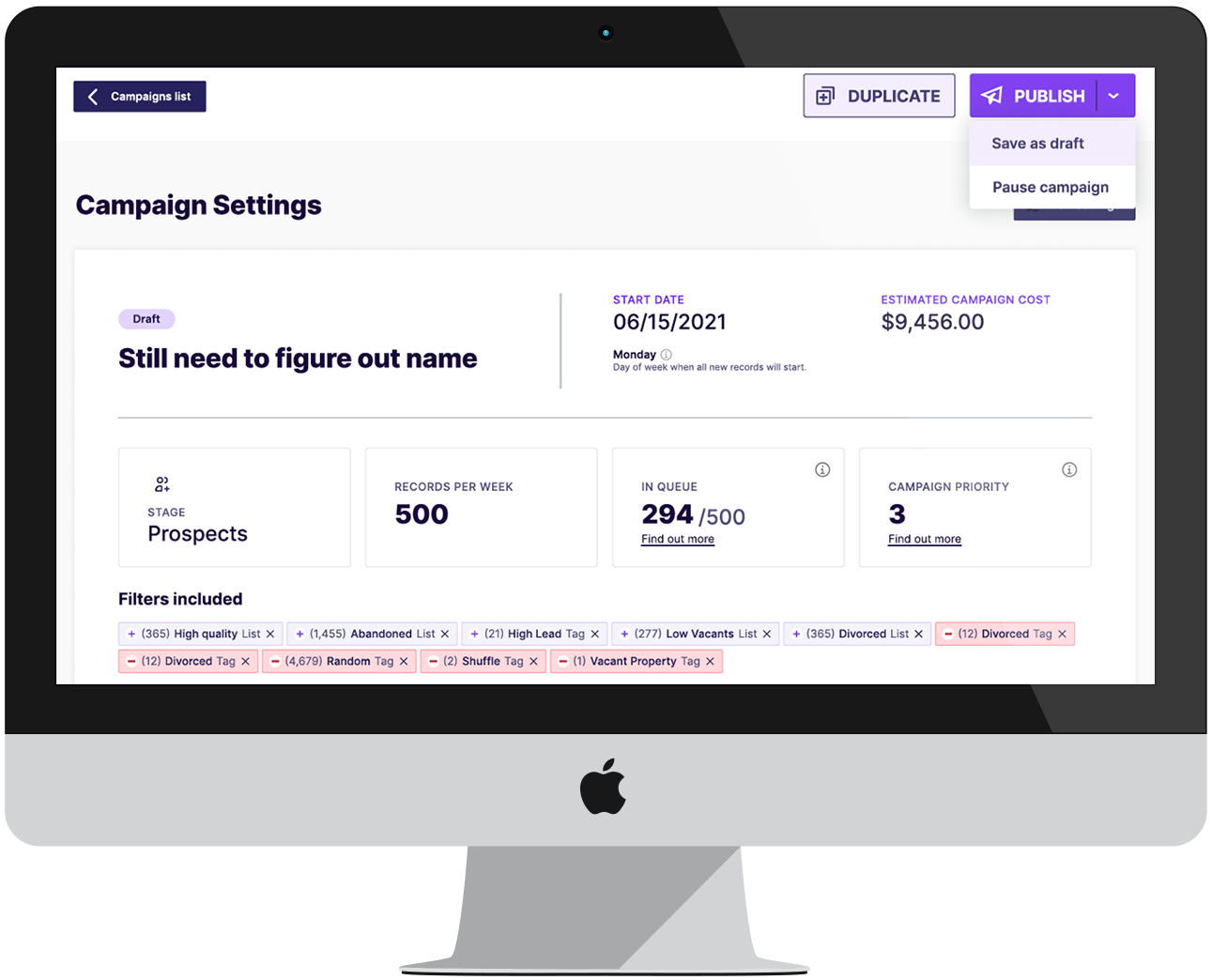 Manage and track leads and deals
Organize prospects, leads and deals by tracking multiple contacts, using the industries best skip tracing to find owner information and keep up on activity, notes and tasks.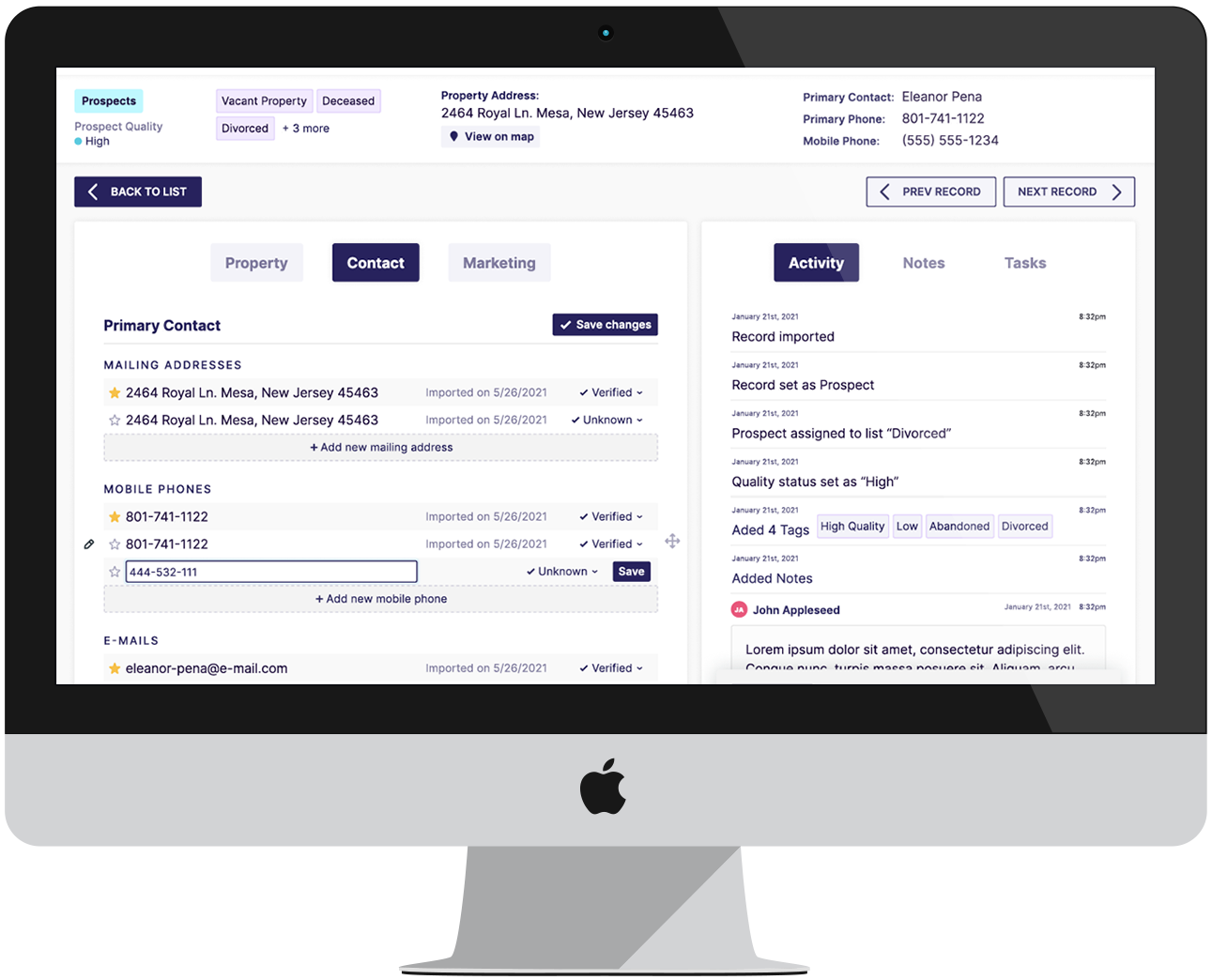 Analyze results and track key metrics
Easy to use dashboards, full function reporting and logging of every activity in the system.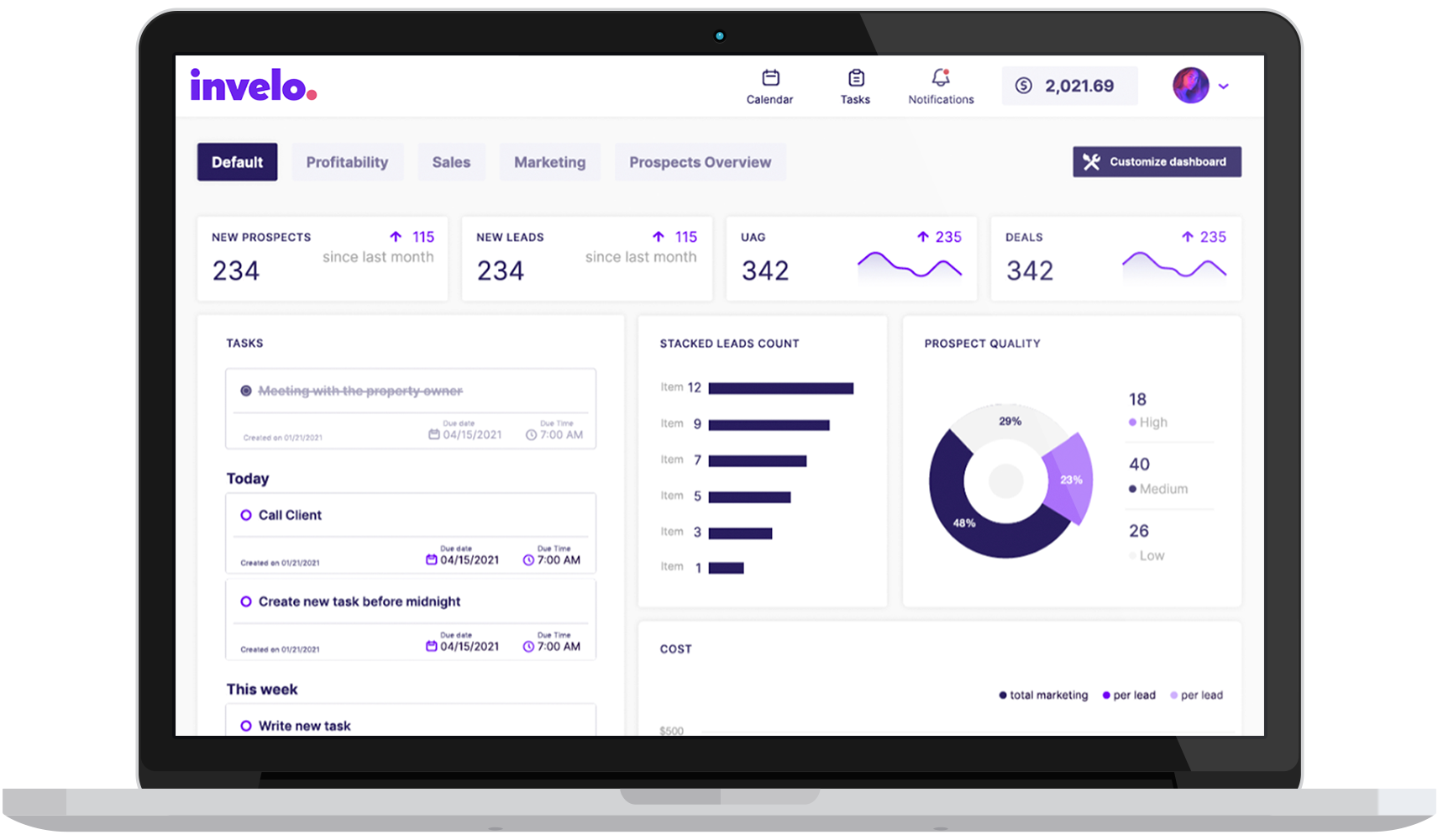 Invelo is great for seasoned investors and newbies
Whether you've been in the real estate investor game for decades or just want to get started, Invelo is for you. The platform has built-in best practices which takes all the guesswork out of setup and execution. And invelo has unlimited free training and education programs so you can learn the ins-and-outs of real estate investing from some of the most successful professionals in the business.
#2 – Propertybase GO
Propertybase GO offers a customer relationship management (CRM) solution for real estate agents, teams, or even brokerages. It boasts key features such as lead generation, transaction management, and more.
Pros
A clean dashboard that displays only the essential data, making it easy to find the right information at the right time.
Sidebar column for your leads (can hold 15 entries) makes contact management a lot easier.
Marketing features help you reach out to your contacts through email, text messages, and phone calls.
Connectivity to MLS lets you search for specific properties and send them to the clients or stakeholders without leaving the CRM.
Message Scheduling helps you save time and effort by automating the sending process.
Propertybase GO's website is directly connected to your CRM, offering you valuable information about your leads.
Text Concierge acts as a virtual assistant in activities like lead qualifying and nurturing.
Easy-to-use analytics with great reporting features allowing you to identify issues that may require your attention.
Cons
Dashboard lacks customization, which can be an issue for agents whose needs are different from the information offered by the platform.
Data flow into lead profiles cannot be tailored based on parameters such as lead type.
Text Concierge doesn't allow adjusting the tone or cadence of conversation.
Underwhelming analytics compared to the amount of data available in the CRM.
Pricing
Propertybase GO's pricing starts at $349 per month with an annual contract. This is a Website + CRM package and is limited to five user licenses with access to one MLS and one Cloud CMA account. But if you need features like theText Concierge, you have to pay at least $849 per month (minimum 6-month contract).

#3 – kvCORE
kvCORE is another brilliant CRM platform and an IDX website. It is better suited for modern real estate brokerage companies.
Pros
Individual IDX websites for each team member, which includes a unique login and interface for individual members
Integration of websites into the MLS without the need for a third-party IDX provider
Unlimited landing and squeeze pages
Code-free individual property websites creation. You can also create Facebook and Google lead capture pages.
Bulk email sending and lead nurturing features. You can also redirect leads to your agents and automate responses with the help of AI.
Automation of the appointment process with clients, along with other lead nurturing capabilities
Dedicated mobile app with all the calling and general CRM functions suitable for your mobile devices running on Android or iOS
Cons
Steep learning curve - not suitable for beginners, despite the onboarding offered by the platform.
Requires more involvement to utilize all its key features even after automating some of the processes.
Quite an expensive solution considering the effort required to get the true value from the platform.
Pricing
kvCORE's monthly plans start from $499 for two users. However, it can get expensive quite quickly if you're using it for teams and brokerages. You don't get a free trial to test its features either.
#4 – REDX
REDX offers a web-based platform that aims to make lead prospecting easier for Realtors. It offers six lead generation tools that can help them acquire leads effectively.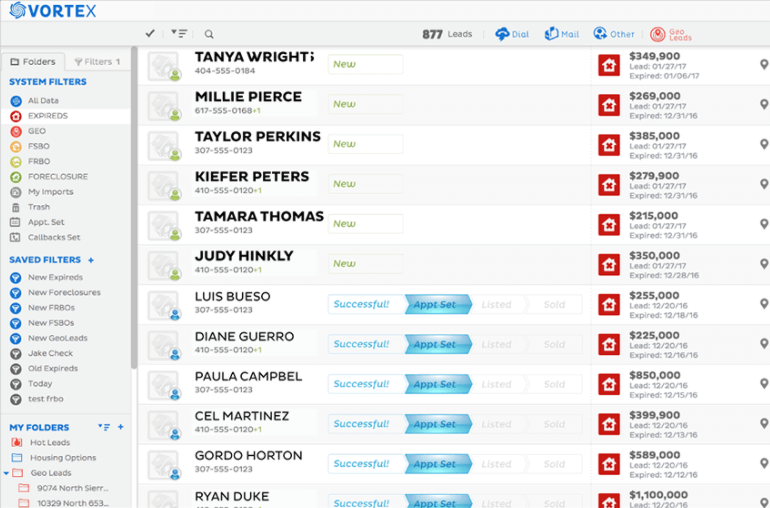 Pros
Intuitive and easy-to-use User Interface.
Expired Leads gives you the contact and listing information for potential sellers as soon as their home comes off the market. This helps you keep tabs on new listings in real-time.
An updated list of FSBO properties is displayed daily in the VORTEX feed, providing you with a group of leads that want to sell.
Power Dialer integrates into services that make the calls for you. You can also record a voicemail for each calling session beforehand.
Mail merge helps you take lead data and export it to a format compatible with third-party systems.
Cons
Requires a lot of time, effort, and patience to see positive results.
Offers quite limited integration options, and transferring data to the existing integrated systems is quite slow and lacks automation.
Limited analytics features can be a deal-breaker for those who are looking for a data-driven platform.
Unreliable phone number data often includes information from older databases. The accuracy of the numbers can be as low as 50%.
Pricing
REDX offers different pricing plans for its six different tools. These are as follows:
Expired lists: $59.99/mo
Power Dialer: $99.99/mo
Pre-foreclosure lists: $39.99/mo
FRBO lists: $79.99/mo
FSBO lists: $39.99/mo
GeoLeads: $49.99/mo
You also have to pay a $149.99 setup fee, which is reduced or waived for semi-annual or annual contracts.
#5 – Offrs
Offrs is a predictive analytics platform that offers you insights into the properties that are most likely to sell. This can significantly improve your lead generation efforts.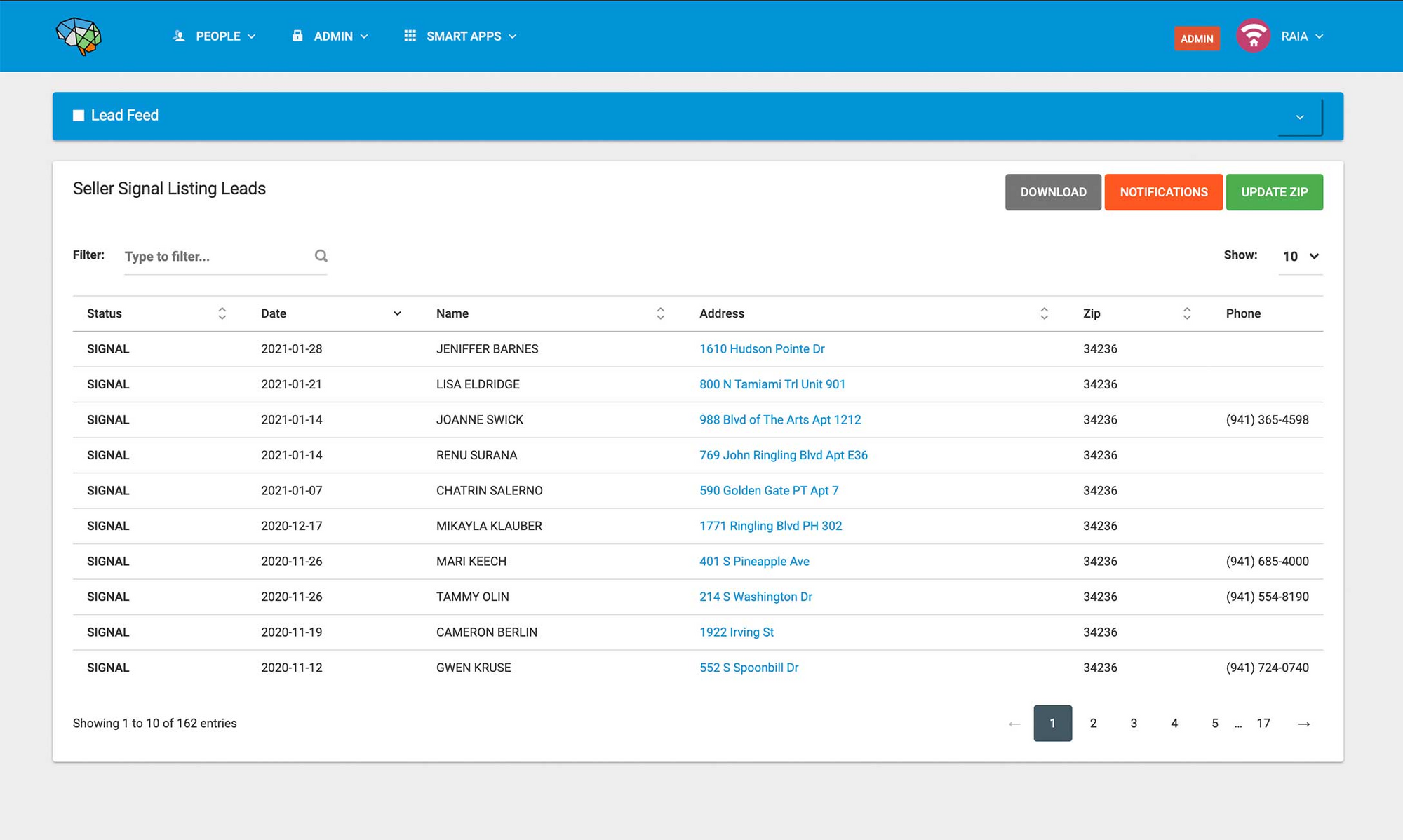 Pros
Only one agent per territory receives data from Offrs, making it an exclusive platform.
Data can be exported or transferred to CRM platforms to fuel your marketing campaigns.
Smart Apps allow you to automate your marketing activities.
Automation ensures that you can interact with the prospects most likely to sell.
Seller Signal Leads app scans more than 200 third-party websites to find potential sellers in your assigned territories. You can identify leads who have requested home valuation or are actively looking to sell their properties.
FSBO Leads app provides you with a list of properties in your territory listed as FSBO. You also get a daily update on these properties.
Cons
Have to be very engaged with the platform, else you might lose your hot leads.
Short-term conversion rates can fluctuate a lot.
Very expensive solution, which adds up once you start using the Smart apps.
Pricing
The pricing of Smart Data, the base Offrs product, ranges from $200 to $500 per month for each territory. Of course, you have to incur additional costs if you subscribe to one or more of the Smart Apps.
#6 – BoldLeads
BoldLeads is a real estate lead generation platform that helps agents generate prospects and makes it easier to nurture these leads into clients.
Pros
Flat rate for all BoldLeads territories, which have a 15-mile radius from a specific point. This means that you can target populated areas without having to spend more.
Automated response to the leads who have engaged, helping you boost the speed-to-lead.
Text Concierge offers virtual assistant features to take some work off your plate.
More than 40 different templates for landing pages to ensure that you can maintain consistency when it comes to brand identity.
Cons
Changes in third-party advertising policies, like that of Facebook, can affect your advertising performance.
Higher rates of cold and unintentional leads compared to competitors such as Zillow Premier Agent.
Need to upgrade to higher packages to get the real value from the platform, which can mean an additional cost of $100 a month.
Pricing
BoldLeads offers pricing plans for individual agents, as well as teams and brokerages. The price of its Professional package starts at $399 per month, excluding the ad budget of $250 per month (minimum spend). You can also opt for the BoldLeads Lite option, which limits your leads and access but has a starting price of $499 per month.
#7 – LionDesk
LionDesk offers a no-nonsense CRM solution tailored for the real estate industry that includes robust fundamentals combined with unique add-ons. You can utilize its useful features, including texting, video, Ad Portal, and AI Lead Follow up for lead generation and nurturing.
Pros
Offers an easy-to-use solution that can help you get started in a matter of hours.
Bulk texting features to leverage the incredible open rates of text messages.
Simple but effective custom fields feature, which allows you to add unique information about your contacts.
Lead follow-up features powered by artificial intelligence to automate conversations with your leads for up to 12 months.
Includes a Click-to-call feature - an integrated dialer to call your prospects directly from the LionDesk interface.
Cons
The user interface can feel quite cluttered at times, especially after using it for a while.
Basic transaction management features that don't seem to add noticeable value.
Its functionality is limited to cultivating leads to the contract stage. After this, you're basically on your own.
Pricing
LionDesk offers three pricing plans, with the cheapest Starter plan starting at $21 per month. The next tier (Pro+) is priced at $42 a month and includes useful add-ons. You can opt for a free trial with functionalities limited to 15 texts, 5 video texts,150 emails, and 5 Lead Assists.
#8 – RealScout
RealScout offers a platform to build strong relationships between real estate agents and clients. RealScout can be considered a more streamlined version of a traditional MLS search, allowing leads or clients to find properties from an agent's website.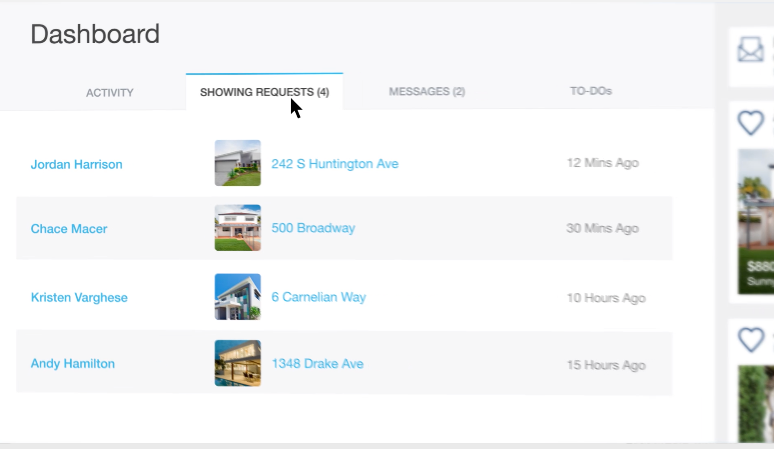 Pros
MLS integration helps clients browse listings directly from RealScout, getting rid of the need for a separate MLS website.
Boosts conversion (by 100% according to RealScout) and increases efficiency for agents and clients.
Updated information including pictures, sale status, and more. RealScout also provides this information in real-time, unlike competitors like Zillow.
Machine learning capabilities to help you compare listings and their features make it easier to find properties.
No ads policy helps keep other realtors at bay, as well as improving user experience.
Offers mobile apps for iOS and Android so that users can access its features from anywhere.
A 14-day free trial for agents to test the features before you pay for it.
Cons
An MLS login is mandatory for integration with RealScout. This makes it impossible for people other than agents to use the platform to interact with clients.
The Agent plan is quite limited compared to the Brokerage plan, especially in terms of analytics.
Pricing
RealScout offers pricing tiers for both individual agents and brokerages. For agents, the pricing starts at $39 per month for each agent. For brokerages, the pricing depends on the size but starts from $499 per month.
#9 – Revaluate
Revaluate is a predictive analytics AI solution that combines machine learning and big data to help you analyze recorded events to predict future ones.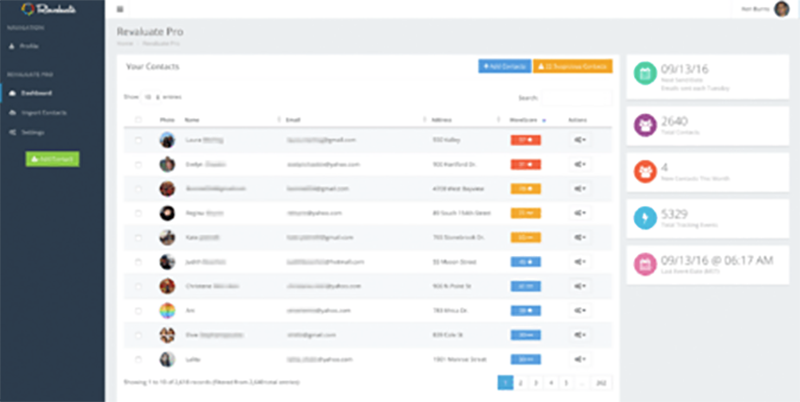 Pros
Helps agents save time and get more listings by taking a data-driven approach
Ability to use the database of individual agents as a source for leads, allowing agents to go after unique leads
Predictive analytics helps agents to identify which contacts are most likely to move. The proactive approach allows agents to prepare their strategy before the sellers have put the properties on sale.
Import data from CSV, XLS, and XLSX files. Agents don't need more than email addresses as contact information to get started.
Cons
Requires agents to have at least 1,000 people in their contacts database to start seeing results.
Having the email address of contacts is essential for applying predictive analytics.
Pricing and third-party information not disclosed publicly.
In some cases, it makes more sense for the agents to contact their prospects directly instead of paying for Revaluate to predict the ones likely to move.
Pricing
No information about the pricing tiers is available on Revaluate website or any third-party review sites. But the price does increase based on the number of contacts in the database.
#10 – SmartZip
SmartZip is yet another lead generation service on this list. It combines modern solutions such as predictive analytics with classic techniques such as direct mail to target the leads who are most likely to sell.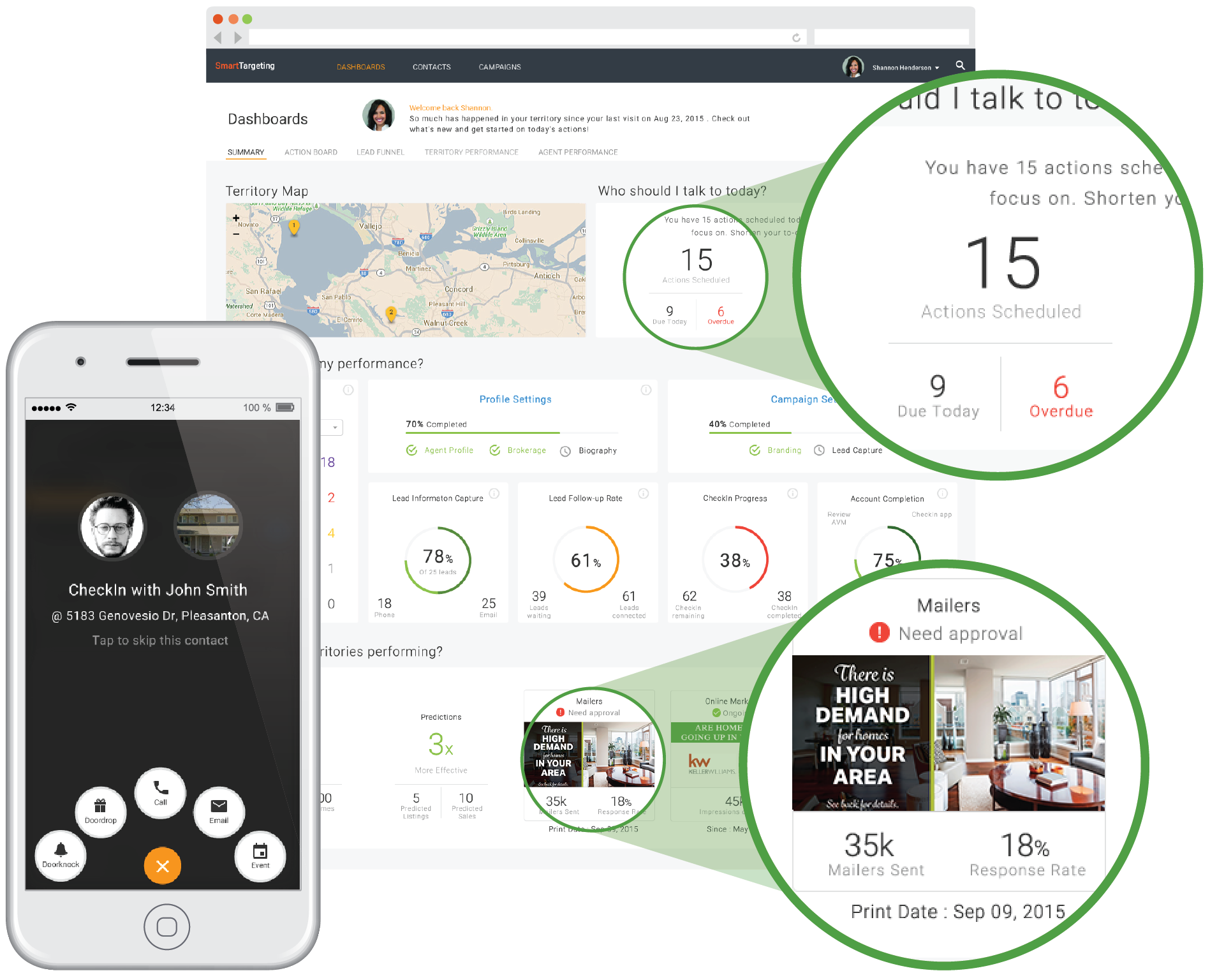 Pros
SmartZip CRM comes already populated with the contact profiles of leads who are highly likely to sell. These entries also include property size information along with contact and financial information.
Comes with demographic data of the prospects, if available.
Automated marketing functionalities help you build campaigns across multiple platforms. SmartZip takes a mixed approach by combining direct mail with digital marketing.
Customization ability for direct mail content and landing pages alike.
A great solution for agents with a robust lead follow-up and nurturing strategy
Cons
No exclusive leads, making it quite possible for other realtors in the same region to compete for the attention of the same leads.
Takes a lot of time and patience for agents to get substantial results.
Requires long-term lead nurturing strategy, which can span months or even years leading up to conversion.
Expensive platform with a minimum commitment of 12 months
Pricing
The subscription costs for SmartZip depend on the median property value and market size. You might need more than $500 a month to get started on the platform. For average agents, this figure might cross $1000 per month.
Final Thoughts
If you've been in the real estate business for a while, you would've realized by now that real estate markets can be very dynamic. So looking for an "all-in-one real estate software solution" is likely to get you nowhere.
Picking the right set of real estate software from our list can help you gain the upper hand over your competitors in the real estate industry. You can harness the efficiency of CRM software, as well as the precision of analytics software - the sky's the limit!