Are you having a tough time finding good deals on an investment property? If so, you are probably looking at the wrong places. Then again, good investment property deals have been harder to come by over the last few years.
If you look at Zillow's Home Value Index, you'll find that home values have increased significantly in the last five years. The seasonal value of homes in the USA has jumped from $163,000 in December 2013 to $320,000 in December 2021. This is a 96.3% increase in the last 8 years. On average, the value has gone up by 12.03% every year.
This might seem like bad news for real estate investors. Not necessarily.
A dip in inventory is the main culprit behind the rising property prices. The rising value of homes has also impacted the average rent. From December 2013 to May 2021, Zillow's Rent Index for 1-bedroom apartments increased from $1,353 to $1,742. This is equivalent to an annual increase of 3.8% and a total increase of 28.8%.
Keeping in pace with the rising rents, the median income of the population has increased at almost the same rate. According to the Census Bureau, the median income has increased by approximately 3.7% on average each year from 2014 to 2019.
The statistics indicate that real estate prices are outpacing rents and incomes. In such circumstances, how can you find good deals on an investment property? This article aims to explain just that.
Let's dive in!
#1 – Expand Your Network
You don't have to be Elon Musk to know that being successful in business less about what you know and more about who you know. Real estate investing is the same way; it's about building the right relationships. Networking is by far one of the best ways to find off-market investment property deals.
Of course, randomly adding people to your network won't help you in this regard. You have to be methodical about adding the right people. The first group you should consider adding to your inner network is other real estate investors.
This might seem odd initially since you generally consider other investors as competitors. But they can be sources for valuable information, and you never know when one of them might let you in on a great deal.
PRO TIP: Not all real estate investors focus on the same deal type. Networking with other investors can often lead to deal referrals that don't work for them but might work for you.
Moreover, you can join other investors to participate in a joint venture. This allows you to make larger investments that would be impossible alone.
Another great connection is mortgage brokers. They are generally the first to learn about homes that are going to hit the market. This is because before advertising a home, sellers frequently call brokers to determine if they qualify for a new home.
Attorneys make excellent networking partners too since they are generally aware of properties that are about to be sold due to foreclosure, divorce, and other factors. It's also a good idea to get to know some local plumbers, contractors, and carpenters. These professionals can tell when a house is being prepped for sale.
Use LinkedIn to search and connect with more people and build your network.
#2 – Broaden Your Search
If you take a look at the numbers, you will find that some property markets are more skewed than others. So, it is not surprising that expensive coastal metropolises usually have the greatest skews between home prices and incomes.
Try not to invest in real estate in such markets. Expand your horizons and try investing in turnkey rental properties long-distance. Thanks to virtual reality tours, video calls, and media sharing, you can invest in properties that are thousands of miles away.
Over the years, many platforms and programs have started popping up that allow you to invest in and track long-distance investment properties. If you are planning on investing in long distances, you should have powerful real estate software ready at your disposal.
PRO TIP: Invelo's poweful list builder can help you find niche opportunities from a database of over 150 million records.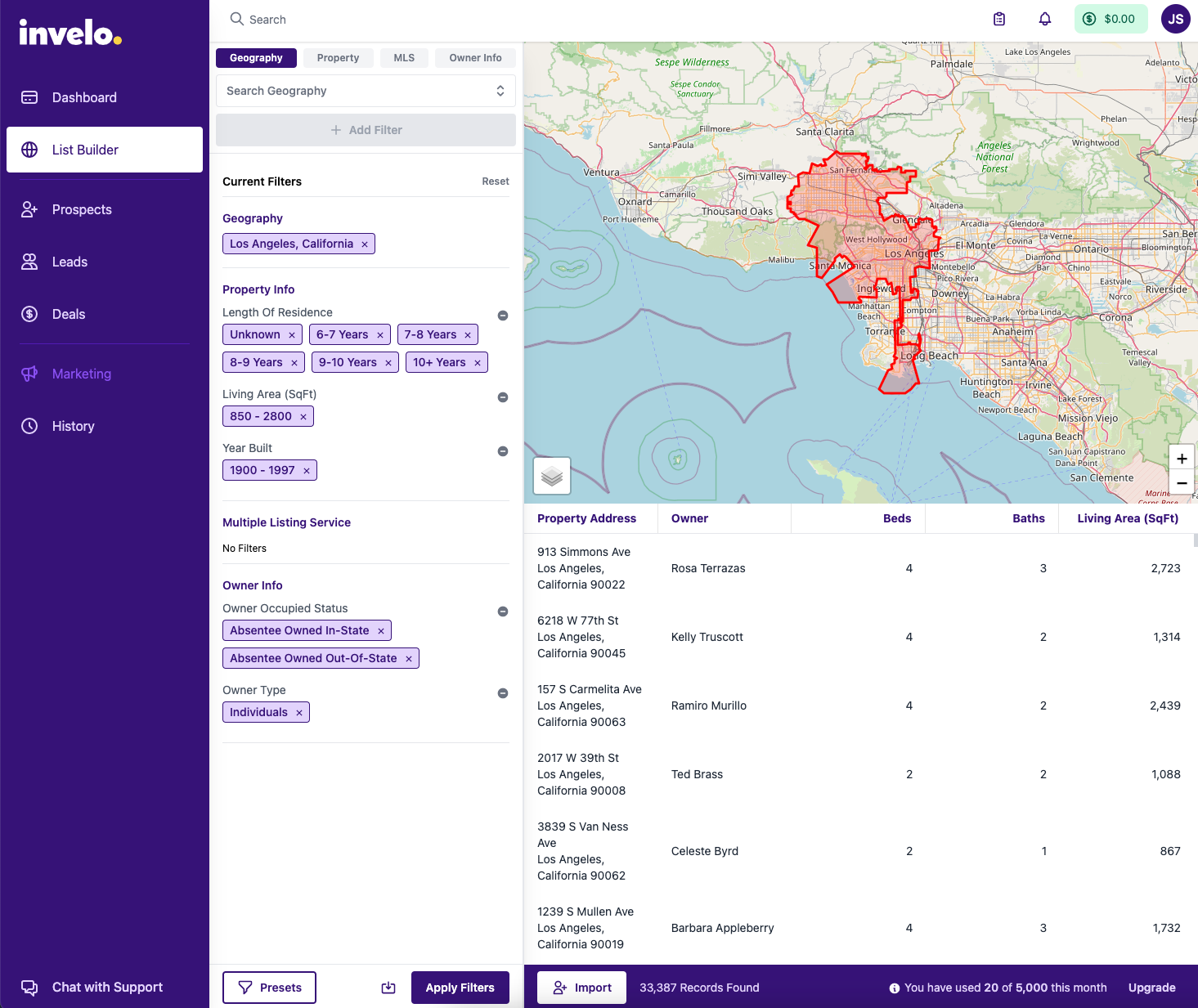 #3 – Find Deals Using Technology
In the real estate market, staying up-to-date gives you a significant advantage over your competition. Your competitors are already doing everything they can to get the slightest advantage over you. Using the latest property investment tools can give you the edge you need to keep up.
Real estate data is available but without a tool to search using a range of filters, it's too much effort to find a needle in a haystack. invelo combines the most fundamental aspects of real estate investing into a simple method. From a database of over 150 million records, you can search based on verified property attributes or construct your unique filters in seconds.
Some searches you might consider are:

With a tool like invelo, you'll never have to market manually again. Simply create a campaign, and new prospects who satisfy your criteria will be instantly added and triggered.
You may also keep track of activity, notes, and tasks by tracking many contacts and using the industry's greatest skip tracing to uncover owner information and keep track of prospects, leads, and sales. You get all of this on an easy-to-use dashboard, as well as full-featured reporting and logging of all system activities.
invelo also offers an endless number of free training and education programs, allowing you to learn the ins and outs of real estate investing from some of the industry's most accomplished professionals.
PRO TIP: There are many products and services you should consider trying. Check out our in-depth review of the 10 best products for real estate investors.
#4 – Move Fast On Probate Properties
Lawyers can be a helpful addition to your network. Many of them know what properties are likely to hit the market soon. But you don't need a lawyer to find probate properties as real estate deals.
Probate properties are sold through a court-appointed representative as part of a will or to cover debts. So, these properties often go for a much lower price than traditional real estate. The easiest way to get hold of a probate property deal is to go to your local probate court and speak with the person in charge of probate properties.
When buying probate properties, be sure to review records that cover at least the last six months. You can directly contact the executor or the attorney handling your chosen property. Be sure to be quick in the process.
The goal is to be the first person to speak with the potential seller. If you are lucky, the executor might directly sell you the property to avoid fees and losing money.
#5 – Get Better Deals With Direct Mail
Real estate platforms are great for extending your reach, but they cannot compete with direct mails to make a good impression. Direct mail efforts are highly targeted due to the expense involved with the process. But they can be worth it if you do it right.
Before sending out mails, you will need to determine which group of people you want to target. This will depend on the area where you are looking for deals.

For example, someone trying to buy real estate in the Northeast would target seniors who are going to relocate via direct mail. In this situation, targeting homeowners aged 65 and up might be a wise move.
When it comes to the mail, you have a choice between a printed letter, a written letter, and a postcard. Written letters usually get the most responses. But these letters are time-consuming to write. So you have to be very careful about selecting your target group for maximizing the return on your investment.
#6 – Ask Around In Other Markets
A great strategy to understand what works and what doesn't is asking investors in other markets.
If you are looking to invest in duplexes in Boston and you ask another Boston real estate investor who likes duplexes for advice, you are unlikely to get a ton of information you don't already know; and they might hold back thinking you're going to be competitive. Ask an investor in Baltimore the same question and he'll likely open up because has little to lose by helping you out. And he might have some experience in that market that you haven't seen in your market just yet.
If you manage to get out-of-state investors into your network, ask them how they get good deals. Of course, you shouldn't expect everyone to be open about their business plans, but some will. More importantly, you will surely get valuable insight that can greatly help you in the future.
#7 – Target People Who Are Likely To Sell
People who are going to sell their homes will usually look for packing goods, moving services, rental trucks, and other relevant items. You can use terms that aren't explicitly related to real estate to market to people in the early stages of planning a move.
Before a possible seller contacts a real estate agent, this could seed an idea about selling directly.
You could also set aside a portion of your cash to target people overdue on their property taxes using online marketing. Many folks who have fallen behind are only a few months away from selling their homes.

#8 – Driving For Dollars
"Driving for dollars" is real estate investor jargon that refers to driving about your target market scouting unoccupied or damaged houses that appear to be prime for a lowball offer.
A homeowner has likely "checked out" if there is tall grass, dingy siding, missing shingles, overgrown landscaping, or a driveway in serious need of repair. You should be driving around looking for houses that don't appear to be well-loved.
Approaching owners who no longer have the desire, interest, or ability to care for their properties may frequently give you some of the finest prices on houses for sale. Also, be on the lookout for houses that aren't occupied.
#9 – Attend Auctions
Investing trends change frequently in just about all markets. Real estate is no different. But one thing that has stayed timeless throughout the years is auctions.
Auctions will always exist because some sellers prefer a firm sale date above a firm sale price. That means that at auctions, buyers will always discover attractive prices on real estate investment properties.
But auctions are a numbers game. You might have to attend over 50 auctions to find a crowd that isn't bidding too much on a decent property deal. Even then, there is no certainty.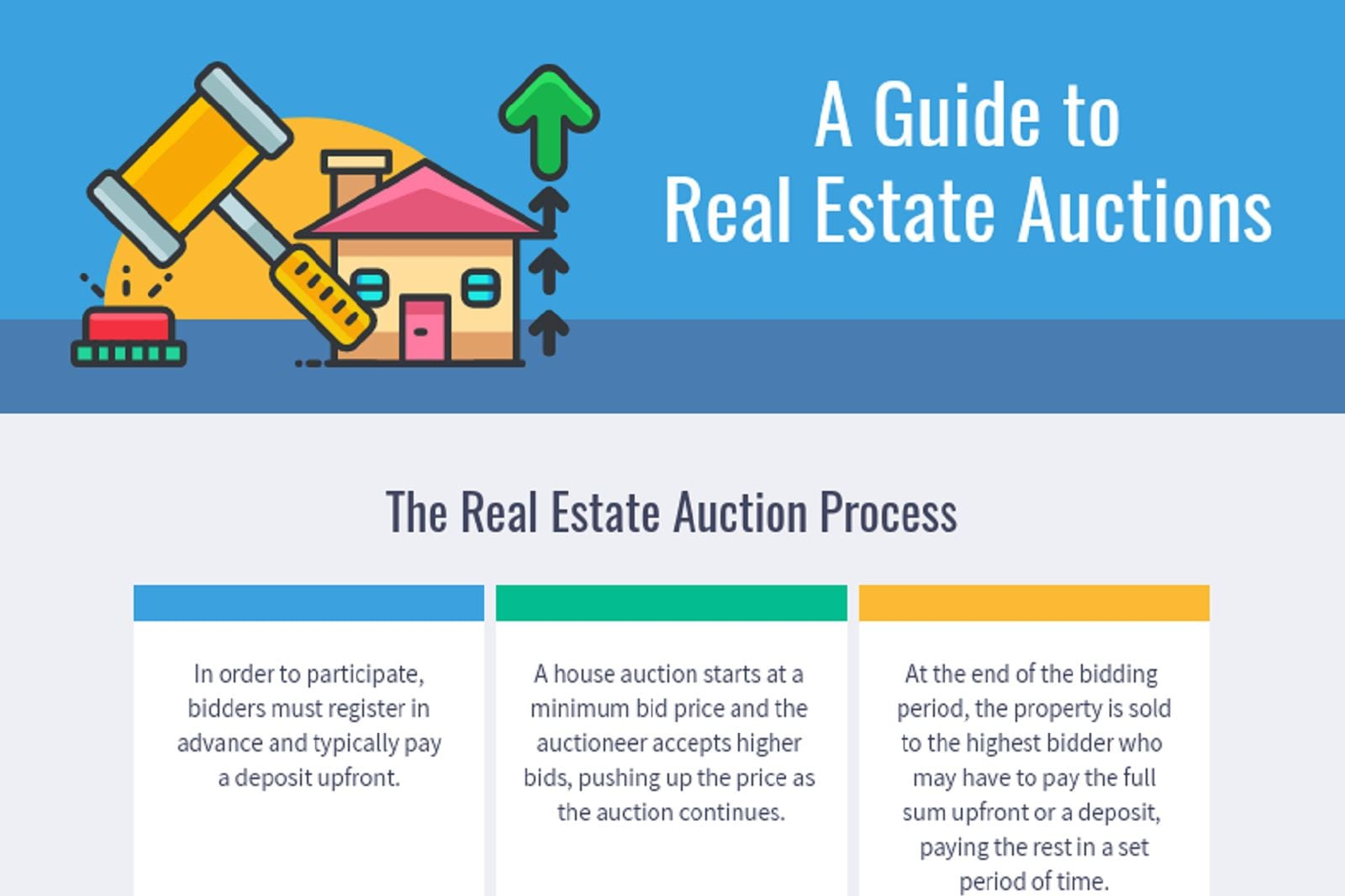 In any given market, regular auction goers tend to be a small group. If you start going to these, you'll notice that the same 10-15 people turn up at each one. This also gives you another networking opportunity.
Make a habit of participating in auctions regularly. Bid on your first half-dozen auctions to get noticed but be conservative in your approach. Show that you're serious about investing, and you'll be welcomed into this select group.
You will begin to understand when to step aside for a fellow investor – and when to indicate you're serious about a certain property. This will allow you to avoid all-out bidding wars and co-exist with the other investors.
#10 – Explore Multifamily Rental Properties
The highest demand in the market is for single-family homes. The larger you go, the smaller the demand gets for the property. That is why it is difficult to find good deals on duplexes.
A smart thing you can do is invest in larger properties like quadruplexes and 10-unit apartment buildings. These larger investments take some time to give returns, but you are likely to net a greater profit margin.
Make it Happen
It takes a lot of work and patience to find good deals in the real estate market. But it is much more adaptable, and you have greater control over your investments and returns.
Moreover, you are less likely to lose money on properties. So a property investment is never a bad investment. We hope you can utilize the tips in this article to get a better deal on your next investment property!