If you are active in the world of real estate investing there are a number of tools and programs you're bound to try. One of these will likely be the list building platform Propstream. But how does it compare to inclusive platforms like Invelo?
There are many tools available to help you with separate aspects of your real estate investment business. From list generation to managing contacts and running marketing campaigns, real estate investing requires CRM systems, market analysis, and more to keep your business running and successful.
With many options at your fingertips you have to make informed decisions on what software would suit your business needs the most. How does Propstream stack up against Invelo? Read on to find out.
Propstream
Propstream is a platform for prospecting, marketing with some CRM capabilities. Propstream is a popular tool for property research.
With its impressive database, Propstream offers extensive property data, such as transaction history, tax, foreclosure and upcoming property auctions.
Packed with features like skip tracing, deal analyzer, nationwide search, MLS comps, Propstream has proven to be a handy tool for brokers, agents and real estate investors alike.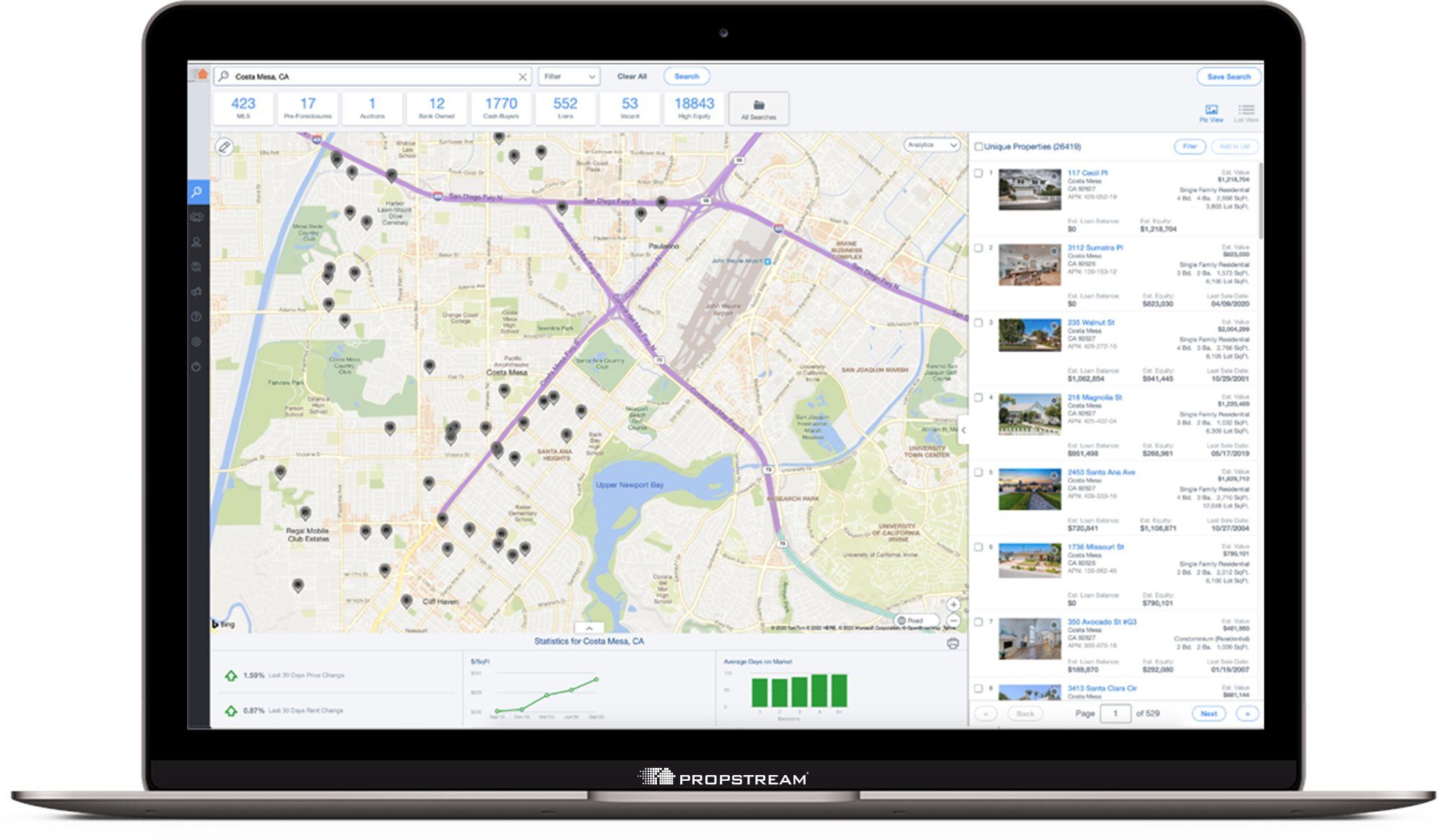 Pricing
Aside from the 7-day free trial, users can access Propstream's services with the base subscription starting at $99/month. Add-ons like the 'List Automator' and 'Team Member' are available for $27/month and $20/month, respectively.
Some marketing tools also require in-app purchases.
Features
Notable features of Propstream include:
Nationwide Property Search: With a database of over 153 million properties, Propstream allows users to search for nationwide data with 120 filters for vacant properties, bankruptcy or divorce filings.

Targeted Lists: Propstream accesses multiple MLS to generate targeted property lists matching criteria like off-market listings, foreclosed/ bank-owned properties, cash buyers and flippers.

List Automator: Available as an add-on purchase for $27/month, the 'List Automator' manages lead lists with updates for new prospects and scrubbing out deals no longer available.

Team Management: Requiring an add-on purchase of $20/month, the 'Team Management' feature lets you add team members/ virtual assistants, assign properties, add status tags and more.

Trends and Analytics: Propstream gives you a visual overview of the market with heat maps, rehab estimates, analysis, and comps reports. Additional documents like the county assessor's map, property deed and mortgage deeds can be viewed with in-app purchases.

Instant Comps: Propstream's instant comparison feature helps compare between properties and deals based on county recordings, MLS comps, neighborhood information and more. To draw up precise and accurate comparisons, Propstream keeps its comps tools up-to-date.

Rehab Estimator: Based on project and property type, the 'Rehab Estimator' helps calculate actual labor and material costs specific to the selected area.

Marketing Tools: Propstream comes with targeted marketing tools like voicemails, automated emails, postcards, custom landing pages and more. Other than that, the built-in skip tracing feature provides the homeowner's email and phone number for quick and easy contact.

Education: Propstream Academy offers self-paced beginner courses and training to fully harness Propstream's big data platform. While no live courses are offered, downloadable certificates are available upon course completion.
Pros
Nationwide search with 120 filters and a database of 153 million properties.
Deal analyzer and instant comp features give in-depth property information like mortgage amount, projected rental income and tax information.
'Rehab Estimator' tool helps to calculate estimated material and labor costs for the specified area.
Available on mobile with Android and iOS apps.
Cons
Monthly data exports are limited based on subscription and add-ons.
Relatively pricey with add-ons and in-app purchases in addition to the subscription charge.
Access to 'List Automator' or 'Team Member' tools are only available through monthly charged add-ons.
Does not have Zapier integration.
Support is only available during specified hours.
Invelo
Invelo is a real estate investment platform that supports your sales pipeline from list building to running marketing campaigns and even learning from industry experts. Packed with features like list and marketing automation, skip tracing, list stacking and team management, Invelo offers a one-stop solution to any real estate investor's needs.
With built-in best practices for setup and execution, Invelo also gives you free training, masterclasses from industry experts and monthly newsletters so you can learn how to scale your business properly.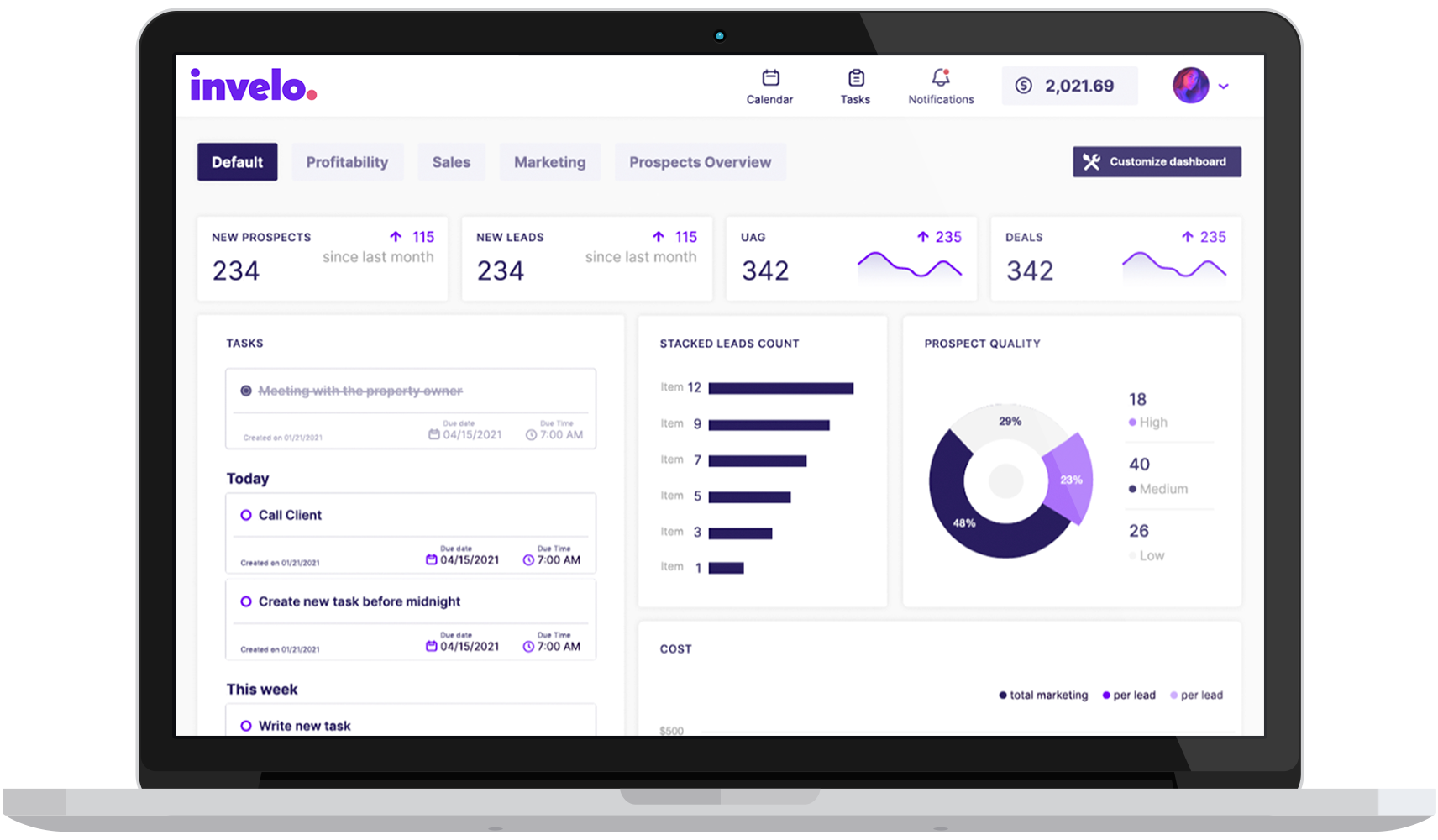 Pricing
Invelo offers an Individual Plan for $129 per month, which comes down to $108/month with an annual subscription and a Professional Plan for $299 per month or $249/month with an annual subscription.
The annual subscription also gives you 2 months of free usage. The starter pack is available for free with a limited-time offer.
Features
Some of the most notable features of invelo include:
List Building: Generating leads from an impressive database of over 155 million properties, invelo offers prebuilt quick lists, geo-targeting and smart filtering with almost 100 data filters. The automated smart list feature also finds new prospects that match your criteria and adds them to the database automatically.

Pipeline Management: Intelligent filtering and list stacking features help you identify the best prospects. Invelo also notifies you of marketing and prospecting activities, creates tasks with due dates and maintains an activity log for each record. Contact management and skip tracing (with built-in litigator scrub) will verify and update your contacts.

Marketing: Invelo allows you to run efficient multi-step marketing programs with prebuilt campaigns, direct mail, drip email with follow-up and ringless voicemail. In addition to activity calendars and sender profiles, Invelo also lets you automate your marketing campaigns with multi-step sequencing for any channel.

Analytics and Intelligence: Invelo's advanced data analytics offers performance reports and status tracking, actionable metrics and more. In addition to giving you real-time notifications for vacant and sold properties, Invelo also lets you customize workflows, automation and expansive settings.

Education: With Invelo's in-depth REI training, Masterclasses, best practices and newsletters, you always get free access to the latest learning resources.
Pros
Extensive database with nearly 100 filters and more than 155 million properties.
Custom and automated marketing campaigns can be built with drip email, direct mail, ringless voicemail and more.
Real-time notifications for vacancies and sold properties.
Free (for a limited time) starter plan, free and monthly updated learning resources.
Automation and sequencing for list generation and marketing campaigns are included in subscription packages.
Add-ons and in-app purchases are not required.
Cons
There is no rehab calculator on the platform.
The platform does not give you the ability to run comps.
Propstream vs. Invelo Comparison
With both options having their own pros and cons, we've drawn a side-by-side comparison between the two to help you make your choice:
Feature
Propstream
Invelo
List Builder

Targeted lead lists are generated with 120+ property search filters





Pre-filtered quick lists are also available





List Automator feature only available with purchasable add-on with additional monthly charges

Lead lists are generated with nearly 100 data filters





High performing prebuilt quick lists are available





Custom/prebuilt automation and smart list feature included in Individual plan





Auto-add feature keeps imported lists updated automatically.

Marketing

Targeted marketing offers limited direct mail, email system and postcard generator.





Marketing tools like professional postcards and emails require in-app purchases.





List Automator add-on needs to be purchased to automatically manage lists.

Prebuilt campaigns, ringless voicemail, direct mail, and drip email features are included with subscription plans. Direct mail pricing is better than Propstream especially with increased volume.





Activity Calendar and Sender Profile keeps track of activities and marketing by sender





Unlimited multi-step sequences for any marketing channel and automation based on defined filters





Marketing KPIs provide real-time feedback on which marketing activities are working the best.

Analytics and Intelligence

Offers up-to-date comps from public recordings and MLS.





Rehab Estimator tool can estimate labor and material costs.

Real-time notifications for properties going vacant or being sold. Sold properties are automatically removed from the list.




Full analytics and reports from marketing to deals and conversions.




Dashboard keeps on task with tasks and reminders.

Database

Nationwide property database for over 153 million properties.

The database consists of over 155 million properties.

Skip Tracing

Individual skip tracing only.




No built-in litigator scrub.

Individual and Corporate skip tracing comes with built-in litigator and DNC scrub and phone/email verification.

Data Refresh/Update

Property information is updated daily, but delays have been reported for new MLS listings.

Contact and property data are refreshed daily.

Custom API

There are no options to build custom APIs.

Upcoming REST API will offer custom applications, reporting and more.

Education

7-day free trial, subscription not required to join.





Offers self-paced beginner courses with animated videos, infographics, and tutorials on using the Propstream platform.

Invelo REI Training is free to access through the limited-time starter offer.





Offers real in-depth REI training, new masterclass videos from top professionals, and newsletters every month.

Pricing

Base Subscription costs $99 per month





Additional add-ons start from $20 per month and include List Automator, additional team members, Mobile Scout and more.





7-day free trial available

The starter pack is available for free with the limited time offer





The Individual plan is available for $129 per month ($108/month with annual subscription) and the Professional plan for $299 per month ($249/month with annual subscription)





An annual subscription offers 2 months of free usage

Maximum Monthly Exports

10,000 Property Downloads per month with the base subscription.

20,000 record exports per month with the Individual plan.





50,000 record exports per month with Professional Plan

Team Management

Requires $20 per month add-on.

Included in Professional subscription plan.

Integrations

Zapier integration unavailable.

Zapier integration available.
Final Thoughts
Choosing the right option ultimately comes down to your needs, budget, investment and marketing style. While Propstream is a popular choice for investors looking for a list builder, the multitude of in-app purchases and add-ons in addition to the base subscription makes it a pricey option.
On the other hand, Invelo offers similar functionality on the list building side but comes with a lot more features including a true CRM - making it a true all-in-one platform.
Give Invelo a try now!