There are many tools to help real estate investors generate leads including the popular platform Listsource. But generating a list of high-quality leads still remains a challenge for many real estate investors.
Listsource is a popular platform and a lead generation solution for investors looking to create local or nationwide prospect lists. Real estate agents, investors and brokers can create customized direct mailing lists to reach motivated sellers, property owners and homeowners.
Though Listsource has many useful features, it falls short on certain fronts like its lack of property research functions.
So if Listsource doesn't meet the needs of your business, where can you look?
Invelo for Real Estate Investors
Invelo is a unified platform that combines all of the necessary features for business, sales and marketing with an easy-to-use interface. Build lists based on custom criteria with geo targeting, daily refreshing and automation keeping them current and targeted.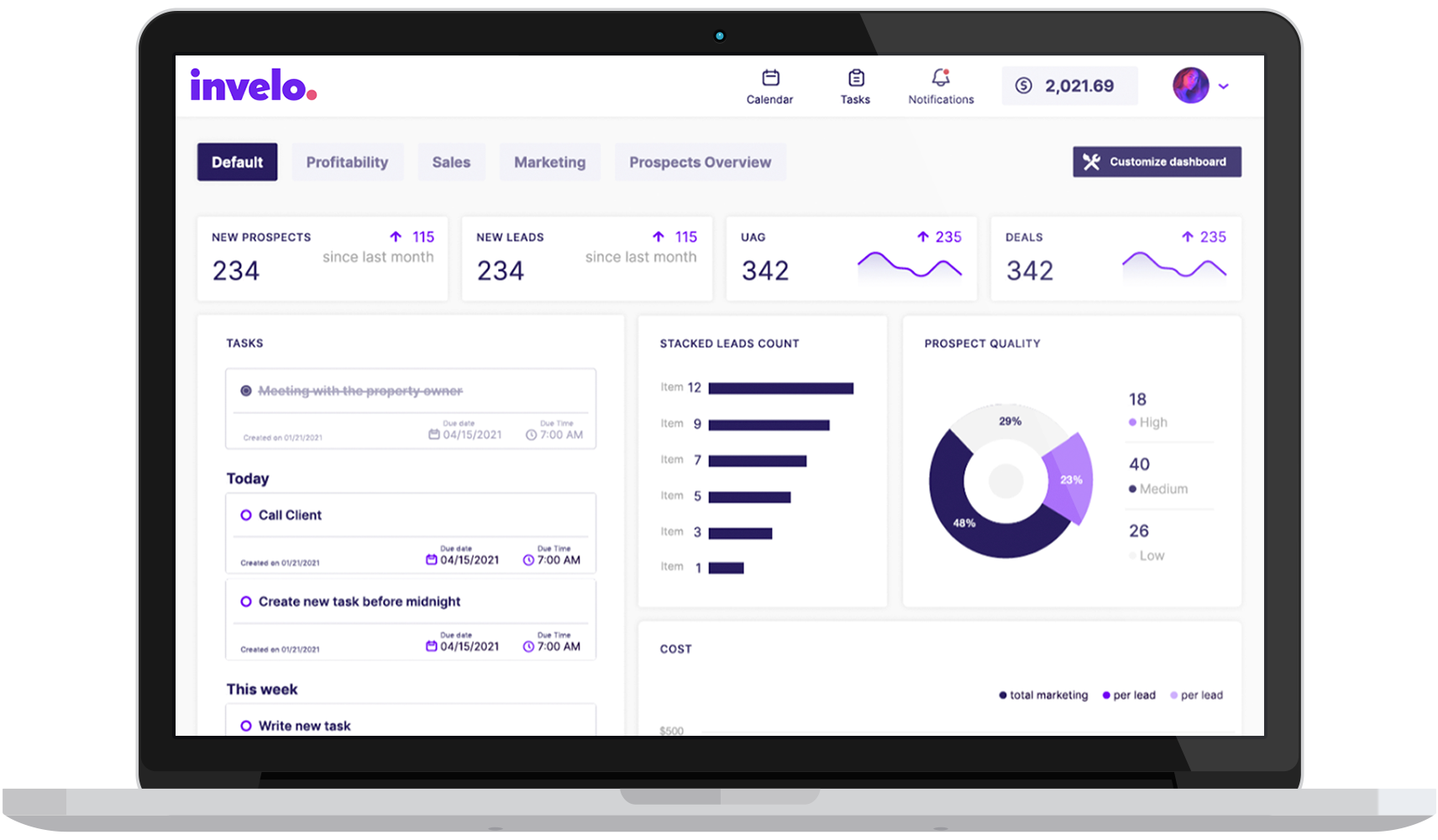 Features
Find new prospects with Invelo's list builder functionality. Create your own filters and find your new leads in a database of 150 million records.
Build easy customized automated marketing campaigns.
Includes tools to easily manage and track both leads and deals.
Built in dashboards allow you to analyze and track your key metrics.
Pros
User-focused. Very simple to learn and use at any skill level.
Combines all the sales and marketing functionality you will need in one platform.
Robust automation options to save you time and convert more leads.
Propstream
Like Listsource, Propstream is a platform best suited for detail-oriented real estate investors. From transaction history, tax and foreclosure information to upcoming property auctions, Propstream allows users to conduct pretty thorough property research.
While investors can benefit from Propstream's deal analyzer tool, brokers and real estate agents can look into data from public records and local MLS to help them with accurate pricing. Besides the 7 day free trial, users can access Propstream's services with subscriptions starting at $99/month.
Features
Notable features of Propstream include:
Allows users to search for nationwide data across a wide range of criteria including residential or commercial, vacant land and single or multi-family townhouses.
Accesses multiple MLS to generate targeted property lists matching user criteria
Allows users to narrow down the search with filters for pre-foreclosures, divorce, bankruptcy and expired listings.
The instant comparison feature helps compare between properties based on square footage, number of bedrooms, last sale date, and more.
'Rehab Estimator' can help you calculate actual rehab costs.
Propstream's marketing tools allow users to send voicemails, automated emails, and postcards, as well as create custom landing pages.
Pros
Allows users to target sellers nationwide.
Deal analyzer tool can be used to get in-depth information on a deal, including mortgage amount, projected rental income and tax information.
Provides marketing and rehab estimator tools.
Cons
Monthly limitations on saving or exporting property data.
Requires a relatively pricey subscription.
To access additional tools, users need to purchase add-ons.
Users need some time to get used to all the features before they can reach proficiency.
PRO TIP: If you're in the business of real estate investing, you'll need a great tool to manage leads and run marketing campaigns. Give Invelo a try for free.
Audantic
Audantic, a predictive targeting platform is another worthy alternative to Listsource. Audantic's AI-based algorithms help clients find the best buyers and deals. With the addition of marketing insight reports and case studies clients can also hone their investing skills with Audantic.
Audantic does not disclose its pricing publicly.
Features
Audantic boasts a couple of noteworthy features, including:
Uses predictive targeting algorithms to find high-quality leads.
Provides marketing reports and insights to help investors find the strategies that suit them best.
Generates datasets tailored to meet the investor's needs.
Pros
Predictive algorithms find and analyze the best deals in the specified market.
AI-based data analysis for precise and tailored targeting.
Additional resources to train users' investing intelligence.
Marketing reports and insights are available to help boost investors' ROI.
Cons
No pricing information available on the website.
PropertyRadar
After Listsource, PropertyRadar is one of the most popular tools for finding real estate prospects.
PropertyRadar is a data-driven platform for real estate agents, brokers and investors to find data on properties.
In addition to finding data, the platform also acts as a one-stop solution to manage contacts and leads, access reports and analytics, conduct email marketing and list building.
PropertyRadar also supports third-party integration with thousands of apps and services (like Hubspot, Asana, Airtable), which helps automatically export property or owner data.
PropertyRadar is available as a subscription-based service with different pricing per plan. You can access PropertyRadar with an Essential Plan starting from $59/month or a Complete Plan starting from $99/month, with the addition of a 3 day free trial period.
Features
PropertyRadar comes with features like:
Automated hyper-local marketing campaigns based on lists of preferred properties.
Property profiles help find property information such as estimated value, equity and owner information.
Compares property details with public records to give insight into neighborhoods, foreclosures and value transactions.
Skip tracing gives easy access to owner demographics like occupation, age, gender as well as contact information.
Pros
Property transaction history shows mortgage details, deeds and other information.
'Comparables' help compare the value of properties and deals in real-time.
Easy access to owner and property data helps quickly find off-market deals.
Helps investors conduct title research to mitigate risks.
Cons
The platform has a steep learning curve.
Not very user-friendly.
Comprehensive data analysis requires you to purchase more expensive plans.
Lowest-tier subscriptions come with limited functionality.
BatchLeads
BatchLeads is another example of an all-in-one platform to find motivated sellers, lead generation and management, run direct mail campaigns and more.
Offering nationwide buyer and seller search, skip tracing, list management and text messaging, the platform is one of the most noteworthy Listsource alternatives.
BatchLeads is available for Android, iOS, and via a web browser. Subscriptions start from $39/month and go up to $299/month for the Performance+ plan.
PRO TIP: Did you know Invelo's list building functionality includes geo targeting, automation and custom filtering? Give Invelo a try for free.
Features
Out of all the different features BatchLeads provides the most notable ones are:
Nationwide prospect maps search with filters for vacant properties, pre-foreclosures, multiple properties and more.
The list manager feature removes duplicates, validates addresses, and ranks sellers to find the most motivated leads.
Text messaging services include identifying vacant property, call forwarding, deliverability checks, SMS templates and more.
The skip tracing feature locates owners' and sellers' most recent contact information.
Pros
Generates targeted leads with hundreds of filters.
Clean stack and export lists with lead management.
Engaging leads via SMS including phone numbers or links to a landing page.
Automated direct mail helps reach the entire mailing list at once.
Subscriptions can be custom picked with mix and match add-ons.
Cons
Lowest-tier subscriptions come with limited contacts and custom fields.
Base membership plan only allows for a single user.
Premium subscription plans need to be purchased for unlimited user access for full functionality.
Melissa
Another alternative to Listsource is Melissa Data, a software that can help an investor's decision-making with its extensive database, profiling and screening, data analysis and more.
While Listsource generates better-targeted lists with its extensive filters and search criteria, Melissa Data can help more with property research. Moving away from a subscription-based service, Melissa Data follows a credit-based system starting at $3/1,000 credits.
Features
The primary features of Melissa Data as a prospect listing solution include:
Mailing services come with email deliverability checks.
Verification tools verify identity, address and phone numbers in real-time.
Demographic assessment tools for better targeting.
Pros
Grants access to research insights such as square footage, neighborhood and building information from a vast property database.
Helps users accurately calculate the estimated market value, current and past deed transactions, and more.
Gives verified owner information including mailing address and the status of residence.
Provides excellent lead sources for investors looking for absentee/non-resident owners.
Cons
Doesn't provide unlimited lookups with one subscription and uses a tier-based credit system instead.
Doesn't offer a free trial.
Users have to overcome a steep learning curve to get used to all the features.
Has data submission limitations.
ReboGateway
What sets ReboGateway apart is its advanced pre-selected filters. The pre-defined search criteria help real estate investors pinpoint specific types of prospects, such as finding inherited properties through probate and death certificate property filters.
ReboGateway subscriptions start from $44.95/month or $399.95/year for one zip code, with each additional zip code coming with additional costs.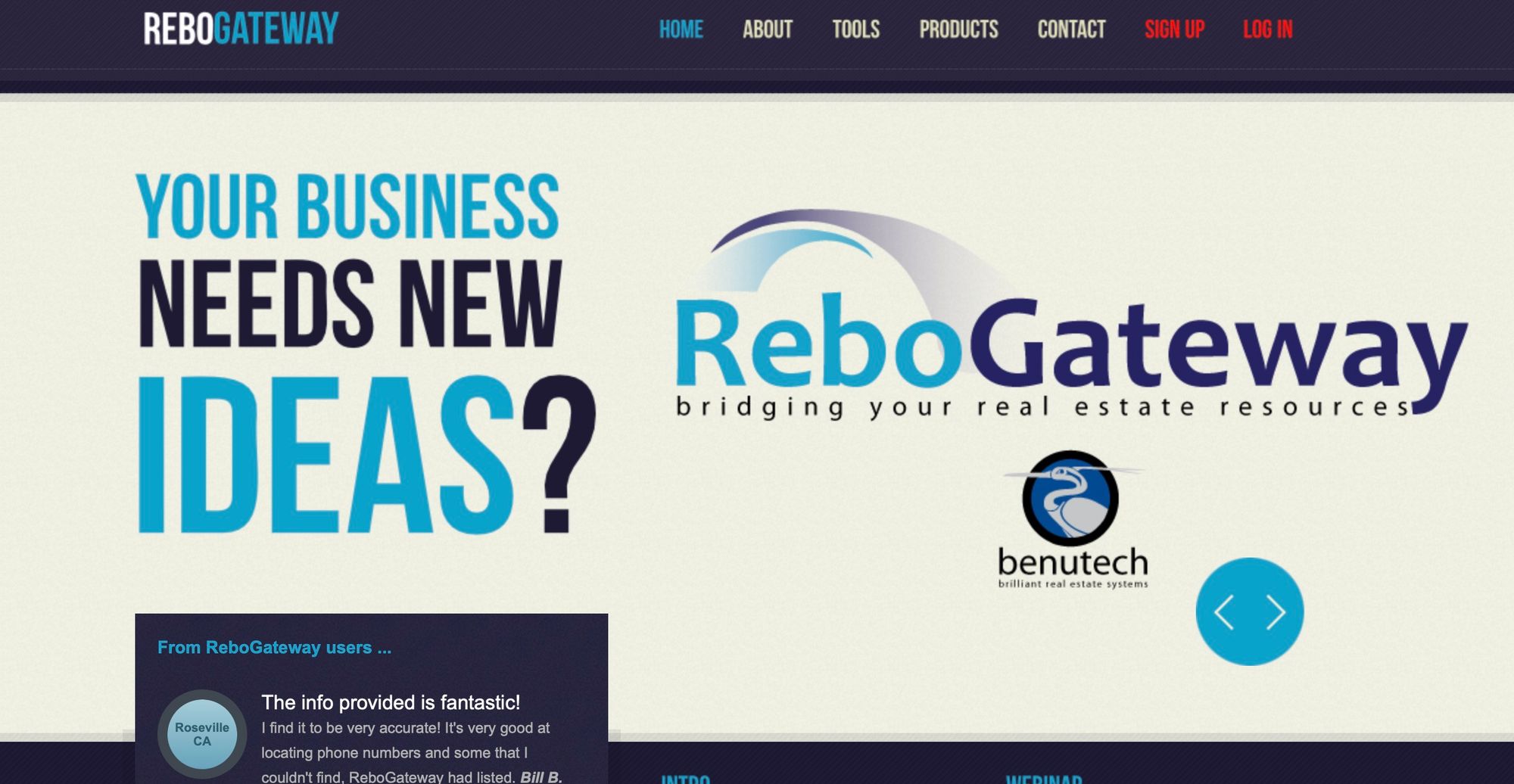 Features
Besides narrowing down on county-based leads with higher odds of success, some notable features of ReboGateway include:
Unlimited data for selected counties.
Pre-selected filtering criteria to narrow down on specific property profiles such as tax default properties, empty nesters, divorce filings and recent evictions.
Precise filtering generates a potent list of motivated sellers.
Provides data to generate a list of investment leads as well as research individual properties.
Pros
Provides users with unlimited data for chosen counties.
Allows users to see individual leads before downloading them.
Useful supplemental tools and filters help in generating leads through direct mail campaigns.
Provides excellent customer service with one-on-one tutorials, webinars and helpful reps.
Helps generate a precise list based on the user's specified criteria.
Cons
Users can only access county-based data per subscription.
Tax Delinquent Data might not be available for all areas.
Available filtering criteria depends on the selected market and geographical area of interest.
Property parcel lines and GIS data are not available.
Currently only provides filter options for a few basic property types excluding any options for vacant land.
Final Thoughts
While you can access additional features of Listsource through its flexible and competitive pricing packages, it may still fall short as an all-in-one real estate investment tool. While one of the tools may excel in property research, another may be the top choice for real estate wholesalers.

Invelo for Real Estate Investors is a top choice if you are looking for an all-in-one platform with robust functionality and customization. The platform was designed to be a unified tool instead of a single-use tool with new functionality added on over time. Try Invelo now!