Whether you are a seasoned pro or a total beginner, you can't make money in commercial real estate if you can't find properties to invest in. Finding desirable commercial real estate opportunities nearby is a crucial component to your success. So how do you find commercial real estate properties to invest in?
Real estate investing requires the mastery of a number of different skill sets. To be successful you have to understand finance, real estate markets, design, demographics, law, and have the people skills to make things happen.
All of those skills come into play when you are on the hunt for new investment opportunities. To find great commercial properties you have to be proactive and conduct your search through several mediums – a simple Google search will not usually get you what you want!
The best practices for generating leads in the commercial space mirrors those for residential property, without the centralized resources. It may be tough for a total beginner but once you understand the usefulness of each tool you can cut down on time looking and spend more time turning your investments into profit.
PRO TIP: If you're ready to do real estate investing, you'll need a great tool to manage leads and run marketing campaigns. Give Invelo a try for free.
Before Your Start, Make a Plan
Before you set out to find properties you need to make a plan and set some parameters for what you are looking for. There are many resources out there for finding properties but many of them are specific to the different types of commercial properties. For example if you are looking for a hotel to invest in you probably don't need to be using resources that will only show you office space.
Establish your own criteria before you start looking for properties so you have some direction. But make sure that you evaluate each opportunity you come across that meets your criteria – you never know what kind of deal may be out there that someone else has passed on.
More than anything, be patient. If you snap up the first property you find you may end up stuck in a money pit for years. Having the patience to wait until you find something right will start you on a successful path.
How to Find Commercial Property
The Internet
It shouldn't be a surprise that the internet should be a huge part of your search when looking for commercial property to invest in. If a property owner is looking to sell, usually they post about it somewhere online.
The logical place to start is by using real estate listing websites and platforms. Though there is no one database for commercial real estate listings, there are a number of useful places to look to find listings. You can find some listings through local real estate brokerages, CREXI, MLS, LoopNet,  and even Craigslist. Conducting thorough searches periodically and finding the best resources for your area is the best way to take an active approach to searching for properties.

In addition to conducting active searches you should also be establishing your own presence online and on social media to build credibility for your business. Once you get in touch with a potential seller they are probably going to look you up. Do you have an active social media presence? Do you have a professional website that gives your business legitimacy?
You should use your social media presence to engage with online communities and discussion boards. Join local groups for investors and real estate professionals and let them know what you are looking for. The more people you can connect with the more chances you have to hear about opportunities. Even just a post of your intentions in a real estate group can bring you leads when someone else in the group hears about a property you might be interested in.
Beyond creating a website and a few social media profiles you should invest the time in SEO and blogging to help rank your business higher on search engines. If a commercial property owner is looking to sell they will likely look for investors in their area. Having your business pop up first or second is a huge advantage over other local investors. You don't have to generate a mountain of content to help build your SEO either. Just pay attention to keywords and create blog posts or landing pages that utilize them.
Commercial Real Estate Brokers
If you are looking for commercial property it might be beneficial to work with someone who specifically works with and understands commercial property. Brokers are highly specialized to evaluate and move commercial real estate.
A good commercial broker will be highly active and knowledgeable in a certain area or in a certain type of commercial property. If you are looking to buy you usually won't have to worry about paying anything extra – generally a broker's commission is paid by the seller of the property.
Working with a broker, especially if you are new to commercial real estate investing, is a wise choice because they have the knowledge and connections to find properties you may not be able to uncover on your own.
Once you have set your criteria for your search look for an established broker that specializes in the area you are looking to invest in. Working with a professional broker will set you up for success and give you an opportunity to learn more about commercial property from someone with that expertise.
Direct Mail
Never sleep on direct mail! Though many of us turn to email when looking to reach out, sending a physical letter or postcard is an impactful way to source leads.
When it comes to commercial real estate a direct mail campaign can be a great way to get your business in front of the right people. Try sending out mailings to the owners of properties that you are interested in that lays out your intentions. You never know who is thinking about selling or who may consider selling in the near future. Maybe your postcard is the push they need to hit the market.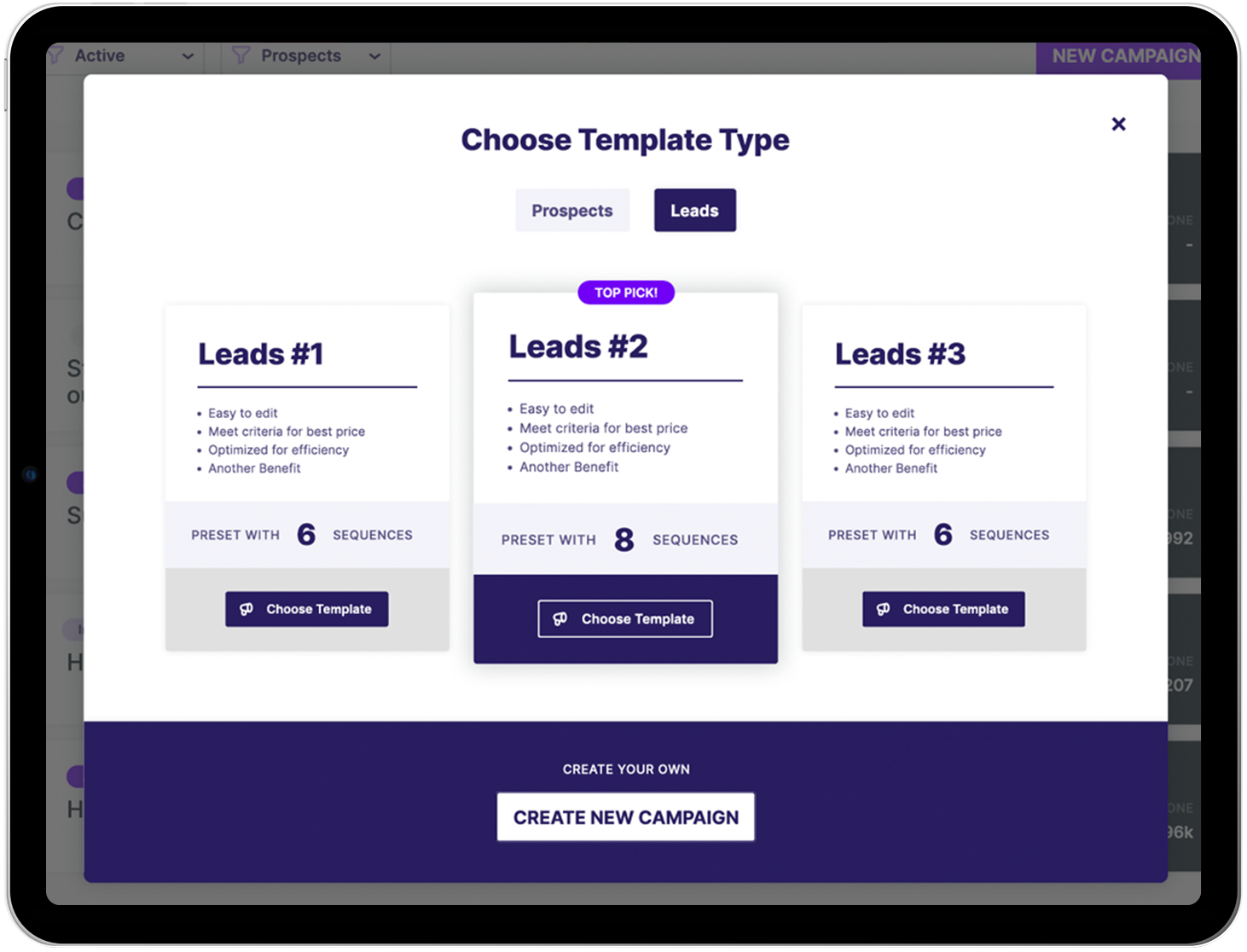 Direct mail gets your business, face, and contact information into the hands of the right people. It is much easier to delete an email without reading it than throwing away a postcard! Use that to your advantage with something eye-catching and memorable. You can easily run and manage direct mail campaigns using online platforms like Invelo.
Cold Calling
Technology is great but the old-fashioned ways still have immense value in real estate investing, especially commercial investing.
Cold calling can be an effective way to find both buyers and sellers. You can usually find the contact information for commercial property owners through online platforms, the White Pages and LinkedIn. If you can get the owner on the phone you have the opportunity to make a personal connection that they will remember if they choose to sell down the line.
Unlike cold calling for residential properties, commercial owners will generally have a business number published somewhere on the internet that they will answer. You aren't calling someone in the middle of dinner, you are calling someone who is also in the business of real estate. The chances of getting them on the phone to make your case is greater.
Driving For Dollars
If you are looking for opportunities in a specific area it's always beneficial to actually drive through that area looking for properties. This practice can be easier for commercial investors because there are usually specific areas inside of a town or city where businesses are most prominent.
This exercise will give you the opportunity to spot properties that have just entered the market or look to be neglected by their current owners. Use driving for dollars in conjunction with direct mail or cold calling campaigns and uncover opportunities that may not be established yet.
Try Invelo for Real Estate Investing
If you are currently buying investment property, whether flipping or renting, or if you are thinking of becoming a real estate investor, you're going to need a tool to manage prospects, market to leads and convert deals. There are many tools available for this, but very few address the four key aspects of real estate investing:
Finding Prospects - Use our built-in list builder with over 150 million property records to find target prospects that meet your specific criteria. Select from dozens of data points to optimize your list.
Marketing to Leads - Use built-in marketing campaigns to send direct mail, ringless voicemail, email, sms and more. Setup filter criteria to automatically find new prospects and add them to campaigns as they get added to your database.
Manage and Convert Opportunities - Track every step of the deal lifecycle including skip tracing to find better contact information, adding notes and setting tasks so you never miss an opportunity to close a deal.
On top of that, Invelo is unique because it has intelligent automation and built-in education. There is no reason to reinvent the wheel. Tons of investors have already figured out the best practices for finding, marketing, contacting, negotiating and closing real estate deals. Invelo has integrated all of this learning in to educational training and automation so you can "set it and forget it".
Invelo has a forever free account -- try it instantly and see what Invelo can do for you.
Networking
Another great way to find opportunities or get your business in front of the right people is to network. Get involved in events and groups that include real estate owners or businesses in the area where you are looking.
Don't just show up and ask if anyone is looking to sell, let them know that you are looking to invest in their area and let them help you! If you can get your intentions and contact information to the people who live and work in your area you have more eyes and ears looking for opportunities. Word of mouth is one of the most powerful tools in any investor's tool belt.
Final Thoughts
If you want to find the best commercial investment properties you have to have a multi-faceted approach. Conducting your search exclusively online or in person may yield some success but will also keep you blind to other opportunities that exist outside of your scope.
If you are experienced in residential real estate you don't have to radically change your search methods to find commercial property. Just make small changes to what you are already doing and you should find exactly what you are looking for in time.