Ready to revolutionize your real estate investing journey? Look no further than Invelo, the all-in-one platform designed to empower investors like you with cutting-edge tools and resources. In today's blog post, we're thrilled to highlight Invelo's top three features that are reshaping the way investors manage their properties, streamline marketing efforts, and nurture relationships for success.
1. List Builder: Efficiency Meets Precision
The List Builder feature is every investor's dream come true. It's a powerful tool that effortlessly organizes and manages property lists, saving you valuable time and effort. With List Builder, you can:
Create Custom Lists: Tailor your property lists based on specific criteria such as location, property type, or investment strategy. In just a few clicks, you'll have a clear and organized overview of your investment opportunities.
Daily Property Refresh: Invelo takes the extra step to refresh your property data daily from county records, ensuring your information is always accurate and relevant. Say goodbye to outdated data and hello to confidence in your investment decisions.
Target Your Farm Area: Zoom in on specific areas, filter prospects by county, city, or zip code, and even leverage the draw tool to create custom boundaries on the map. Uncover valuable local market opportunities with ease.
Automate List Building: With daily updates to your lists, Invelo ensures you never pull a list more than once. Set your list criteria, enable the auto-add feature, and watch as your database effortlessly imports records that match your filtered criteria.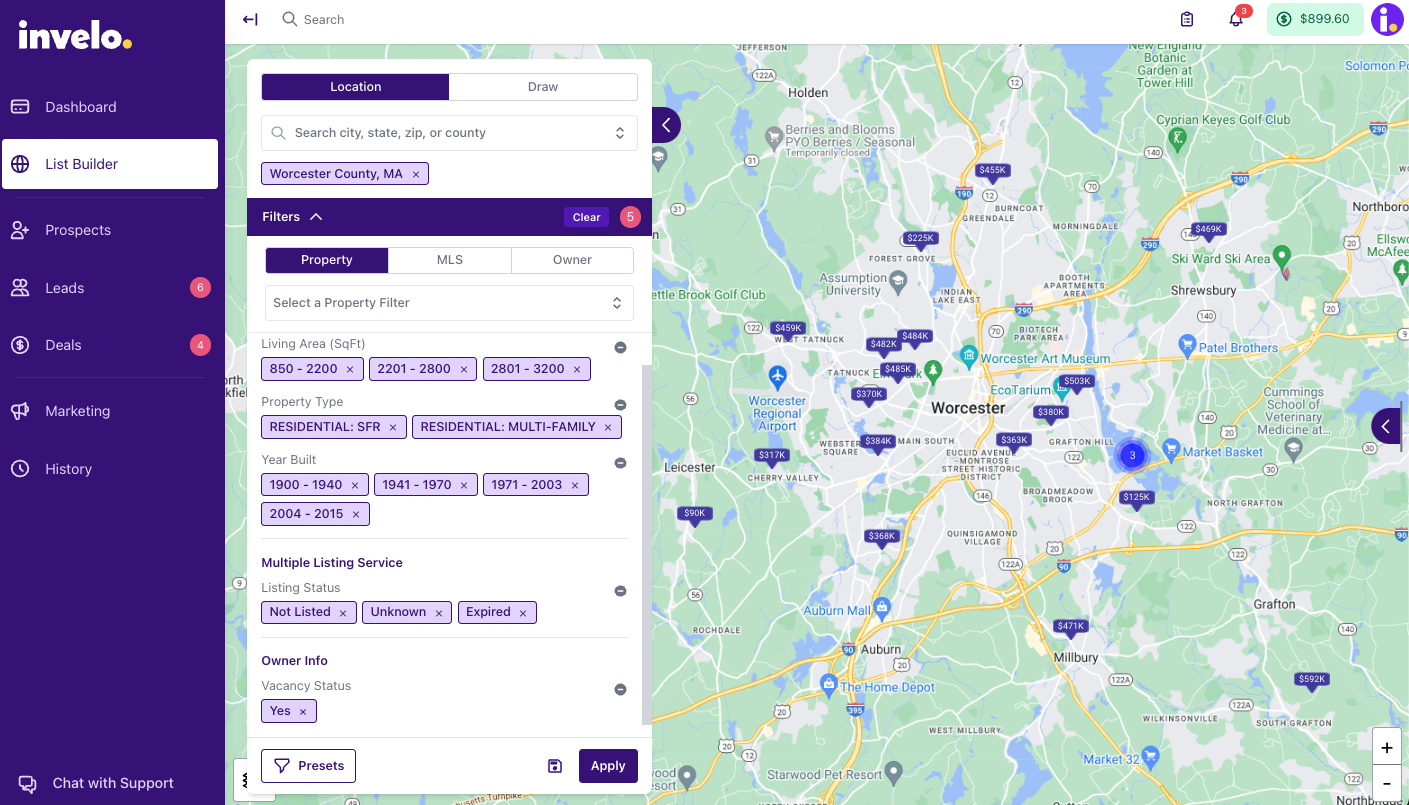 2. Marketing: Driving Real Results
Invelo's Marketing feature equips you with the tools you need to build and deploy powerful marketing campaigns. Here's how it can supercharge your marketing strategy:
Prospect Marketing: Identify and target your ideal audience based on specific demographics, property characteristics, and other key criteria. Tailor your messages and campaigns to resonate with prospects, driving higher engagement and conversion rates.
Follow-up Marketing: Stay engaged with your real estate leads by sending timely and personalized communications. Build trust, nurture relationships, and ultimately close more deals with effective follow-up marketing strategies.
Marketing Automations: Save time and increase efficiency by leveraging marketing automations. Create customized workflows and sequences that automatically trigger targeted actions based on prospect behavior, status changes, or predefined criteria.
Multi-Channel Marketing: Leverage a diverse range of in-app marketing channels, including direct mail, ringless voicemail, and email, to amplify your marketing impact. Plus, integrate popular third-party platforms for SMS, cold calling, and more to broaden your reach.
Proven Marketing Campaigns: Access a collection of prebuilt, high-conversion marketing campaigns that deliver exceptional results. Customize these campaigns to suit your needs and maximize your marketing effectiveness.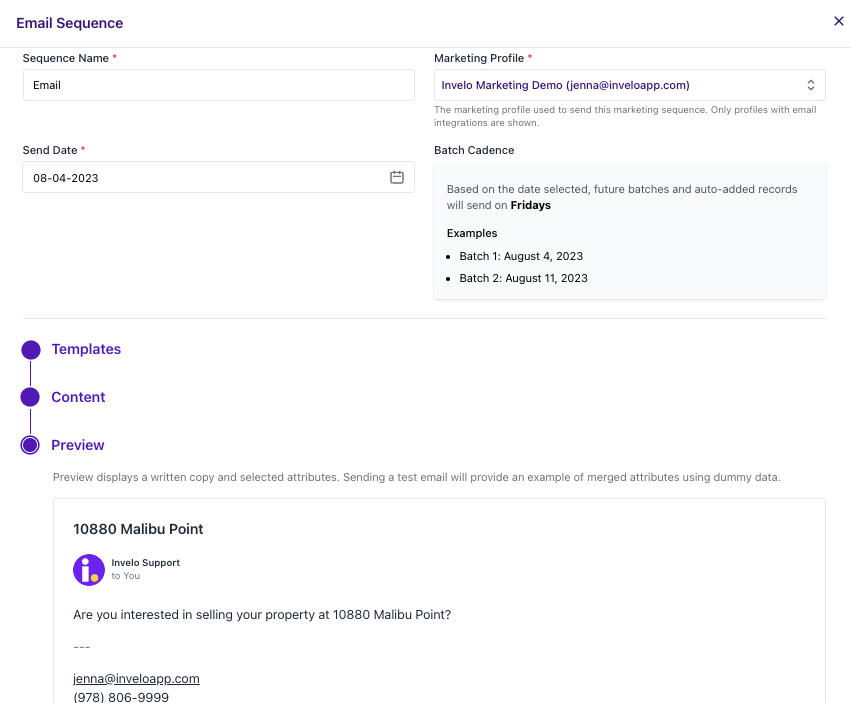 3. CRM: Data-Driven Insights and Optimal Organization
Invelo's CRM for Real Estate Investing empowers your business with data-driven insights and optimal organization. Here's how it takes your real estate operations to the next level:
Advanced Data Filters:Utilize powerful filters to narrow down your data, allowing you to list stack, segment, and target your records based on specific criteria. Gain valuable insights and craft more effective sales and marketing strategies.
Smart Automations: Eliminate manual processes and save time with intelligent automation. Invelo's property automations update your property data daily, identify recently vacant properties, and remove recently sold properties, ensuring your prospects remain up to date without any effort on your part.
Extract Property Details: Invelo automatically retrieves and populates property data, owner information, sold data, and more. Streamline your property management process and focus on what matters most while Invelo effortlessly gathers all the essential property details for you.
Pipeline Management: Efficiently track the progress of every transaction and manage your leads effectively. Stay engaged in conversations and monitor the progress of purchased properties to ensure successful outcomes.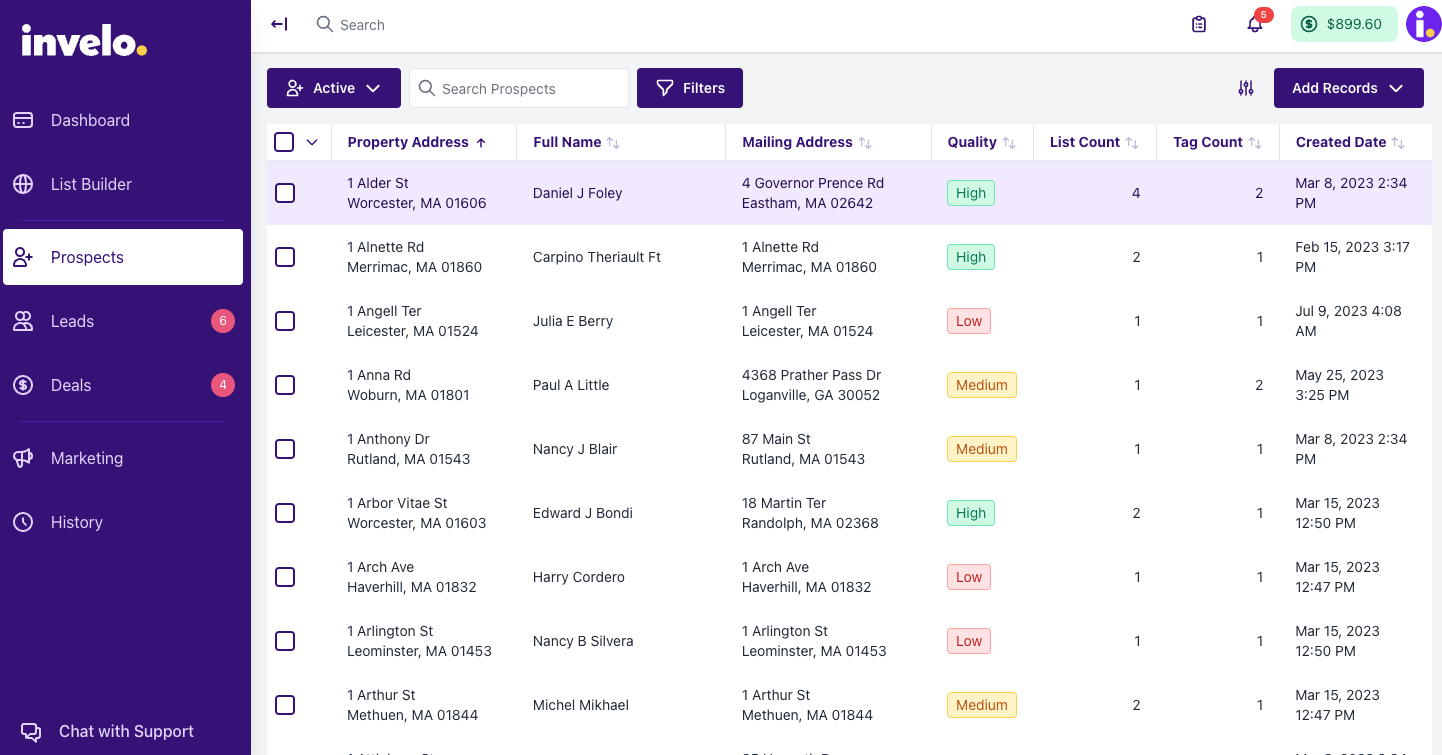 Invelo's List Builder, Marketing, and CRM features are designed with you in mind, empowering your real estate investing endeavours. Elevate your game and experience success like never before with the ultimate all-in-one platform for real estate investors.
Ready to take the leap? Sign up for Invelo now and unlock the full potential of these game-changing features!